Newcomers
Newcomers
September 19th, 0165AL (2021)
Follomer gate
After they had learned to operate the gate, a small group of people began dialing the gate, and prepared to go though.
Note: See "Secrets Revealed" in Follomer Chancellery to make better sense of what is going on.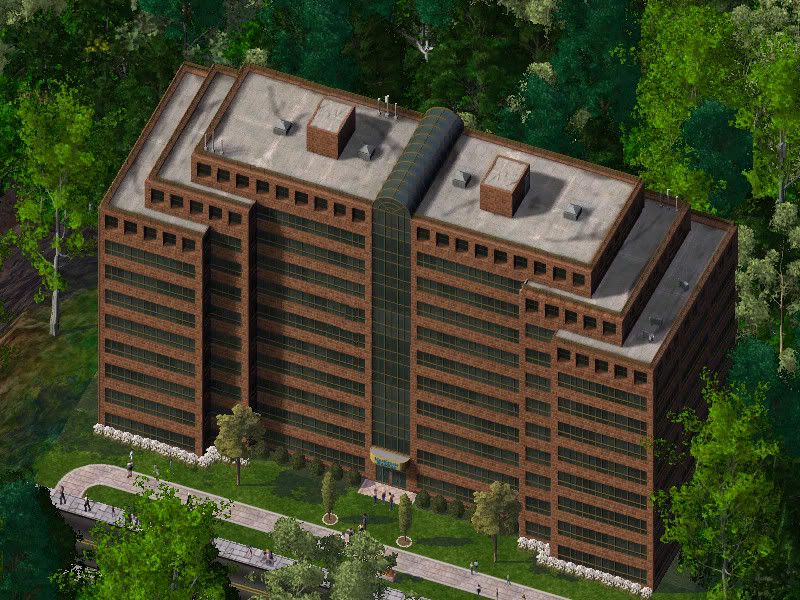 Meanwhile, at the Myon RDPM
Gen. Yelslew: Lt. Colonel Duvanre!
Said Lt. Colonel jumped as he exited a room, then turned to see General Yelslew as well as someone else, quite unlike anyone who he had seen before.
Gen. Yelslew: Duvanre, this is Wrixi Lemmis of Lagomorphia, and Wrixi, this is Lt. Colonel Siuran Duvanre, who will be continuing the rest of your tour hear, as well as the simulated tour of the planet in the holorooms.
 Lt. Col. Duvanre: Yes, sir.
Gen. Yelslew: As to why I can't continue, I have a meeting soon, and--
However, he was cut off by some sort of weird shriek-like noise, and they all turned to look behind them to find a Blitkar diving into a stairwell, their tail quickly vanishing past the door.
Wrixi: What was that about, and who was that?
Gen. Yelslew: I have no idea what they were doing, and all i know of who they were is that they are Blitkarni.
Just when it seemed things couldn't get any more confusing, the stargate activated down the hall, causing Wrixi to cover his ears.
Wrixi: What's that noise?
 Intercom: Incoming wormhole!
Gen. Yelslew: It just the stargate, and I have to go now, that should be the others for the meeting.
In the short amount of time it took General Yelslew to reach the control room, he thought about what he learned about the Lagomorphs. So far, he had found out that their outfits, while appearing to be odd by most people, were completely normal to the Lagomorphs. Also, their planet had lower gravity than Myon, so moving around was slightly uncomfortable, not to mention making it difficult to lift heavy objects, which was difficult for them even in their normal gravity. In addition to this, there was the odd reaction from the Blitkar, though he had no idea if that had anything to do with Wrixi at all. And finally, there was their traditional greeting, which wasn't at all what he expected or was used to.
General Yelslew arrived in the control room, just as the kawoosh dissipated and the shield activated.
Sergeant Varmon: Receiving IDC... it's Follomer.
Gen. Yelslew: Lower the shield.
Shortly after the shield was lowered, thee people walked though the gate, two of them human and the third appeared somewhat similar to the Blitkarni. General Yelslew, meanwhile, walked down a set of stairs and a couple short hallways and entered the gate room from a side door, and was soon joined by Sergeant Varmon.
Trellian: Area's secure sir.
Tristan: Thank you Trell, now who might they be?
Lerra: *shivers* By the goddess that felt weird.
Tristan: We'll have to get used to that.
After a quick scan to make sure they didn't have anything dangerous with them, Yelslew led them out of the gate room, down the hall, and around a corner to reach the elevator.
Trellian:  Where are we going?
Gen. Yelslew: A meeting room up above ground level, so you can see outside
The elevator ride was surprisingly short, and after they quickly arrived on the 8th floor, they walked across the hall to the meeting room, where two other people, a Blitkar and a Muphridian, as well as two guards outside the door, were already waiting.

Chancellor Vulra Marchol: Ama y ama i ebba Rumací êd Myon.
When the Follomerians appeared confused, she translated.

Chancellor Marchol: That was "Hello and welcome to the Republic of Myon."
Lerra: Oh.
After this, everyone introduced themselves, and they were notified that the rest of the meeting would not be in Zukish.
Trellian: Sir, wanna tell them about our situation?
Tristan: Right, right. My nation, the Follomer Chancellery is a modernized industrial country of over four hundred thousand. Our technological standing would be, less, then yours but we are advancing quickly. Our Techs have just begun to perfect our Anti-gravity technology while in conjunction with Franklin County scientists who are developing Magnetive Levitation technology that will go toward interplanetary ship building for the Alliance Follomer is a part of. Oh, and Franklin County is another advanced country who is Follomer's ally.
Lerra: As well as the Nekoleeri are.

Chancellor Marchol: Okay.
Klara: I wonder if the Nekoleeri are in some way related to either the Nekominzoku or the Blitkarni...
Tristan: What?
Klara: Nothing.
Tristan: Now before the discovery of the Stargate on Lomni Island, we had discovered a black Obelisk in proximity to the site that held the ring.
Trellian: It's been on display in one of our cities.
Tristan: And it's been emitting odd energy waves that matched nothing we've seen...until we found the gate.
Lerra: Perhaps they were connected?

Chancellor Marchol: We have not come across any obelisks like what you describe.
Klara: Neither have the Blitkarni.
Gen. Yelslew:It is possible they are connected in some way, however, before the al'Hasiq there was a race known as the Predecessors. While we don't know much about them, they were the original builders of the gate network, and since the gates are only useful for long range transportation, they would need something for shorter range transport. If this obelisk is emitting energy similar to that of the stargate, it is possible that it may be this method of short range transportation, however I have no idea if this is true or not. It could easily be any number of other things, and it would require further study.
Tristan: Maybe Lomni had some sort of civilization on it before the Follomerians. But all we found when we sent an expedition to the island were ruins.
Gen. Yelslew: If there are ruins there, then it is very likely that there was some sort of civilization there, however whether or not the civilization had anything to do with the gate or the obelisk would again require further study. It is possible the island used to be a Predecessor base or outpost long ago, before humans even evolved.
Lerra: Whoa.
Trellian: Also, I want to bring up matters of self defense. You have opened up a galaxy of advanced, space ship wielding species that appear to be hostile. Follomer, as well as many other nations on Earth are not prepared for that.
Klara: Actually, there aren't many species that are actually hostile, its mainly just the Scourge and the Dlorwani, neither of which have had much activity near Earth, at least not recently.
Tristan: What he's getting at is that it worried us. We would like to have a fleet of our own ships, just in case.
Lerra: Tristan wants it to be a joint nation effort. There will even be some Nekoleeri amongst the crews.

Chancellor Marchol: While we can't give you ships, we can try to keep any hostile forces from even reaching Earth if possible, as well as send people to oversee what you are building, and troubleshoot any problems that you run across.
Trellian: We took notice of the "gate shield" your people mentioned about.
Tristan: Yes, Trell made sure that I knew how much of an advantage that would be seeing as our gate is in the middle of our Capitol City...
Trellian: It's greatly needed to protect the citizens.
Gen. Yelslew: Yes, as you never know what might come though the gate...

Chancellor Marchol: That is one thing we can give you. Mardon and Cormani will be able to show you how to install it, and how to control it.
Gen. Yelslew: The Myorian gate will remain the default gate until the gate shield is up and running on the Follomer gate.
Yintar-Yanar:

Nick: And now, welcome to Parath!
Nikki: Just south of Tamara, Parath is a lot hiller than Tamara and is also connected to the the M-3 loop around Yintar and Yanar.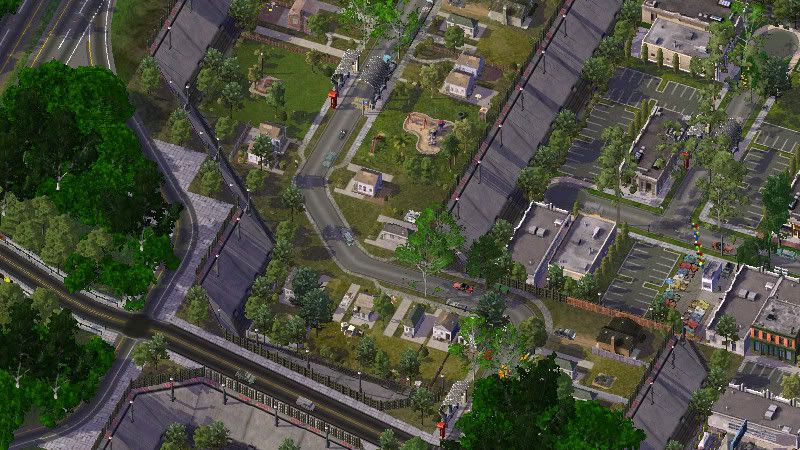 Nick: Another view showing the hills of the area.
Nikki: As well as the TP in the trees.

Nick: Part of the M-3 loop is visible, traffic seems to be very open on it, too.
Comments:
Mother of Invention: That would be Wrixi's ship. Unless you were referring to the Myonian freighter.
Archean: Remember, the Carpathian Short Stories takes place in the future, I believe...
NMUSpidey: And I am not familiar what that particular Scourge.
Zelgadis: yes, they did, during while they were traveling back to Myon. I just never showed it.
SirUnger: Well, here is more.
Schulmanator: The rocks are mainly hidden in the trees... And you'll have to go to Lagomorphia if you want a ship like Wrixi's...
Tomasneto: Thanks for the comment!
astronelson: At least there isn't quite as much to read as in New Carpathia...
Petrovar Ambassador: Educational? Never would have thought of a CJ like this being educational... glad you like it!