Rioting in Blight Persists, Feds Step In
Telephone conversation, dated January 5 between President of Ruskova and regional deputy and mayor, Madame LaCroix of Jenshina:
President
:
"Mme. Lacroix, what the hell is going on in Blight?! I've just read that the rioting is still going on and I can't get ahold of that dimwit mayor over there! I need answers!"
Mme LaCroix
:
"Yes, sir. I'm on it."
President
:
"On it?! You missed the boat, LaCroix! This should have been nipped in the bud before it started. How could you let this happen?! I was counting on you!"
Mme LaCroix
:
"So sorry, sir. We have the head of the Capitol Police, Regional PD, and of course, Chitiri's finest military reserve teams on their way to Blight as we speak."
President
:
"How many?"
Mme LaCroix
:
"A force of 332 to stop the rioters and to man temporary security stations that are being converted from abandoned buildings. We also have Mayor Suerte on the ground there assessing the damage, plus we have a group of advisors from Jenshina scoring up reconstruction alternatives."
President
:
"What about that dirt-cake mayor? Have you got him in custody yet?" Who are we getting to replace that scuz?"
Mme LaCroix
:
"'Scuz', sir?"
President
:
"Yes, 'scuz'! The scuz mayor of Blight! I want him outta there and on the first plane to Chitiri so I can set him in line."
Mme LaCroix
:
"Yes, sir. There are no airports in Blight, but when we find him we'll get him on the fastest transport available to the capital."
President
:
"And the replacement?"
Mme LaCroix
:
"Still working on that, sir."
President
:
"Fine. Keep me updated."
---
Meanwhile, in Blight, fire brigades and police teams attempt to halt the rioting.
Even with a police force nearby, the rioters take the liberty of "removing" the mayor from office themselves.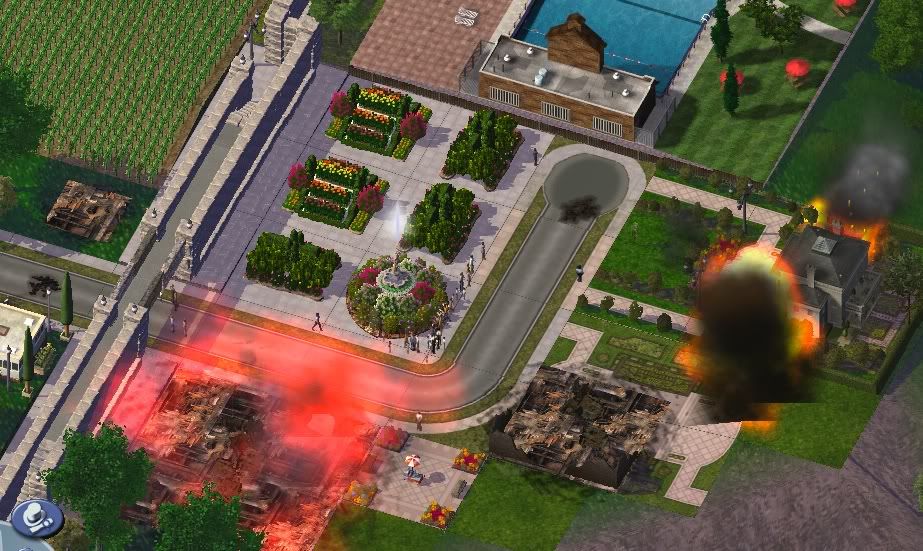 During the rioting a temporary police station is established--the first in Blight--but it's not enough to keep the criminals contained.
Eventually, the fires and vagrants are subdued, but the damage is immense. Whole neighborhoods have been wiped out from the fires. Severed water mains leave many without water. Several have died, while the lucky ones have moved away to other regions leaving scores of abandoned buildings vulnerable to squatters, criminals, and mobs still out for vengeance against the mayor. Population has dropped by 10,000.
---
Back in the situation room planners and mayors meet to discuss Blight's future...
Mme LaCroix
:
"OK, people. Let's settle down. We've got a crisis over in Blight. Although it's under control now, there's no telling when things might flare up again, so we need some solutions to quell the storm before the havoc seeps over into our cities."
Mayor of Pochta
:
"I got a plan--let's just nuke 'em and wipe that filth from Ruskova!"
[The planners all cheer. Madame LaCroix frowns and ignores the remark.]
Mme LaCroix
:
"Given that the mayor lost his head during the riot, quite literally, and none of his colleagues can be found, I'll be in charge temporarily until a replacement can be voted in. The first thing that needs to be tackled is the crime situation. People can't feel safe, can't live normal lives, can't keep the city afloat without some police force. Jim, what have you got for me?"
Jim, Captain of Chitiri Police Force
:
"We've got another 200 officers from around the region on their way to work at the temporary stations. But, LaCroix, those temporary stations aren't enough. I need the reconstruction team to start working on plans for building real police stations. And they're not volunteering, either. They better be making double overtime for their troubles."
Mme LaCroix
:
"Don't worry. The mayor's safe had enough padding to cover them and their families for their trouble."
Alexa, Associate Reconstruction Member
:
"If I may...it's going to be at a minimum six to eight weeks until the security stations we planned can be up and running. We have a number of locals committed to help with the construction and we plan on using a sweet sum from the mayors private stash to build a main headquarters facility downtown, plus four smaller units in each of the main neighborhoods. We've got all the manpower on it available, but these things do take time.
Here's a layout of the city with red dots representing the proposed new police stations. And below is a blueprint for the new HQ design."
Mme LaCroix
:
"Excellent. Next up, what about sanitation? Our people on the ground are getting sick daily and no new mayor coming into Blight will last unless things are cleaned up."
Alexa
:
"Well, it's easy enough to use an existing polluted farm near one of the major industrial zones on the north west side of the city as a site for a landfill just to get a good portion of the trash off the streets. Later on a waste management facility can be built, but that will probably be up to the new mayor..."
Mme LaCroix
:
"Good work, people. Keep it up."