A Stroll Downtown
First of all, happy 2010 everyone! It's weird now that we have a double-digit year instead of just "oh-nine" or something... it'll take some time to get used to again... but I'll have to since it will be the case for the next 1000 years
Ahh, it's great to be in an entirely new year (and decade for that matter) in which we can all start fresh. Well, some of us at least.... probably not Tiger Woods or this politician who is in the news recently: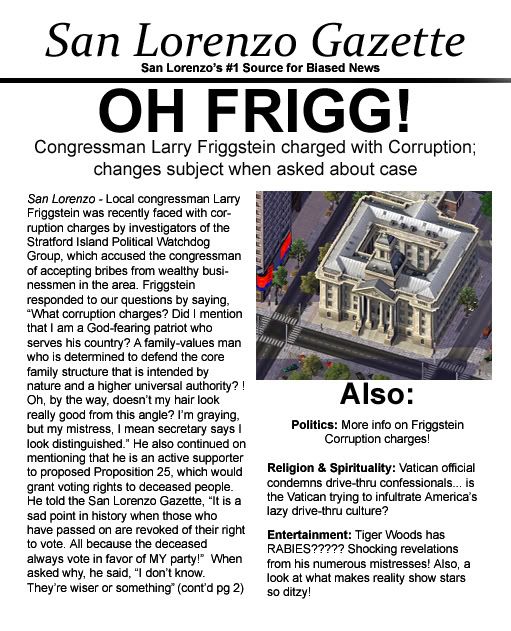 Note the really cheezy tabloid headline
Anyways, I have some more pictures of San Lorenzo, and then I think we'll take a look at some more counties in the island in the next update. Or SL again... who knows.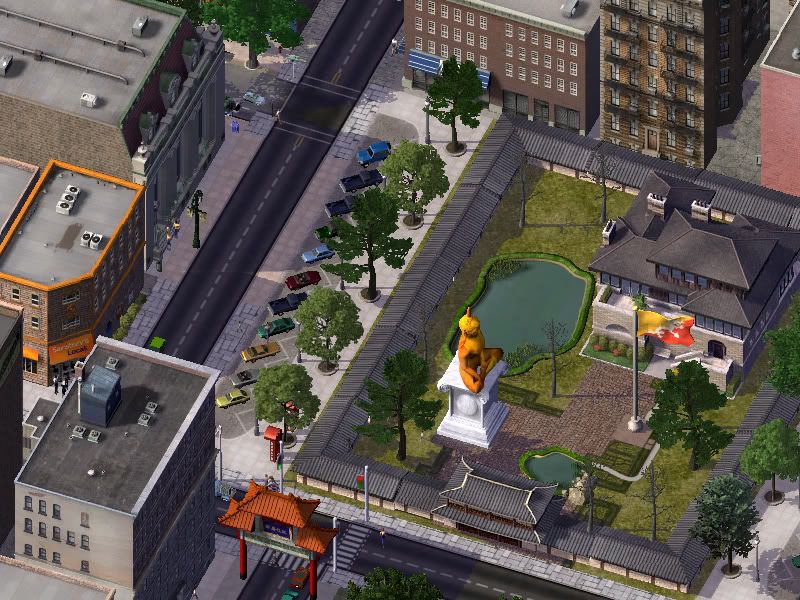 This is the Bhutanese Temple located in Chinatown. Despite the name of the bourough, this neighborhood isn't limited to ethnic Chinese, but plenty of other people from different Asian countries like Bhutan. This really one of the only Buddhist shrines in the entire state as well.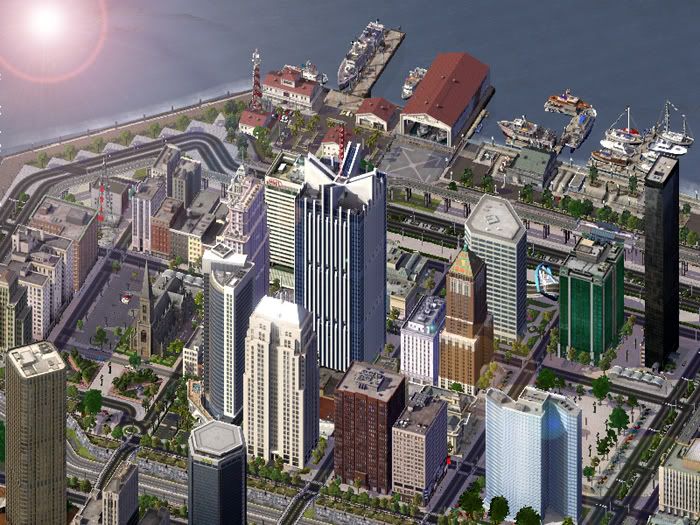 Here is an overview of the downtown area...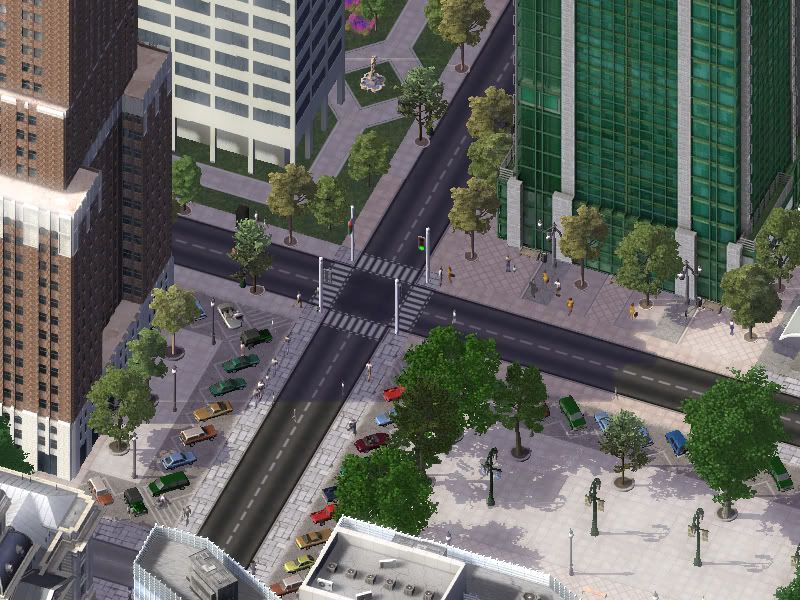 Heading downtown at the intersection of Normandy and Templeton street, you can see there aren't very many people out driving on the streets, but there are alot of pedestrians out.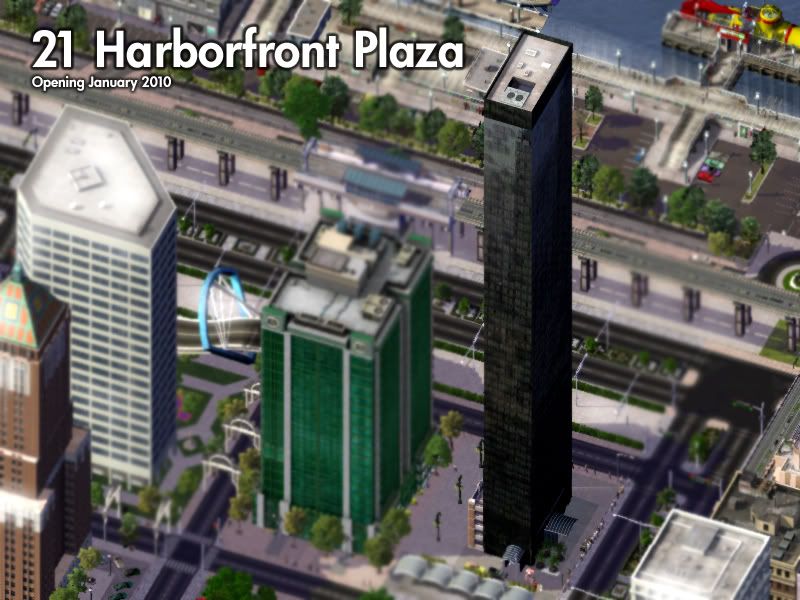 In this same area, a tall skyscraper has been under construction for the past year, called 21 Harborfront Plaza. Although it is quite tall, it has not surpassed the current tallest building in the city.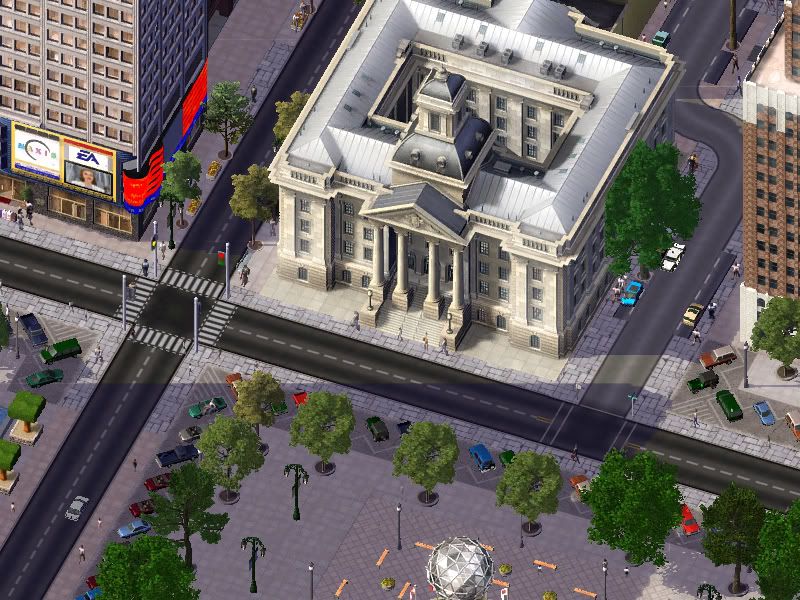 The City Hall is where the city's most important politicians visit to debate local politics and generally get nowhere as far as progress is concerned. It is located in front of the Globe Plaza, which is generally considered the center of San Lorenzo. Next to the City Hall is a fancy Times Square-style office building.
Christmas lights are still up at night, even though it's been nearly a week since Christmas. This is because the workers who initially put up the lights are on strike due to cutbacks on their salary. And also because of general bitterness towards the buffoons in city hall.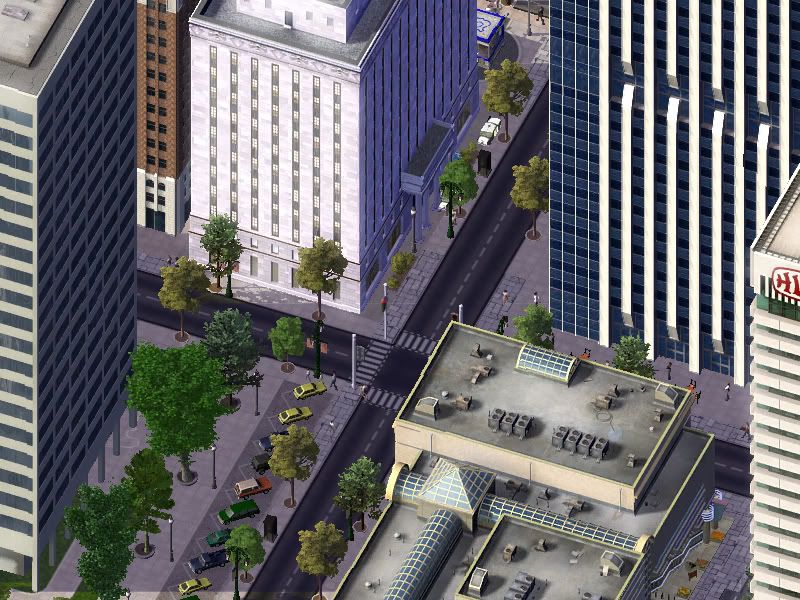 Here is another view of downtown, on the intersection of  Templeton and Harborfront streets. This area is generally pretty crowded during rush hour and lunch, when businessmen and workers from the area are commuting or just going to a restaurant. There is a great amount of diversity in building styles in this area... from the Art Deco Police Station on Harborfront Street and the Art-Deco tower behind it, to the post-modern Office building on the left of the picture,  and the tall Pelican Trust Tower in the upper right corner, which is currently the tallest building in the city.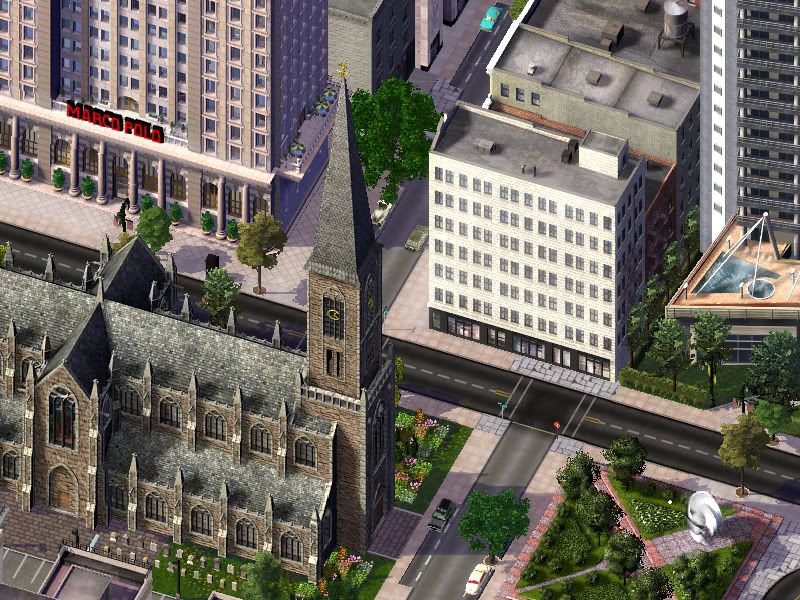 The Cathedral of St. Lawrence is also located in the Downtown area, near the Marriot and Marco Polo Luxury Condos. This gothic-style cathedral was built in the mid 1800s to accomodate the large community of European immigrants in the area, most of whom were Italian and Irish Catholics. Nowadays, the majority of its congregation consists of urbanites from the downtown area or surrounding buroughs.
And also, last but not least, I have another radio station for you guys!
DJ: "Computerized.... Auto-Tuned... and mass-produced by record corporations... Pop music at it's finest! Here on K-Ko FM we play only the hottest #1 pop hits!"
DJ: "I'm your girl Jamie... of Reality TV fame... you know, from 'The Real Highschool of Laguna Malibu Shore'? No? Okay then, like whatever. I'm going to San Lorenzo University now, and I'm really desperate for money for Top Ramen noodles so like I'm working on this radio station. Anyways, let's get on with the music! It's a nice but chilly day here in SL in January, the start of 2010, and I have a great track. This girl is like, really weird and stuff, but I love 'er anyways."
DJ: "Don't forget to check out my Twitter page and follow me! I occasionally reveal celebrity gossip that nobody really cares about, but rakes in alot of cash nevertheless. OH, and another song for you guys!"
Okay, thanks for reading this update! which was brought to you by...