Capitol
Entry posted by diva613 ·
161 Views
With the region's populace reaching the 2 million numbers, Oriska was classified as its own City-state. As a result the paperwork began to roll. 
New Haven Year 98
CV Year 88
As a start we will talk about the name, Capitol. Eventhough it is the Medium Sized City Map, and is in a central location, I figured that this districts name should be Capitol. It is something simple, and unique, and it suits oddly enough with 95% of the buildings are meant as a Government Building.
Picture A: Government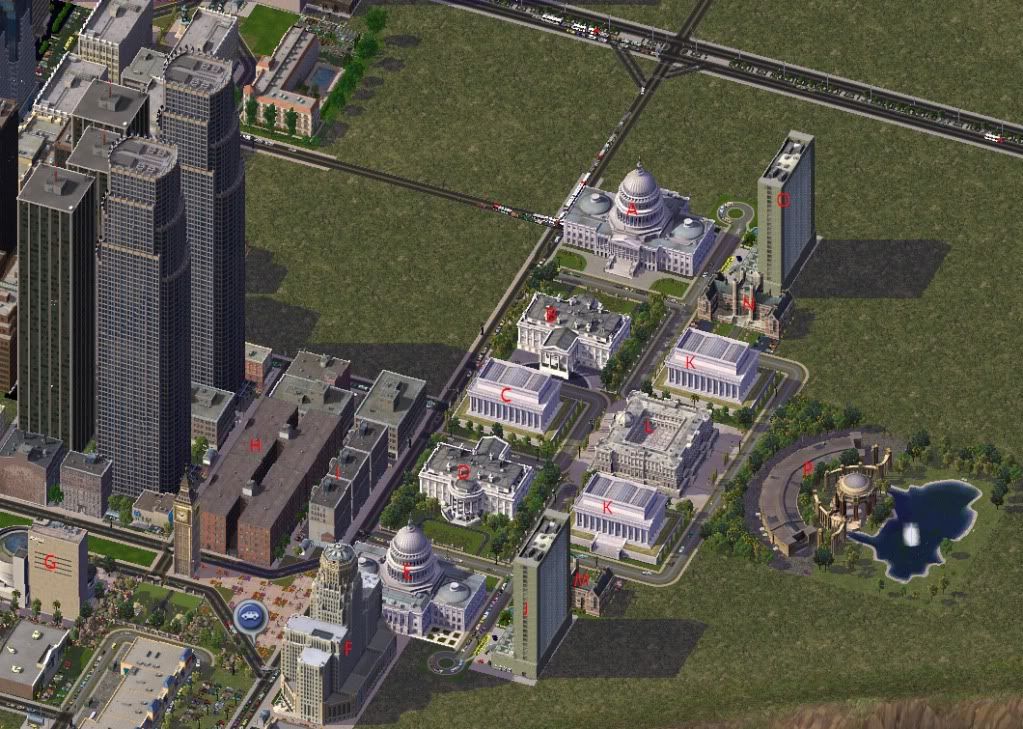 A - Justice Department - Supreme Court of Simtopia
B - East Wing Parliamentry Offices
C - Central Wing, Senators Offices, Senate, House of Representatives
D - West Wing Parliamentry Offices
E - Justice Department - Military Court
F - (Not apart of the Parliament) Hotel de la Capitale
G - National Council of Preforming Arts and Ballet
H - Privy Council (Prime Ministers Personnel)
I - National Affairs Council (Leader of the Opposition's Personnel)
J - SIMSIS (Simtopia's Secret Intelligence Service)
K - National Library
L - Parliament
M - Ministry Offices
N - Departmental Offices
O - International Affairs
P - Parliamentry Gardens
Picture B; Western Portion of Downtown;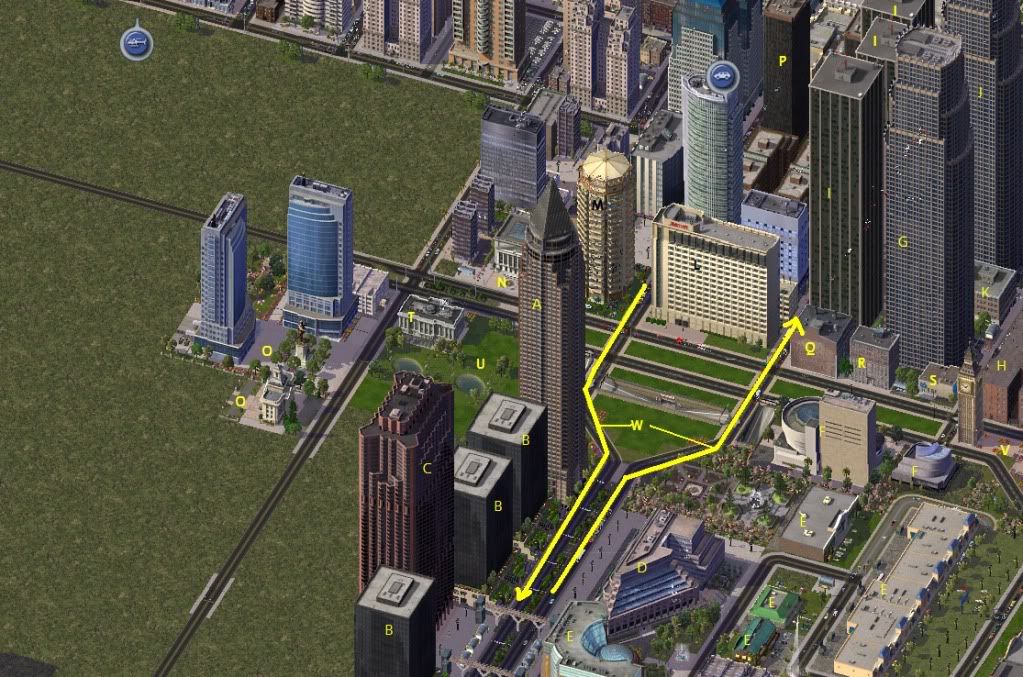 A - Bank of Simtopia
B - National Reserves
C - National Defence HQ
D - Congress Center
E - MacKenzie Center (Similar to Rideau Center in Ottawa)
F - National Arts Council and Center for Performing Arts
G - National Defence Campus C
H - Privy Council
I - Wesley Corporation
J - National Defence Campus B
K - Tesla Building
L - Marriot Hotel
M - Sheraton Hotel
N - Simtopia Stock Exchange (SSE)
O - City Hall
P - NavStat - Crowne Corporation dealing with Fisheries and Transportation along waterways
Q - Cowpland Building - Government Workers
R - Parker Building - Government Workers
S - Bank of Montreal
T - Courthouse
U - Union Square
V - Memorial Park
W - Transitway (And Opened to Regular Traffic)
Picture C - University of Simtopia
A - Dorms
B - Teaching School (Bansfield Building)
C - Political Sciences (Cowpland Building)
D - Medical Sciences (Donaldson Building)
E - International Affairs (Edmund Building)
F - Faculty of Sports (Fieldings Building)
G - Art Gallery
H - Archaelogy School (Henders Building)
I - Faculty of Preforming Arts (Indas Building)
J - Medical Library (Jesup Building)
K - Student Services (Kapo Building)
L - College of Engineering (Lansdowne Pavillion)
M - Faculty of Domestic Affairs (Milne Building)
N - Police Foundations (Norman Building)
O - Law School (Ovalion Pavillion)
P - Faculty of Business (Peterson Building)
Q - Natural Sciences (Querzert Building)
R - Faculty of Social Sciences (Redman Building)
S - Faculty of Religious Studies (Saintly Building)
T - Faculty of Sciences (General) (Tesla Building)
U - College of Applied Sciences (Ursula Building)
V - Faculty of Intelligence (Vindicator Building)
W - Firefighter Studies (Warhol Building)
X - Firestation 2
Y - Student Residence
Z - College Station & Transitway North/South
Downtown Core East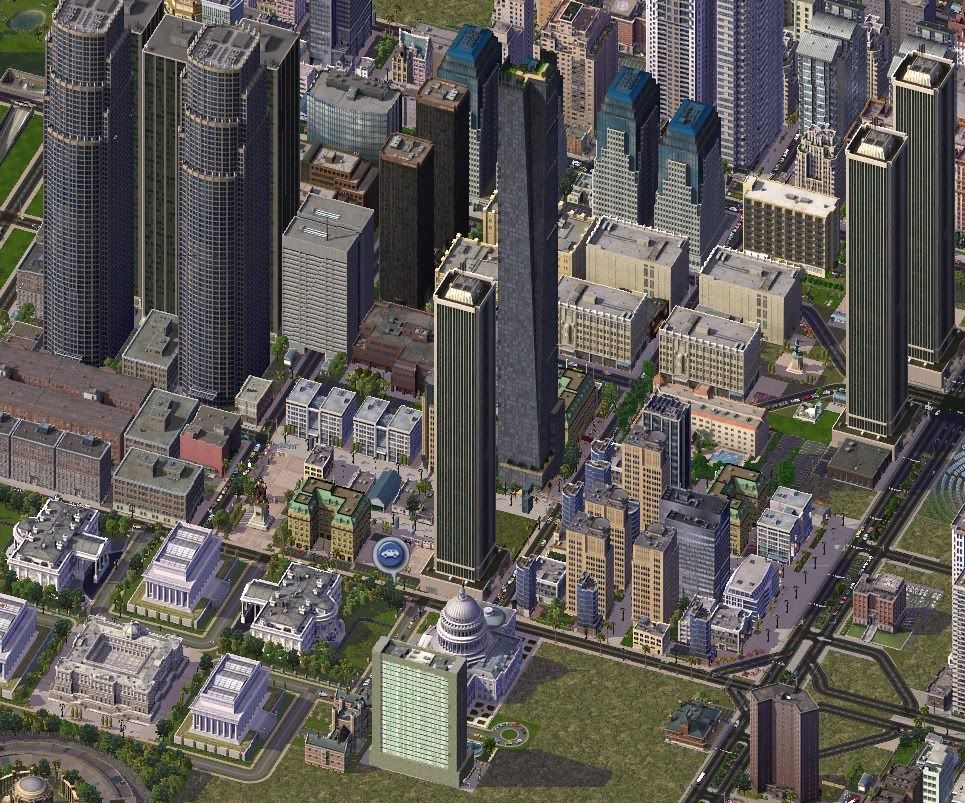 The Core original location of all government edifices and installations, later changed. Witht he recent events in the SimWorld, the City State decided to decentralize the majority of their Buildings. Most of the buildings are old government buildings covereted or replaced by the newer styles.
Underground
Green Line > Constance Valley to Farmstead
Purple Line>New Haven to Constance Valley
Orange Line > Farmstead North to Eastern Townships
Red Line>New Haven to Eastern Townships
Black Line> Farmstead to Eastern Townships
Blue Line> Capitol Local
Station 1 >North Campus
Station 2>Campus Main
Station 3>MacKenzie Center
Station 4>Central Core
Station 5>Gaffin
Station 6>Allemagne
Station 7>Parkens Dr. North
Station 8>Parkens Dr. South
Station 9>Cambells Way
Station 10>Switch Station
Station 11>Abell's Corners
Station 12>Center Fort
Station 13>Riverside
The pressures and over abundance of traffic from the outskirts and all over the City State was overbearing for the smaller city to handle, as a result, Legislation was pushed through to introduce a mass transit system for the whole City State which equalled over two-million kilometres of transitway bus priority system. With over 300 buses running into the town core leaving very little movement for the pedestrian and vehicular traffic along the arteries, it was than later decided that an extensive Subway system would be introduced to alleviate the pressures.
To encourage ridership, the City State of Oriska had decided to Introduce the Free Fare Zones, Sans Tarif Zone to encourage ridership to and from their destination. When Boarding within the Zones the Riders are not charged. Getting on anywhere else within Capitol varies in price but not more than 1.50$ SSD, at anytime.
With the creation of the Capitol Underground, it leaves room for extensive expansions, and intergration with Surface Operations. It instantly removed 47 routes upon her conception, and in the long run, 16 years later it has reduced the 1000 buses per hour to 500 per hour. The overall goal is to have solely 250 buses per hour, just local ones beginning at Campus Station and moving to Gaffin Park and Ride. It is said the completion of the Subway system will be year 2030 (Capitol).
Road Map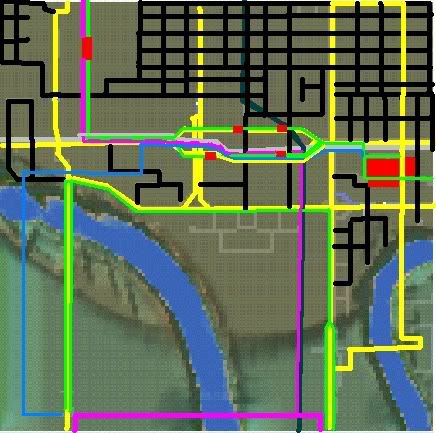 The Road Map of Capitol is pretty self explanatory, the Blue represents the Transitway portions which a small amount run through on Transit Reserved Lanes usually located on the Right Hand side of the Roads. Blue, Grey, Purple and Teal represent the major subway lines running though the city. The Black act as Collector Runs to the main arteries.
Red Boxes that vary in size and location represent different Transit Stations throughout the Capitol City, Starting from Left to Right, it goes Campus, Porkins, Neval, Bank North and South, Gaffin Park and Ride.
White Roads represent Government Controlled Roads, and require passes to get into.
Regional Roads
Now for the big treat, 90 years after my initial update, it shows the cities and their expansions within the region. Creating an Extensive road network, part of the Moving Oriska Master Plan, it shows solely the surface operations (Road Only) full details of this project will be released later this year. For the mean time, Yellow represents inner city main arteries, Purple represent Oriska Rural Highway Network (Also known as Oriska Roads) Red is the Highway system funded by the Federal Governments, and Blue is the Extensive Transitway System in Existance.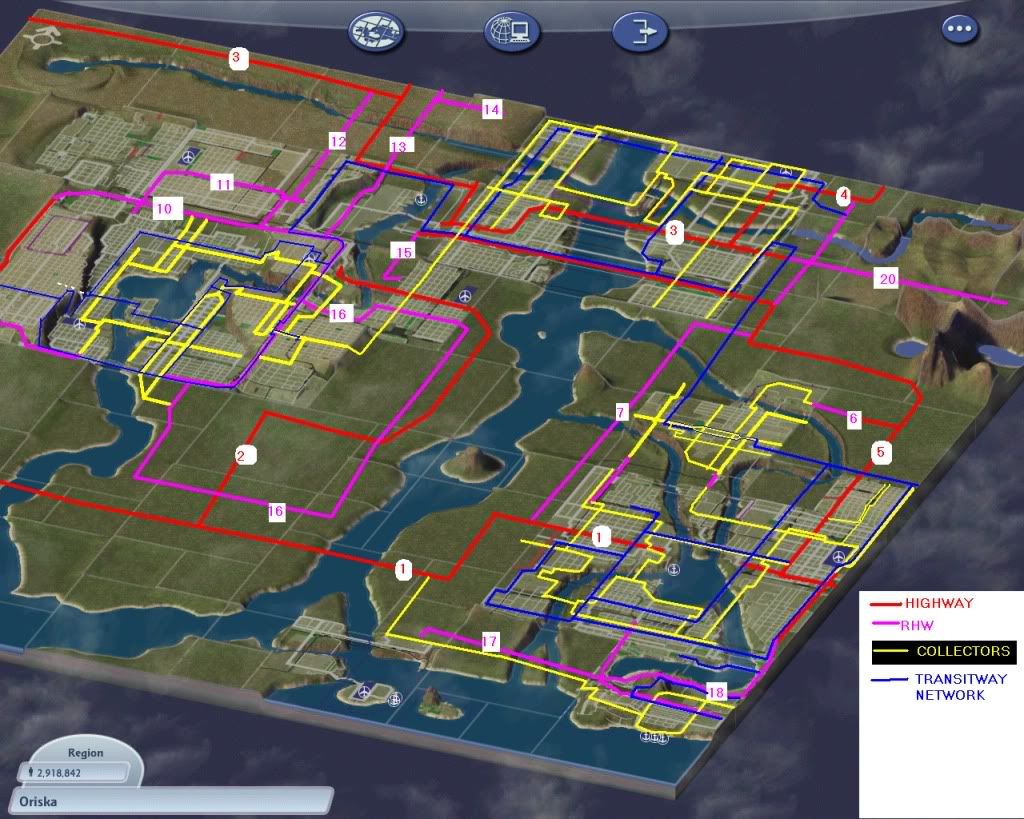 Please note that several projects are underway, and the transitway system is bound to change due to availability and necessity.