Industrial Revolution - The Rise of Industry in Grant County

Ah, yes. Who doesn't love the smell of dark pollutants in the morning? That's not burning petroleum and arsenic you smell, that's progress! Stage Two brought the railways to the Centropolis metro area, and on the heels of this foundation came, at the turn of the century, a boost in mining and industry to the agrarian Grant County.
---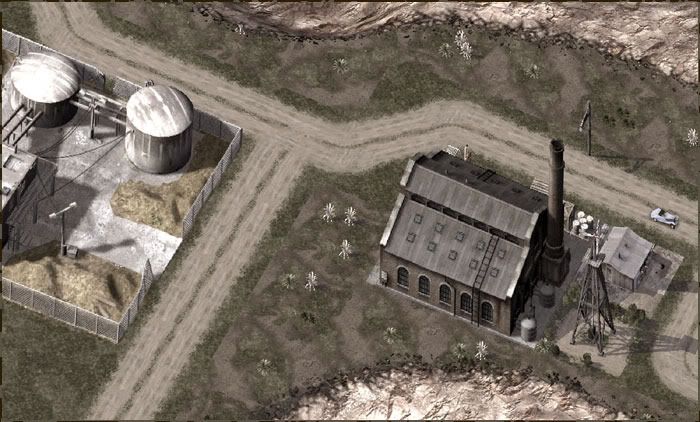 After the opening of the Union Specific rail line and stations in core cities, the population of Grant County boomed. Demand for such essentials as asbestos curtains, medical bellows and anvils (for packing into parachute packs, of course) created a nearly immediate demand for places to forge, make and store these items. It wasn't long after the railroads opened that robber barons of all colors began to move in to stake their claim on the vast, untapped sweatshop and child-labor potential.
Many new factories and plants, like those shown above in Bloomville, were located immediately adjacent to existing rail lines to take full advantage of rail freight access. To this day, the large industrial centers exist in the towns with best rail access, and whose NIMBY-prone neighbors haven't petitioned them out of town yet. But what did these people think life was going to be like when they bought a house next to a paper mill and rendering plant?
---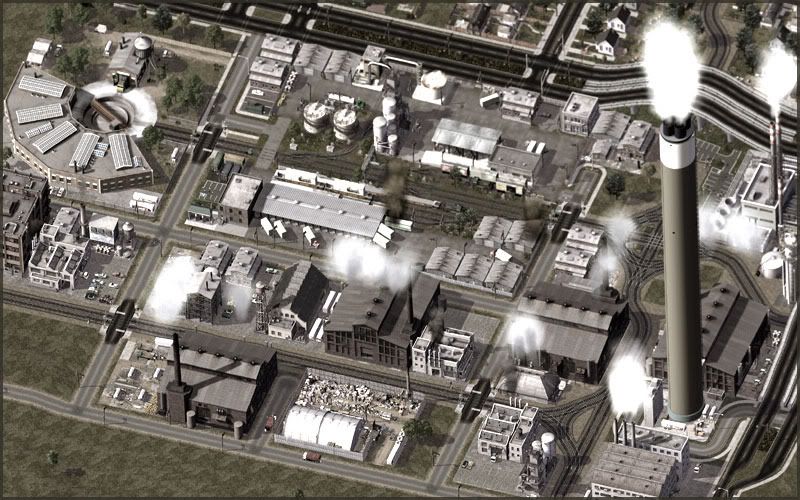 The automobile assembly-line method refined by Henry Ford was readily duplicated by other companies, including the Slap-Happy Motor Car Company in Taylerville, shown above. All production was located on-site, from ore smelting for metal blocks and parts to assembly and test-driving to test-crashing. The company became world-famous (or at least this-side-of-the-state famous) for producing the 1914 Wally's Wobbling Wagon (shown below), a car renowned for wobbling side-to-side uncontrollably when idling, but offering a smooth ride at a 28 mile-per-hour top speed.
Slap-Happy's meteoric rise brought prosperity to Taylerville, located in southeast Grant County, whose population at one time almost exceeded that of Centropolis. However Slap-Happy was brought down almost as quickly as it came up. The owner, Hap Slapman, insisted all lights installed be calcium oxide (causing cars to burst into flames) and that every horn installed play *"It's A Long Way to Tipperary", even long after the Great War was over. After a nasty takeover which resulted in Hap being hauled off to the looney bin, the company was divested and eventually closed down.
---
When marginally-useful minerals began to be found on the outskirts and various locations of Grant County, mines began appearing. Shown below is the Highland Quarry. Stones quarried here were used to build ostentatiously large government buildings, used by the heads of the political machines and paid for by the taxpayers. Ah yes, the system works...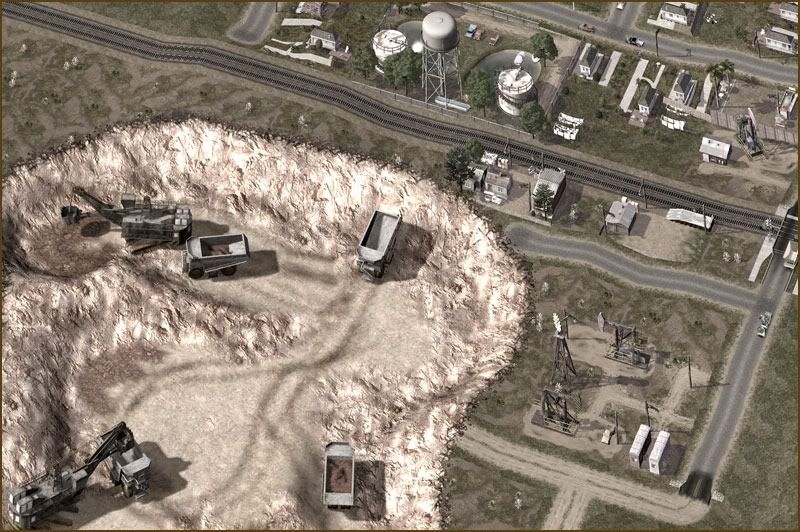 The Blue River Coal Mines, located along the banks of the Blue River in what is now Downtown Centropolis are featured below. Coal mined here was used for what you'd expect it to be used for; warming homes during the frigid winters and fueling the first power plants that came to the area. Easy access to cheap fuel would lead to later industrial growth near these mines.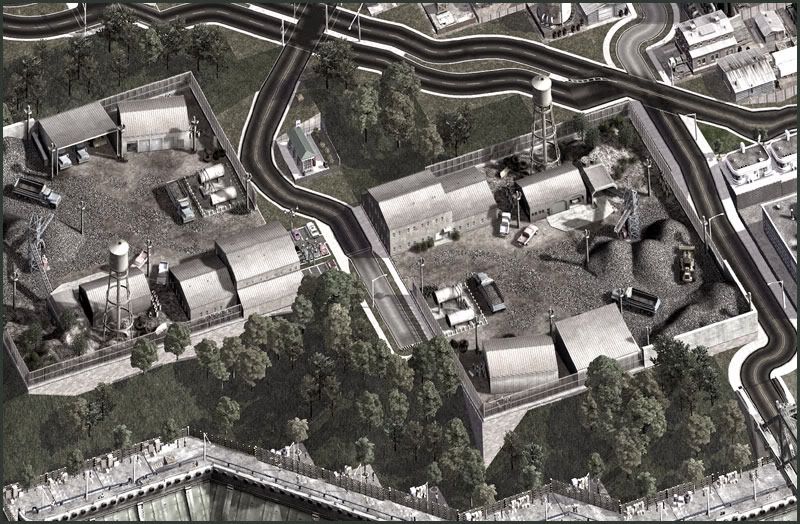 Here is an aerial photo of the Sanders Mine in Saint John, taken during a hazy morning.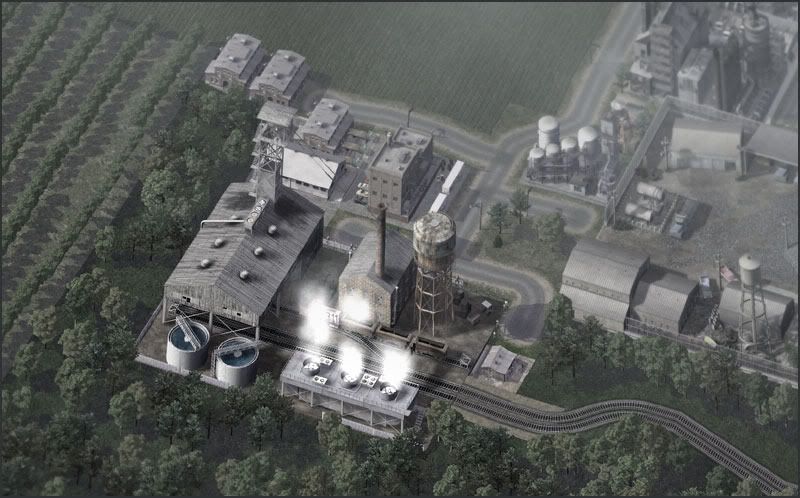 ---
Shown below is the vertical panorama of the Industrial District in Centropolis. Short rail spurs were built perpendicular to the main line, and access to cheap coal (mentioned above) and the largest population base in the region ensured this area's development. This, in turn, cemented Centropolis' place at the Grant County, marking the start of the change in Centropolis from a sleepy, small town to the bustling urban core of Grant County.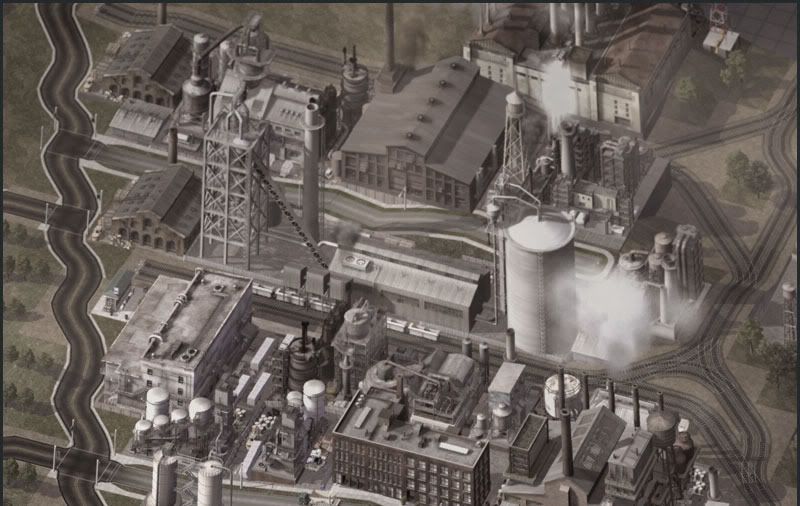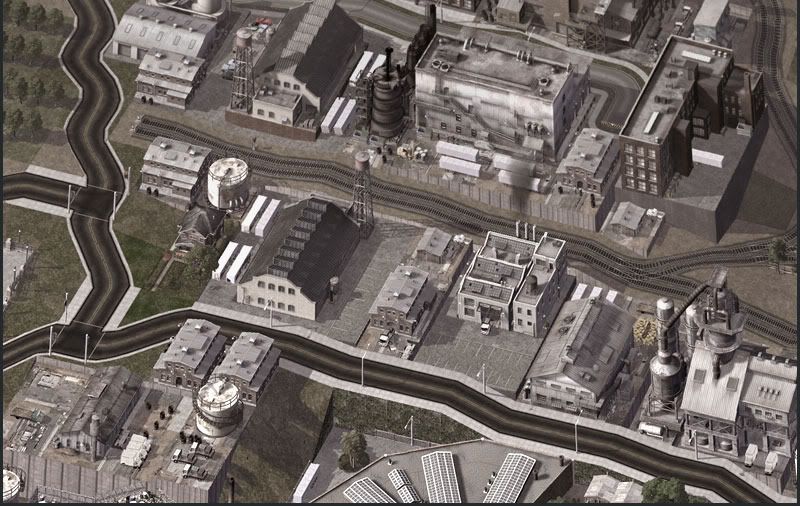 And shown here lastly is a map of the Grant County region as of Stage 3. The population at Stage 3 was around fifty thousand. Grant County had ten incorporated cities and towns, the newest being Robindale in Union Township and Shorewood in Lake Township. North is up, but south is not necessarily down. And all units are measured in Metricized Furlongs.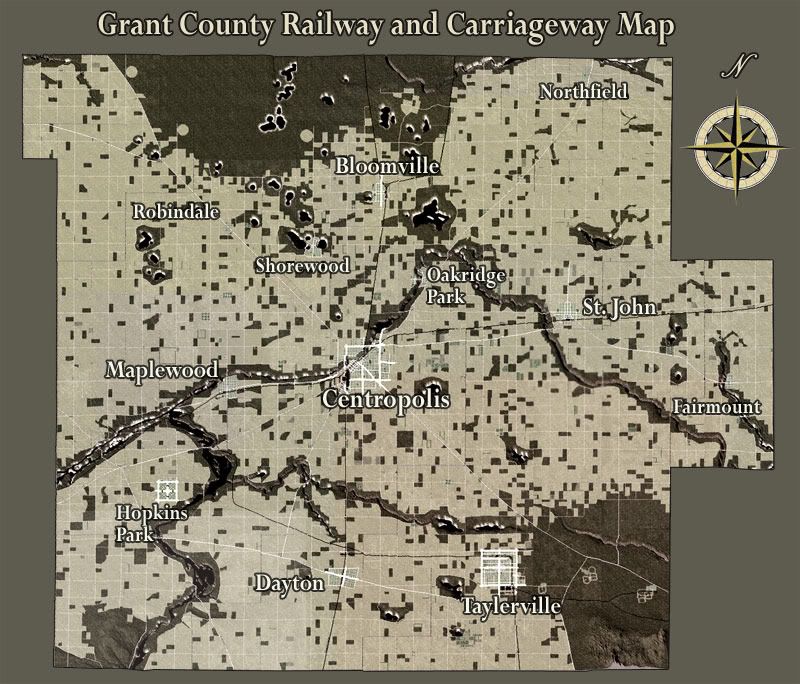 That's all for this update. As always, thanks for looking!