Falling
Admiral Islands: Falling
Exploring the Admiral Islands revealed one larger island and several smaller ones, mainly to its north. The islands seem to be fairly mountainous and virtually treeless, save for the largest island and this small one here.
With this few trees, let's hope no one is looking to start a toothpick factory anytime soon. Firewood and ship worthy timber are priorities.
After surveying the area, Archduke Bower of Schulmanicus decided to land on a rugged, mountainous island.
What attracted his attention was a massive cascade - a waterfall far surpassing anything ever seen in Schulmania. This magnificent site he named Buss Falls in honor of one of the original ancient towns of Schulmania. The falls dwarfed almost every landform ever seen. Only Rocky Top, the highest mountain n Schulmania, is larger. The crew was in awe of the tumbling water and its roar. The mist rose up in billowing clouds.
Buss Falls will certainly be one of the great natural wonders of Schulmania.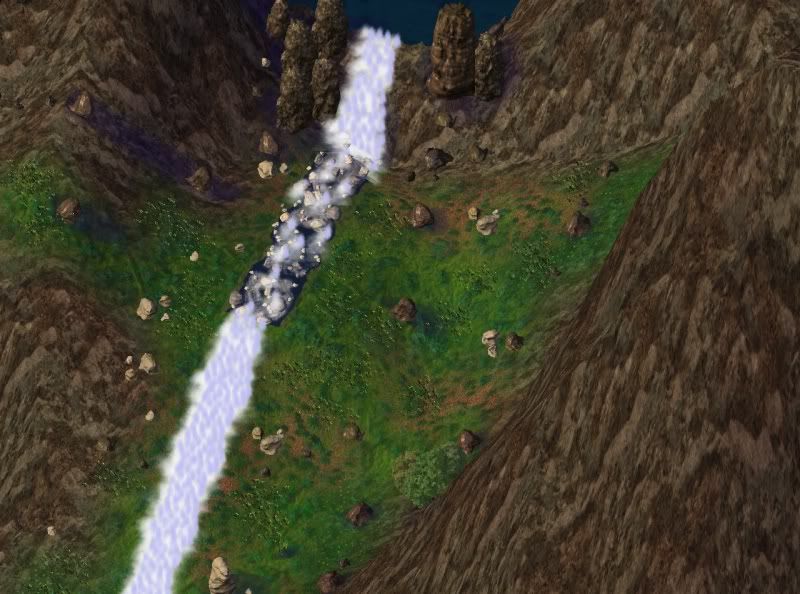 The falls has a smaller upper part and is separated from the main cascade by a rocky rapid.
The explorers could taste the rainbow from the mist
Wildflowers and scrubby brush lined the rocky hillside as the water plunged to the sea.
The majesty of this place was unique and uplifting... but only for a brief while. While exploring the interior of the island, scout teams reported back finding another massive waterfall. From the lake atop a steep mountain flowed yet another wondrous cascade. This one collected water in a pool at its base instead of emptying into the sea. This small, mountainous island is quite unlike any other seen thus far.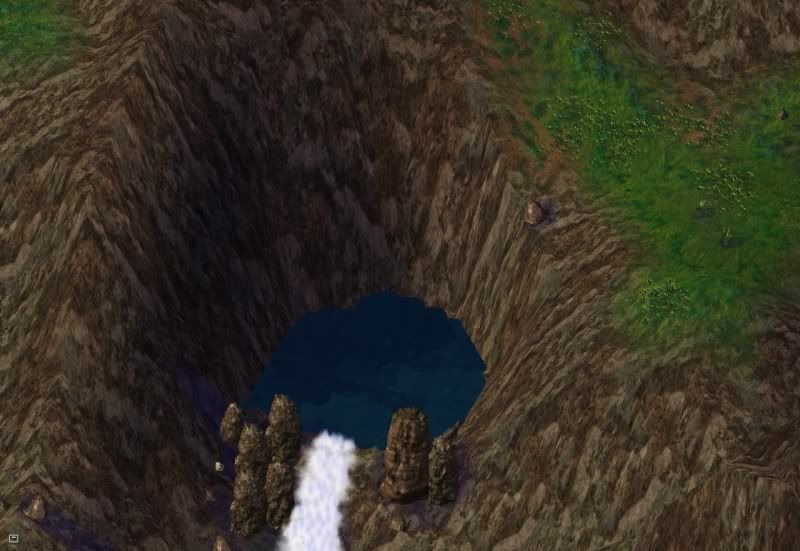 The caldera lake which provides the water supply
The pool where water collects after the plunge is easily seen from the lip of the crater.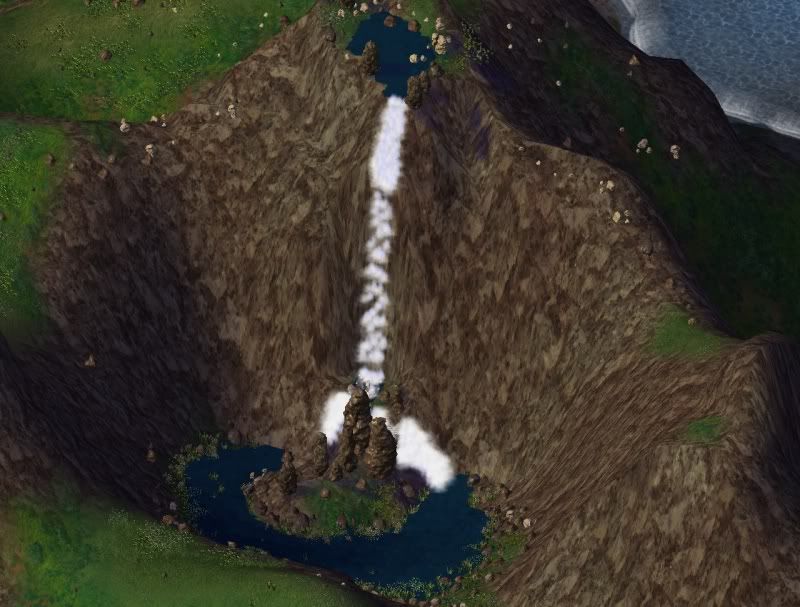 Another astonishing feature is the fork the water takes as it hits the rocks below.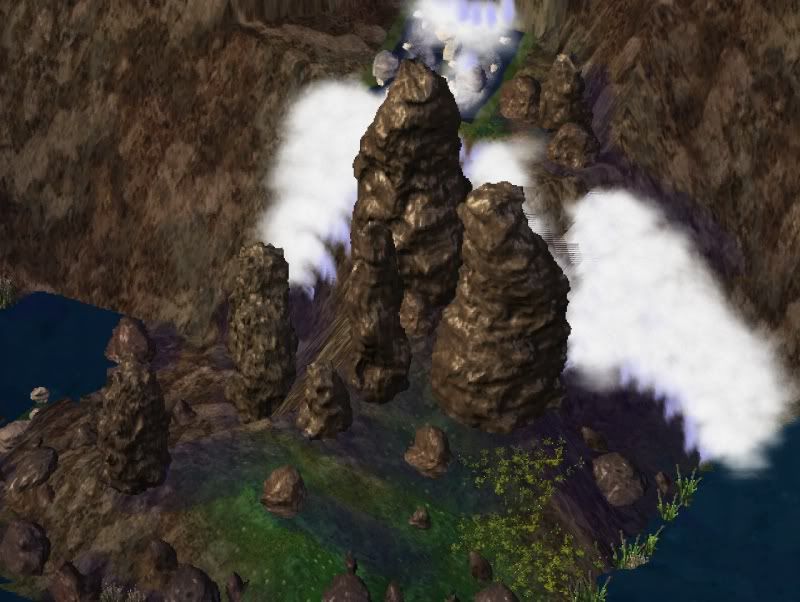 The fork where water hits the rocks and breaks in both directions
As the water churns across the rocks, the flow slows and calms substantially by the time it reaches the rocky shore.
This singular ecosystem impressed the explorers with both its beauty and its highly unusual geography. This island would certainly be worth additional study by geographers, geologists and ethnobotanists. Well, maybe not the ethnobotanists. But, it certainly is worthy of further study and of protection from development.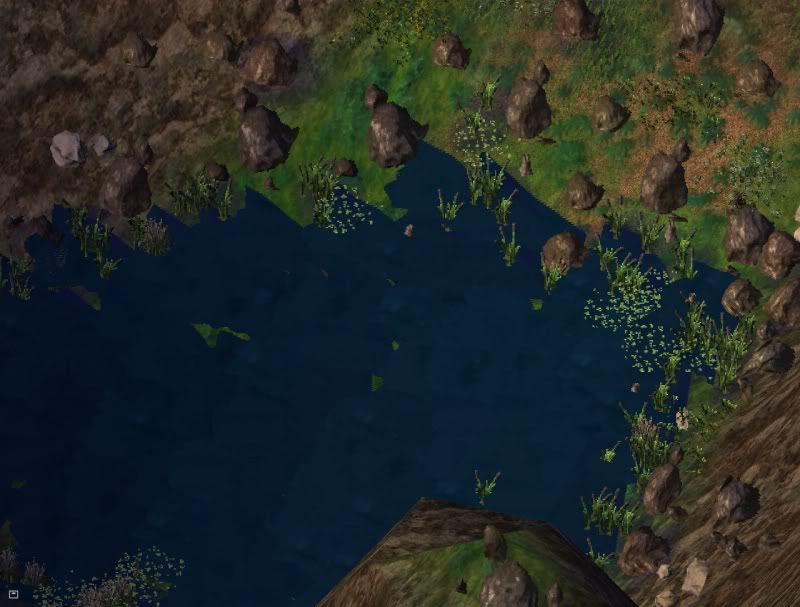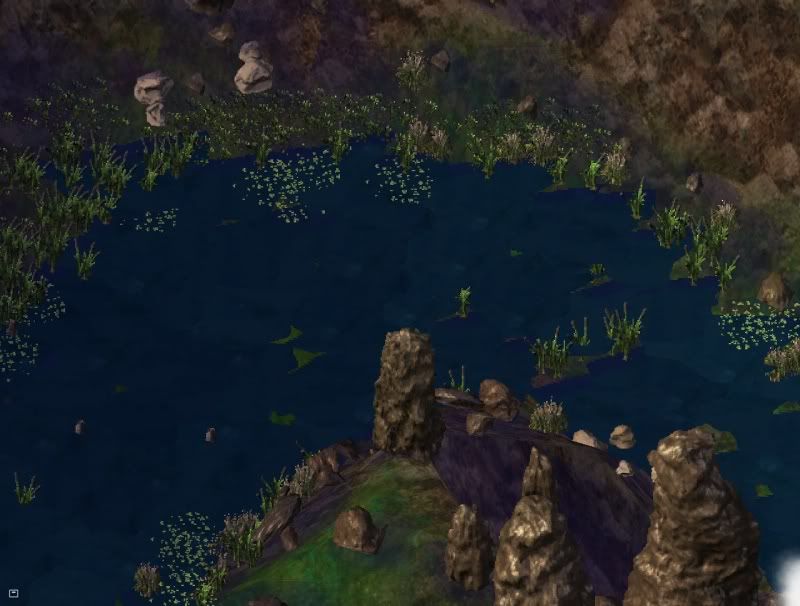 The detachment staying behind to establish a base on the Admiral Islands would be well served to investigate this and the other islands thoroughly before the departing fleet returns.