August, 46EL: Beginnings
Lyhoko: The results of the poll are as follows: 7 votes for location 1, 2 votes for location 2, 2 votes for location 3, and 0 votes for location 4.
Lyhoko: Galesfeburg will start out on the ocean south of the Yanar river, on an area that approximates a natural harbor. Incidentally, the other timeline's version started out around location 3.
Nerone route 3 is the first major road that reaches all the way to the coast. For most of its length, there's nothing but forest, and in some places this forest is thick enough to completely hide the road from view from above.
However, occasionally there are small towns or farms along the road, as people begin to settle in this largely untouched region. In this case, there's some corn and bee-- er, barley, being grown, among other things.
Just a bit farther along the road we come to the small town of Galesfeburg. The center of town has a small shopping district, along with the basic amenities, like police, healthcare, and so on.
This isn't the old days, however, so it's easier to build a town out in what is basically the middle of nowhere, as small transport starships can drop off supplies when needed, such as portable fusion generators to take care of power needs.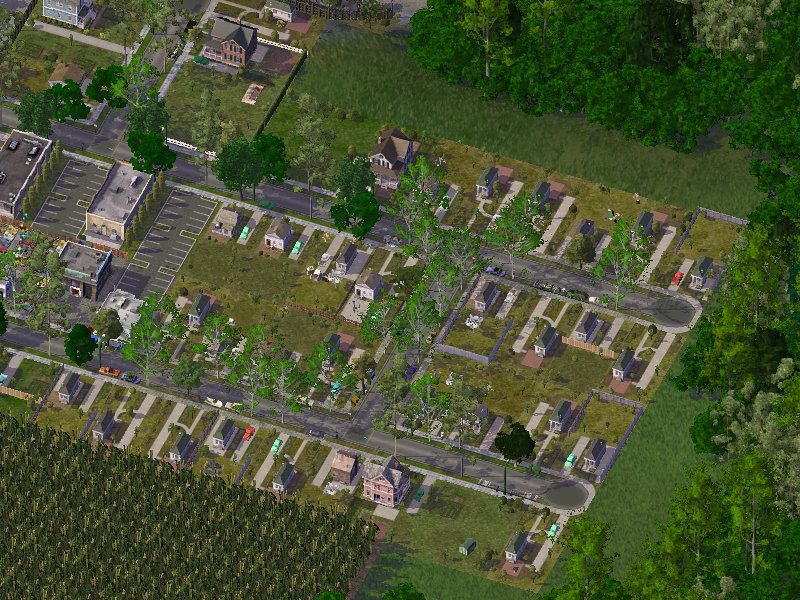 The northern part of town, the farthest from the town center, doesn't seem to be as well off. Though those prefabricated houses are a lot easier to set up.
On the western edge of town is the ocean, along with a couple docks and a basic beach, which is more of a flat sandy area that has been cleared of trees than anything else right now.
And an overview of town. I think it's a bit early to put lights in the trees...
A map! Not much here yet... but it'll grow.
Lyhoko: Weþureeg means roughly "waterfront," and shied is "head," or in this case, "main." So, Waterfront Street and Main Street.
Poll
Lyhoko: What should be added to town next?
Lyhoko: Voting is now closed!
1: 1 vote
Add an actual beach area, instead of a random flat sandy area
2: 1 vote
Build a park, to add safer places for children to play
3: 6 votes
More housing, so the town can expand faster
Lyhoko: Please choose one option at a time... but you may vote more than once, as long as you do not double post. Let other people have a chance to vote!