14. Spedbury, the dividing line.
First off I just want to thank everyone that viewed, commented, rated and +1'd the last entry. I was rather overwhelmed with how well it was recieved to be honest, so thanks
Replies
I was trying to quote everyone, but it won't let me do that, so if I haven't quoted you don't worry about it. -later- And now there are to many emoticons, I may have to change how I do replies I think.
@sHnozZa
The housing estates look amazing. Nothing looks out of place. 5/5
Thanks, I enjoy building them, previously only middle class areas but over time I have come to enjoy building practically any type/wealth of housing.
@dubaidude303 : Thanks for the comment, I intend to.
@MamaLuigi945
I love the use of parks, trees, and all different kinds of custom content. Your suburbs are beautiful with the NWM and SAM roads and streets. 5/5
Cheers, and thanks for the comment, you must have commented on nearly every single update so thank you for that. As for the road networks, I like to mix things up a bit, one day I'll get the hang of the RHW
@10000000000000
Amazing! Love the building choice and everything fits together fantastic!

Just one question, how come you changed the name from "The Spire"?
I changed the name from The Spire because that was the previous city I was working on, The Spire is now essentially finished and as The Spire was just one city in the region it didn't make sense to keep the same name. However the region doesn't yet have a name really, so the CJ name reflects the city I am working on most currently, which is by far Spedbury
@Keder : Thanks
@Hazani Pratama : The people living in the slum areas don't think so, but as far as urban decay goes it has a certain aesthetic quality
Thanks for the comment.
@Aaron Graham : Thanks Aaron, but none of this would be possible without people such as yourself making content for people to use, so you have my thanks. There probably isn't quite so much of your content in this update, you should BAT some industrials to remedy that
@greenbearcub
That city looks great and it's feel is awsome. What is that building in the third picture to the far left. (red brick with solar panels on top)
That is the TSC Ecological Building, you can find it here -
@Jetty Jockey
A very realistic mix. I also enjoy that you preserve enough green spaces within your city . Quite scenic !
Thanks for the comment, I'm going for the green but urban look and I think I have succeeded, besides people aren't robots, they need room to breathe. I'm not happy with my park creating skills yet though.
@Zulu2065 : Thanks Zulu
@Jamonbread : Thanks for the comment
@newyorka : Thanks, however you'll need to be a bit more specific in regards to housing, I have many many plugins. The marina/dock can be found here - http://www.simpeg.co...ownloads;cat=35 you'll need to register to download.
@Markus J
I am curious, how much have you finished of this region/city? It looks impressive.
The region has been in the works since 2010, hence the quality of the region varies alot, currently the regional population is 25,645,000 approx. Spedbury has 277,000 at the time of writing this. The city is probably around 60% finished, I still have a lot of land to build on
@david030400 : Nah, nothing is perfect, but thanks anyway
@aparrot7 : Thanks, I'm glad you like the style
@emogreen07 : I wouldn't have said it was "planned" I have an idea of what I want to do but its pretty spontaneous really, I don't plan out any networks beforehand I just go with the flow, though this does have its drawbacks, sometimes I have to delete a lot of stuff because I can't fit in what I wanted to fit in, anyway, thank you for the comment
@jc joopy : Where did I find the first one? I'm not quite sure what you mean, if you tell me which pic it's in then I can give you the link. The big factory can be found here - http://sc4devotion.c...php?lotGET=2578, thanks for the comment
@city89 : Sure, you can find that here - http://sc4devotion.c...php?lotGET=2578
@Cobra_nVidia : Thanks, I certainly wouldn't mind living here, on the nice side of course
@SimGuy23
Idk why, I just ditched SimCity 4 in late June, and then picked up RollerCoaster Tycoon 1 the night I went to the amusement park. I haven't played SC4 since. This makes me wanna play again. Very nice.
I go on and off Simcity myself rather often, I think most of us do, and like you, I usually pick it back up when I see something impressive in CJ's or "show us your" threads. So I'm glad my CJ was that spark, thanks for the comment
@SimCitySuperFan : Thanks, I upload them on an external image hosting website, in my case thats http://photobucket.com/, then you link the pictures directly into the CJ.
@paulvmontfort
yippee, Always nice to see my latest creations being used in a CJ . I love the setting, great job
I'm sure I won't be the only one, they're very nice buildings and the lotting by T Wrecks is also top notch. They fit so well into that pocket of affluence that I couldn't not use them, was a little problematic to grow though, thanks for the comment
@Lloyd0728 : I wouldn't worry about it to much, it takes time to learn how all the custom content fits together, what goes with what, and with more coming out all the time it's a constant learning experience, thanks for the comment
@Benedict
Well-received indeed - the response to this update propelled your CJ to number one on BTT this week.
Thanks, made for a nice little suprise after the hassle of moving house
@grstudios
Congrats on getting 1# on Ben's Top Ten! It really suits this so great CJ... Wish you many more beautiful creations, and no SC4 bugs/crashes for the near future.

Best regards,

Guy
Thanks, SC4 bugs, not so much. SC4 Crashes? To many to count
Update
A rather large update today, so apologies if you don't have much bandwidth.
The plan was to alternate the type of area shown each update, but as with many things the reality is a little different. I kept running out of ideas and going back to the "nicer" areas, and as such this update is really 50/50. So I suppose it has something for everyone. I've also experimented with an older area of buildings, and while I like it I'm not sure I will actually keep it. Anyway, less talk and more pictures I think, as always click the pictures for full 1680x1050 resolution.
We'll start in the poorer districts, this council goods depo was recently constructed on land previously occupied with an old factory, which arsonists burnt down.
Some of the surrounding housing projects,including the massive Ashbury house, constructed in 1973 to house 4,800 people.
The area is dominated by a huge ironworks and ore processing facility, the blast furnaces burn 24/7 and the twin chimmneys have become local landmarks.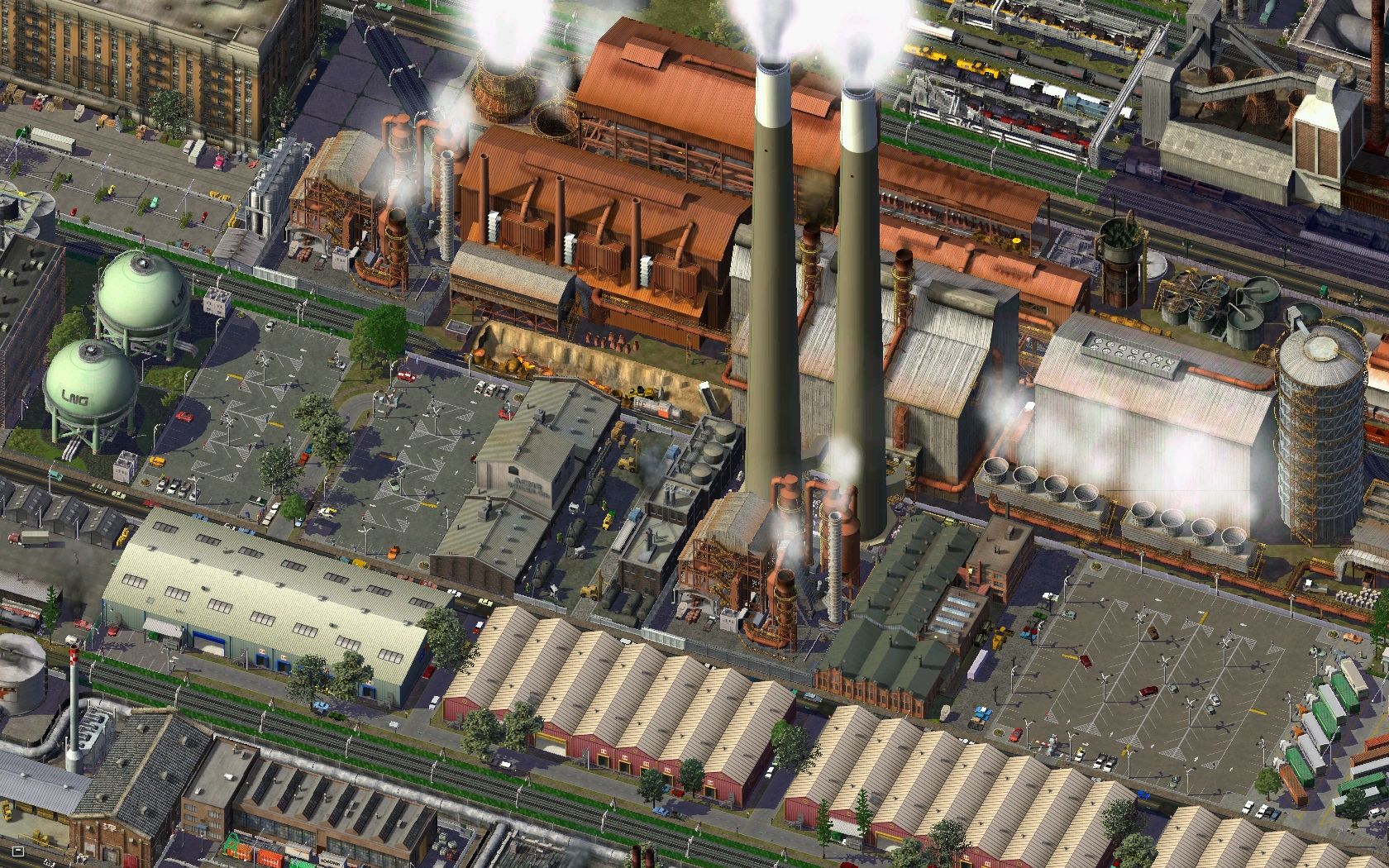 This once busy motorway seperates the housing areas of Northolt from the heavy industry of Workington.
In some places old factorys have remained standing, and are now surrounded with low quality housing.
More heavy industry lies on the other side of the A556.
A few overviews of the main industrial areas and housing projects.
The huge VW car factory and Blenish freight yard.
The previous main street of this neighbourhood can be seen to the upper side of the 60's concrete dual carriageway.
Now we come to the dividing line, stepping accross the railway line is like entering a different city (Well okay, driving or walking under)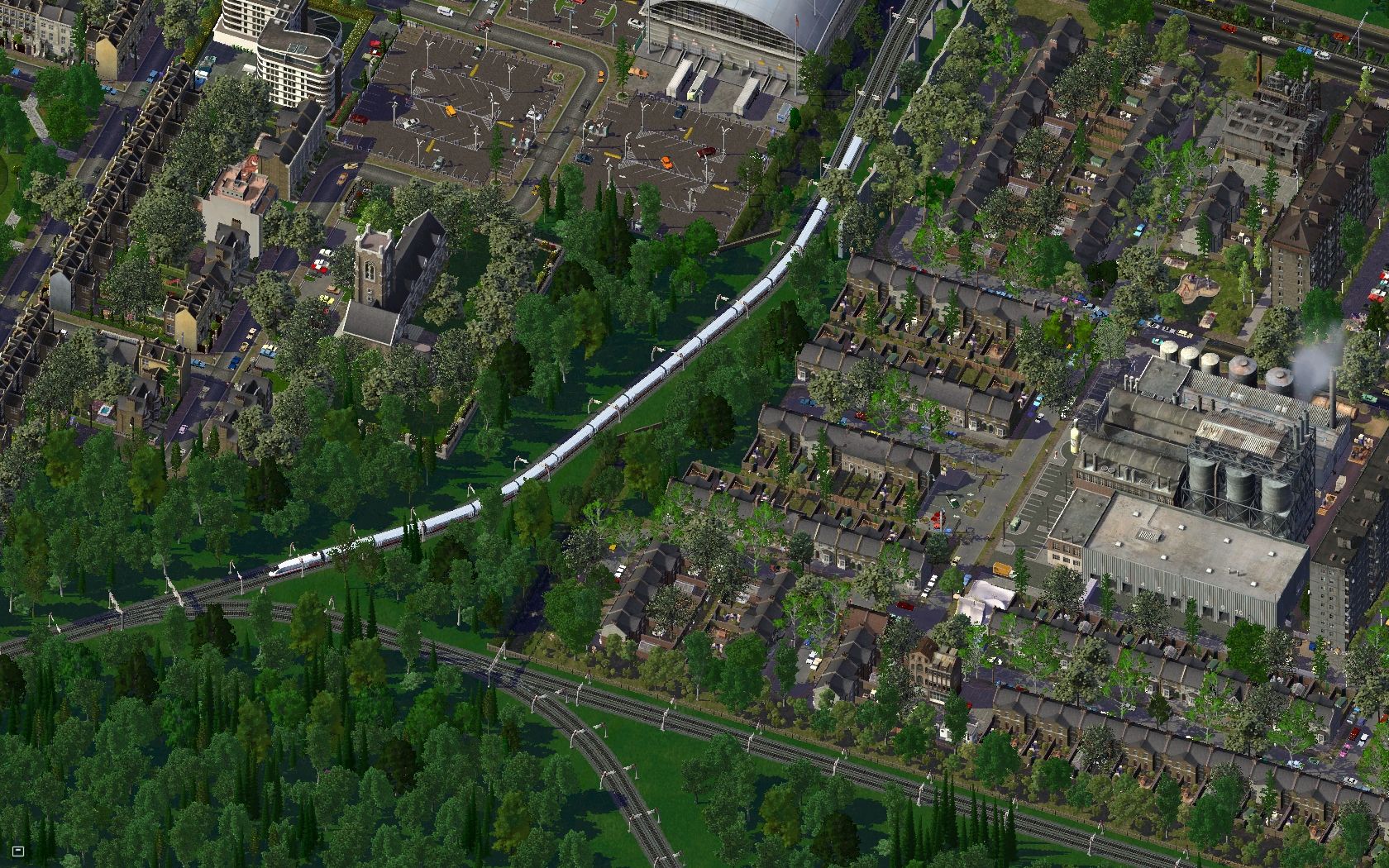 This area known as Fitz-Bellgrovia is the old merchants quarters, the old houses were recently done up and now fetch a pretty price on the housing market, the large imperial-era buildings also underwent extensive sandblasting and renovation.
We're now heading into the commercial heart of the city, which is charmingly located along the old canals. In the last few years extensive traffic free cycleways have also been constructed along the canals.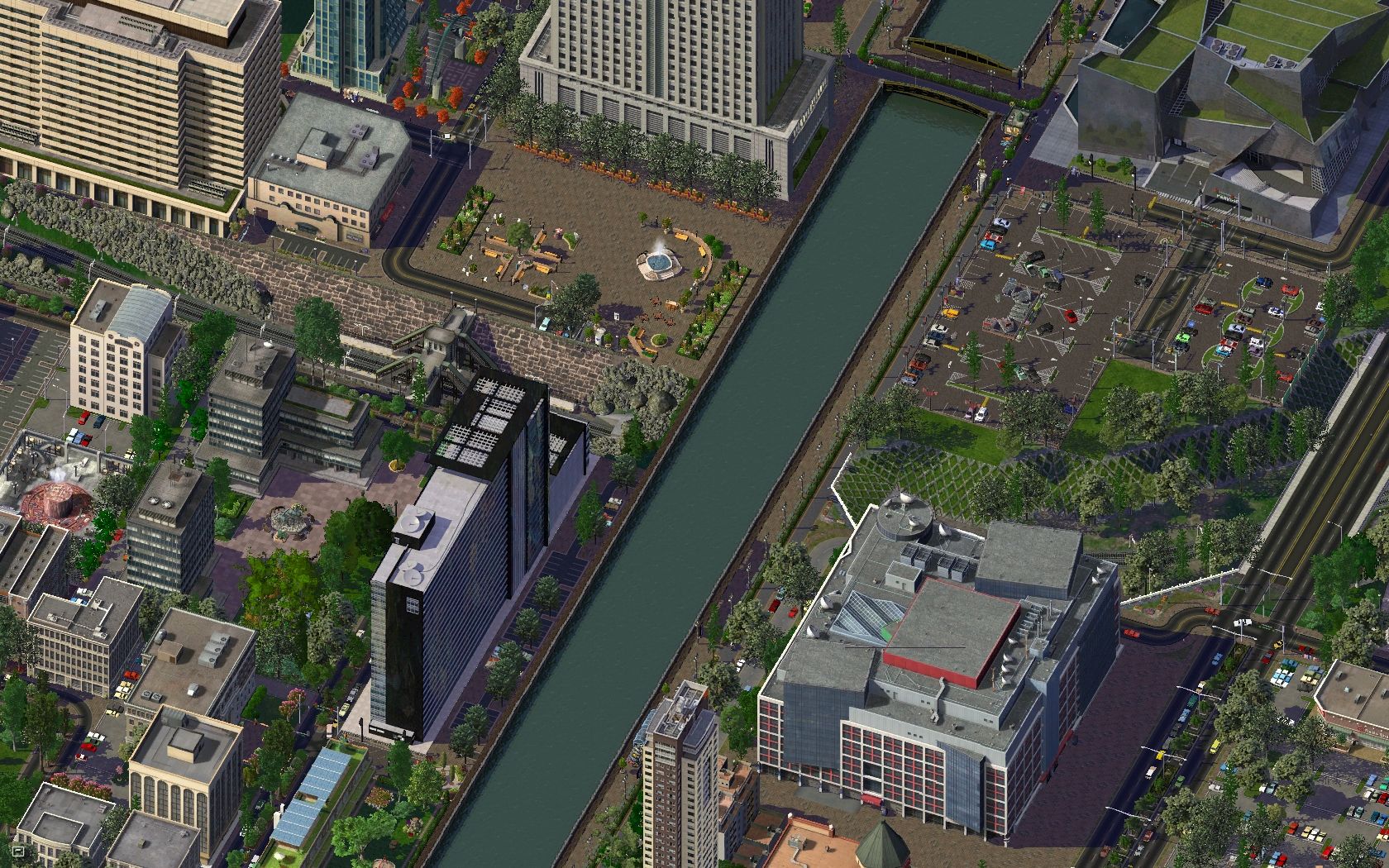 In some places the old high street remains, though with some additions usually.
This large shopping centre is situated on the outskirts of the commercial area and is popular enough to have its own purpose built rail station.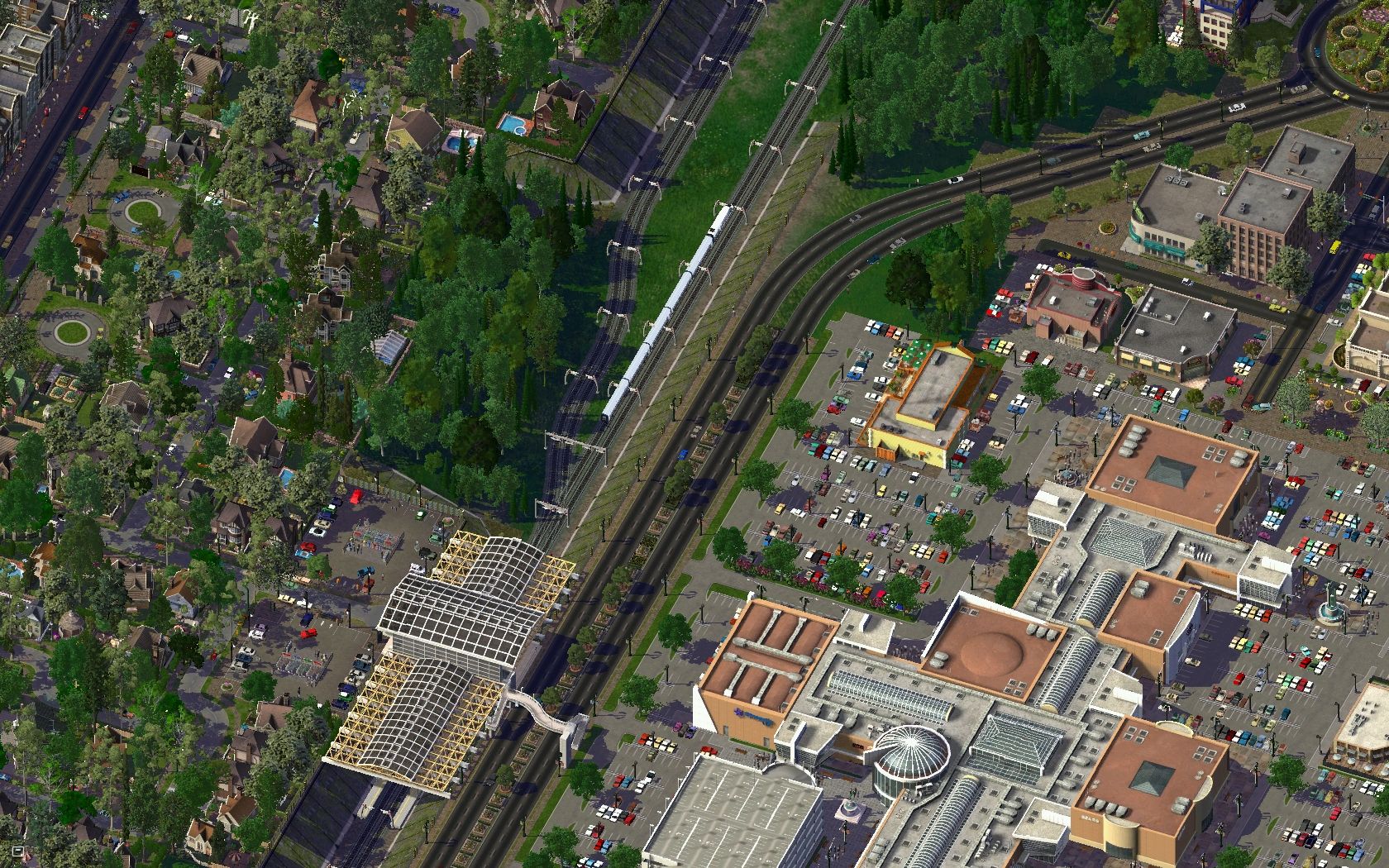 And lastly some middle class suburbia with a well performing school.
EDIT: I've done it again, I was sure I had uploaded this image, but I guess not. It shows in greater detail the partially sunken railway junction I mentioned in the comments.
Anyway, I hope you've enjoyed this update, please comment, criticise and +1 as you see fit