Update 15: Jeffries Freeway
Entry posted by Harden ·
703 Views
Replies:
@The187InDetroit No not yet. I started with Downtown Detroit, and I'm expanding the region in a circular pattern, with Downtown being the center. It will be a while before I get there, but I'll be showing a region view.
@IL thanks a lot!
History Lesson:
I-96 is an interstate highway entirely inside the Michigan borders. It is also possibly one of Michigan's most traveled Interstates. It connects Detroit, Lansing, Grand Rapids, and Muskegon. In Detroit, you guessed it, it's called the Jeffries Freeway. It got the name from a former Detroit mayor, Edward Jeffries. The Jeffries Freeway is possibly the widest freeway in the Detroit area. In Inner city Detroit, it features a 14 lane wide freeway in some spots. 6 lanes for the express lanes, and 8 lanes for the local access lanes. Dividing the freeway between Express lanes and Local access lanes relieves congestion tremendously. In my SC4 version, there are 8 lanes for express and 6 lanes for local access, because it was easier for SC4 reasons. The first segment was open in 1970 and it connected I-94, and I-75. Many residents blame the Jeffries and other freeways in Detroit as reasons why the city's neighborhoods suffer severe abandonment, as the freeways allowed for quick transportation to the suburbs, which served as a factor in Detroit's white flight era. Many other major urban centers have had the same problem.
My SC4 version of the Jeffries will look sloppy in some areas, as the neighbor connections with NWM and NAM are a pain to deal with but it can also be a beauty. The reason why I usually don't mess with the NAM 6, 8, and 10 lane highways is because of the neighbor connections, which I haven't found out how to do a smooth multi lane NAM highway neighbor connection, if it's possible. I've had to mess with the surrounding streets for some creative solutions, but it doesn't appear to be too off scale. You shouldn't be too disappointed in it unless you live around the area I'm showing, and if you do, my apologies.
Here is... The one, the only,
Jeffries Freeway:
The Remarkable, Outstanding, SC4 NAM Neighbor Connections!
The exit you see is with Greenfield road. The 7 lane NWM highway you see at the bottom is Plymouth Road.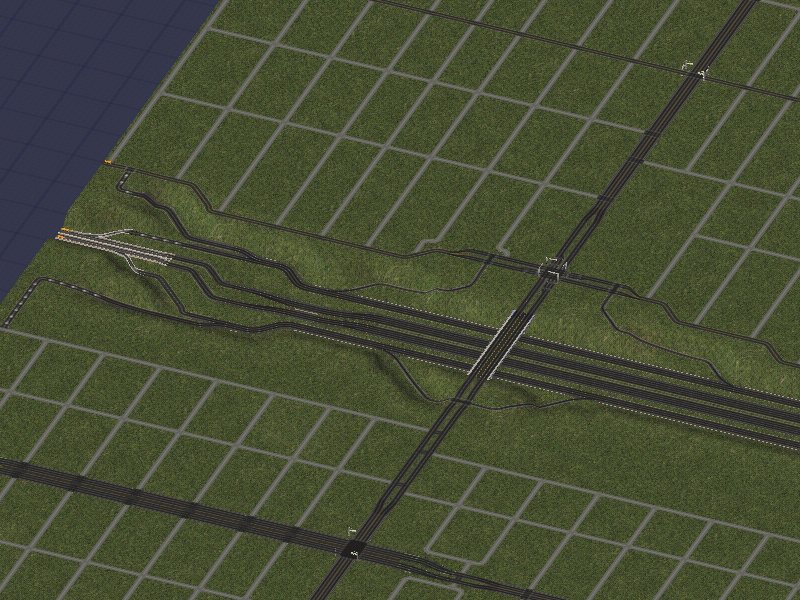 The massive interchange you see is Davison Avenue, also M-8 where the trunkline ends at the Jeffries. I think I got as close as anyone could to duplicating the actual interchange in SC4, and having a full interchange, meaning complete access to all directions from every set of lanes, and a south bound I-96 exit to Grand River Avenue. I took off the road signs so you can clearly see the art work I've created.
If you're wondering why I didn't add concrete textures to the sunken highway, that's because the Jeffries features dead grass, landscaped trees, and garbage. The Jeffries also isn't a complete sunken highway compared to SC4 standards in terms of the 15m hole you have to dig so overpasses don't look like they've been through earthquake damage. In real life though, it is more of a sunken highway then it is a regular ground highway.
Here is a region view of what I have so far. Hope you're satisfied:
West Side:
East Side:
I want to thank everybody that has read my CJ and has enjoyed it. I never thought my region would look this good, and it can only look better from here.
I also have the 8 mile trailer park developed.
I'm a huge Eminem fan.
But guess what.
School is about to start for me.
School comes first...
Social life comes second...
Free time comes third.
Development will be slowing down quite a bit.
Also, I'd rather warn you about extremely slow development on the region and end up not being as busy as I'm predicting...
Than not warn you about extremely slow development and then not post any updates.
So that means that I might post updates on a weekly basis, or it might mean that I post updates on a monthly basis.
But guess what again.
I'm not going away.
This region IS going to get filled out!
By... (looks at calendar)
No set due date.
Till next time,
Harden.