Update 13: Road Construction
Entry posted by Harden ·
717 Views
Replies:
@Jacob thanks! Appreciate it.
@vivapanda I always like to form the geography of the region before I play it. To me, it feels odd if I don't.
Now.... Guess what? I've got some sunken freeways! and they look great! and it's time for some pictures of some new roads I've put in. It will focus on 8 Mile Road / M-102, Woodward Avenue / M-1, and the Chrysler Freeway / I-75. This general area is near the suburbs of Ferndale, Hazel Park, and Highland Park. In between all of those area's is Detroit City limits..... In less complicated words, south of 8 Mile road is Detroit, and north of 8 Mile Road is Hazel Park and Ferndale. Highland park is it's own incorporated ghetto town surrounded by Detroit's larger ghetto. I will have an update featuring Highland Park..... When I feel like doing Highland Park. If you didn't know from watching the movie 8 Mile or being an Eminem fan, 8 Mile is the border for Detroit City Limits. I don't have any "streets" put in on this tile yet, so it will look blank. I will be showing the interchanges of Woodward and 8 Mile, and I-75 and 8 Mile. I will also say that Woodward Avenue is recognized as Detroit's main street, and is also recognized as the main street for many of the suburbs it serves. It is one of the oldest paved streets in the United States.
Here is a google earth picture of Woodward and 8 Mile:
Now....
Here is an SC4 picture of Woodward and 8 Mile, from all 4 angles!
:D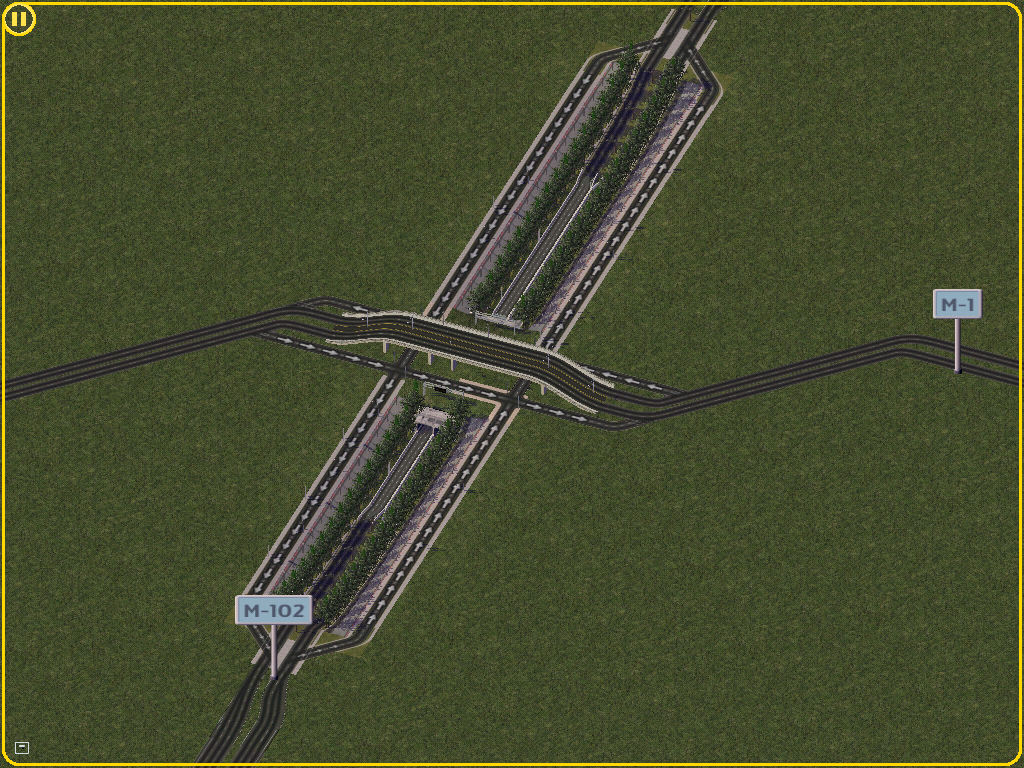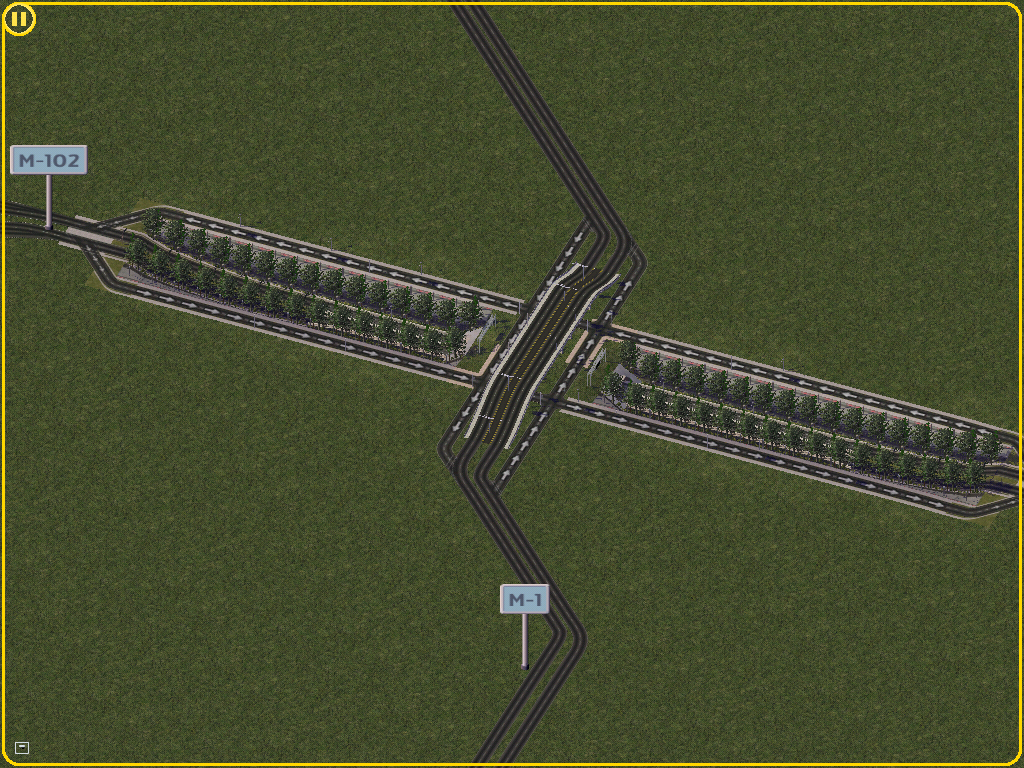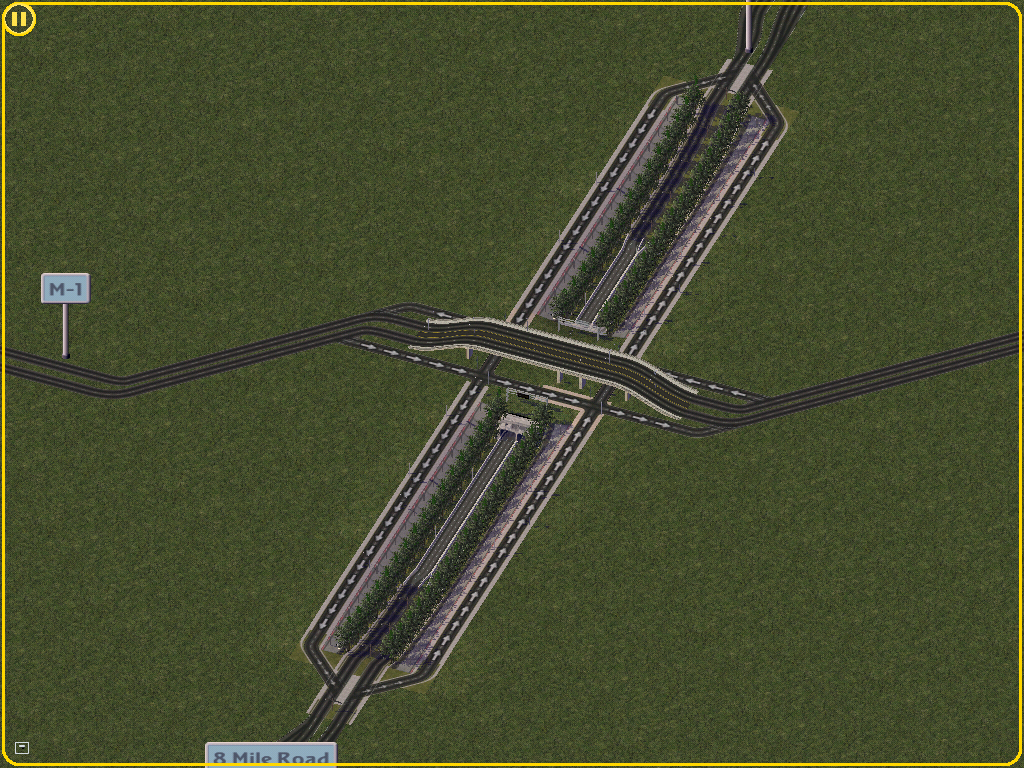 I'll probably replace the sunken highway filler with one that doesn't have trees, as this old showcase of infrastructure is 100% concrete.
Now here is a Google Earth image of 8 Mile and I-75:
And....
Here is an SC4 image of 8 Mile and the Chrysler Freeway...... at all angles!!!
:D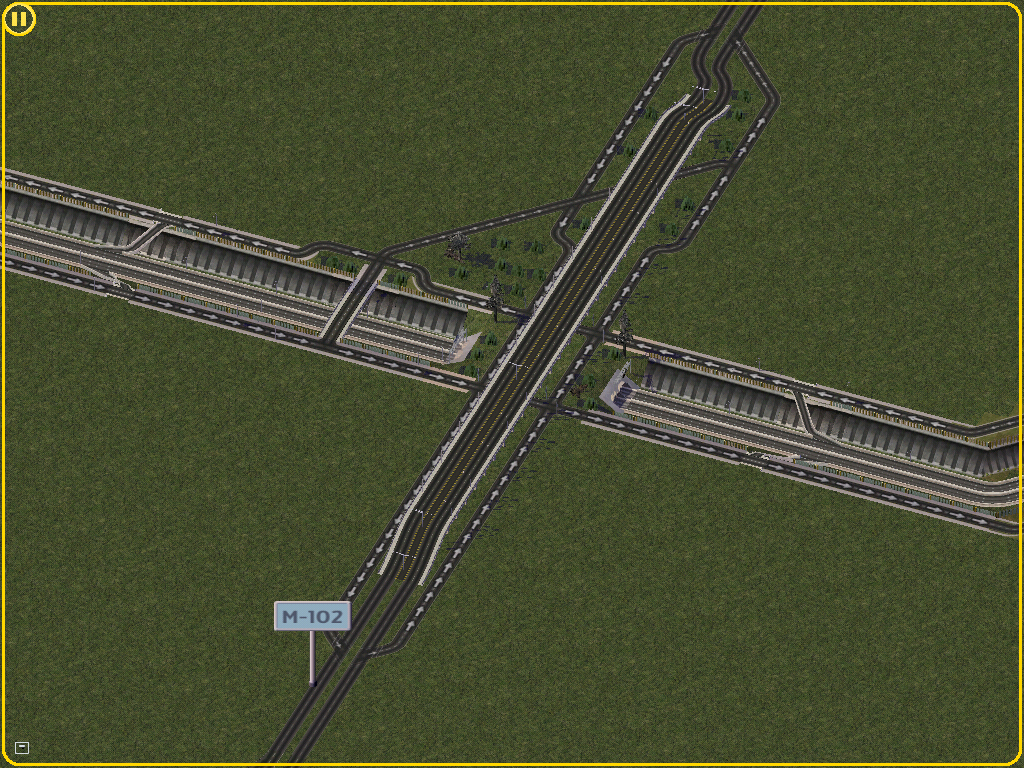 For those who know 8 Mile road, it is extremely wide, and If you're wondering why 8 Mile is a 4 lane avenue..... get away from the massive intersections and it's a 6 lane. I wish there were 8 lane avenues! And a Michigan Left Mod would be legit, but I don't know how popular it would be.
The only problem I've found, with my layout is...... that 8 Mile road runs along too far north in the tile, so I'm going to have to demolish it and move it south some :/ no big deal I guess. It will look the same as the above pictures pretty much.
Oh man, I can't wait to develop this tile and see sims driving on the sunken Chrysler Freeway. Arousing.
.....Don't judge.
What's next? Coleman A. Young International Airport.