Update 10: Windsor
Entry posted by Harden ·
415 Views
Comment Replies:
I didn't realize that If I posted back to back updates that quick, that one of these wouldn't show on the "recent update" screen. So I deleted that post and posted it again, so you would be more aware of it.
And BTW, I have something to say. :| Only 3 stars out of 5 on Downtown Detroit? Maybe I should of waited... lol, and only 4 out of 5 on the region view also? Geeze... lol. I'm just gonna say that I haven't seen any CJ on simtropolis come this far on Detroit, although I've seen several in the past that laid out downtown, plopped the ren cen, and then quit. (Part of the reason why I waited a while to show downtown.) I guess when you take on big projects you're gonna get criticized just as much as you would get praised if it was D*** near perfect.
Update 8;
@cmpd123789 I do have parking lots downloaded. You can see some of them in some of my updates, (Hamtramck.) If you said that because of all of the concrete slabs I put down, look at google earth. Downtown Detroit, and Midtown Detroit, is a heaven of concrete slabs, which is why i filled multiple blocks of them. Also, I've downloaded so many buildings and mods from the STEX I can't even name them all, My plugins folder says it has 450 files in it, which is a mixture of mods and buildings, and different kinds of lots.
Update 9;
@Jacob Guajardo go to the STEX and browse around, download the buildings you like, and make sure you download the dependencies also.
@NMUSpidey I actually never thought of looking for seawalls on the STEX. I downloaded a canal mod for plopable water, but that's as far as I've gotten with anything that has to do with water
Update 11;
@VMIUJcadet09 there's definitely going to be a lot more!
@SimCoug Thanks! It's no joke attempting to do that. Once i did a few of the tiles though it became easier.
@Jacob Guajardo thanks man!
Everybody: I am kind of rushing this too, because I want to get the city of Detroit done before school starts in 2 weeks, which I don't even know if that will happen. I'm not going to stop working on this though, believe that. Playing this, and playing Madden, is what I do most of the time when I have nothing to do and no plans planned. Who knows, I might have the motivation to learn the sunken freeways, and that alone will make it look a WHOLE lot more like Detroit. I'll even look into seawalls and stuff like that next, because I know that they are somewhere. This isn't going to be perfect at first, but I'm gonna keep working at it. First I am going to fill out all of the large tiles, 16 x 16, as I feel like the region view would be flipping awesome. I'm going to show a region view in my next update, which is coming in a few minutes after I post this one.
Now, for Windsor Ontario: Windsor is often referred to as Canada's automotive capital. It holds Chrysler's Canadian Headquarters, and has a huge Chrysler assembly plant. Over the years it has annexed several of its neighboring communities, Sandwich being one of them, Windsor has a very popular casino, Ceasar's Palace, and the city also draws large crowds from the United States as Canada's drinking age is 19. Windsor has no where near the abandonedment that Detroit has, and hosts a rather impressive skyline for a city of only around 200,000 people. Windsor marks the western end of Canada's most populated region, Quebec City marks the end on the east side. This region also has half of Canada's population, so you can see it's importance economically, and I assume that the culture is a lot like the United States'.
Here is what I've got so far:
Windsor Skyline:
Ceasar's on the left, Chrysler Canadian Headquarters on the Right (I think you know what buildings I'm talking about.)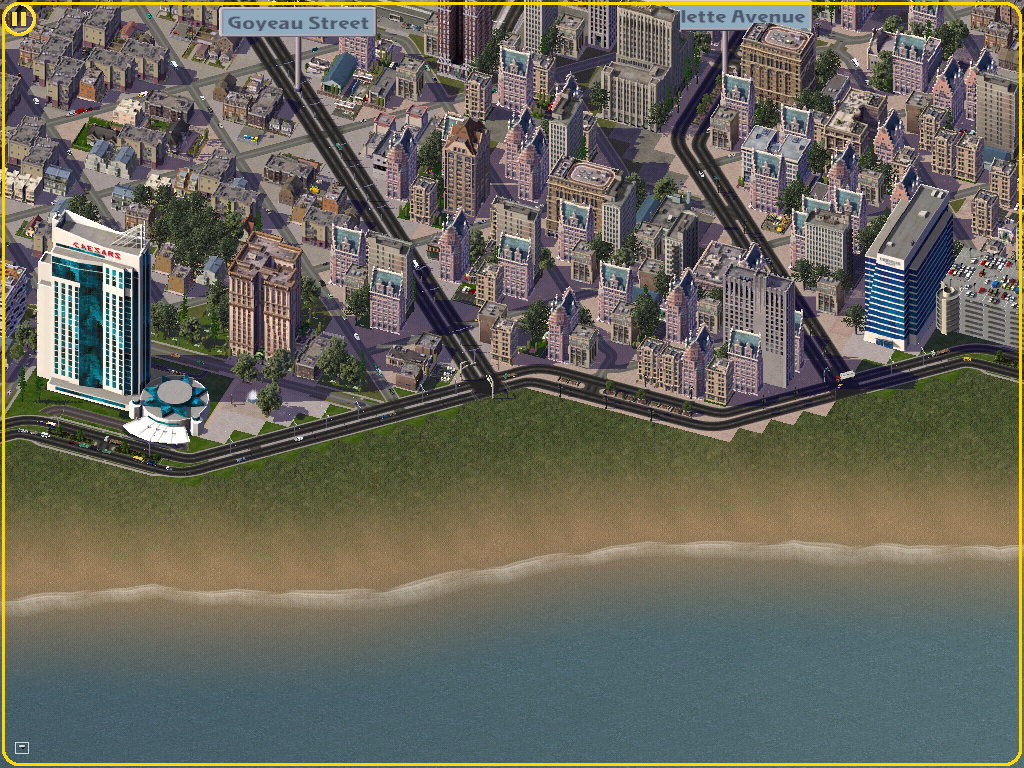 South Cameron Woodlot: (I hear that you can see the Detroit Skyline from here.)
Last but not least....
Belle Isle!