Update 8: Recap so far.
Entry posted by Harden ·
499 Views
Comment Replies:
First off I would like to say that I'm glad that people in the simtropolis community are enjoying this! I know that I am.
@iowndiscti I actually took the screenshot immediately to the right of the I-75. Most of midtown though is in other tiles, yes, as 75 is on the far left side for most of the tile. In the bottom left of the Hamtramck tile you can see midtown. I'm actually about to show a picture of midtown.
@NMUspidey thanks! and yeah I think you could be safe saying that Detroit is pretty much 50/50 really bad, and really good. Not much of the middle, but that's been improving over the years. I'm a huge NFL fan too, (just saying) and Warren is actually north of Detroit.
@ggagmus Yes it could be improved in a lot of ways I'll admit, as I didn't bother to put in railroads, I don't really care for railroads with a few exceptions, and I've never cared to learn how to install sunken freeways, it just seems very nerve racking and I don't want to lose interest in the game with stressing over getting every road, and every street, "exact."
Also, I must say that Detroit is arguably the most difficult American city to rebuild in SC4, with the roads at extremely, difficult SC4 angles. Once again, I'm not killing valuable brain cells of mine to stress over getting everything exact, but I think it's turning out well, and I hope I don't sound biased by saying that. I'd also admit that I'm putting in maybe 85% effort in getting everything "exactly on point." So I won't argue any criticism.
Well, here is a recap, with some photo's, of what I've had made so far:
Michigan Central Station, one of the most famous urban ruins in the world. It really doesn't look this "clean" by any means, and I put the tracks in the background for eye candy, and Vernor Highway does go under them, so it would of been a big thing to leave out: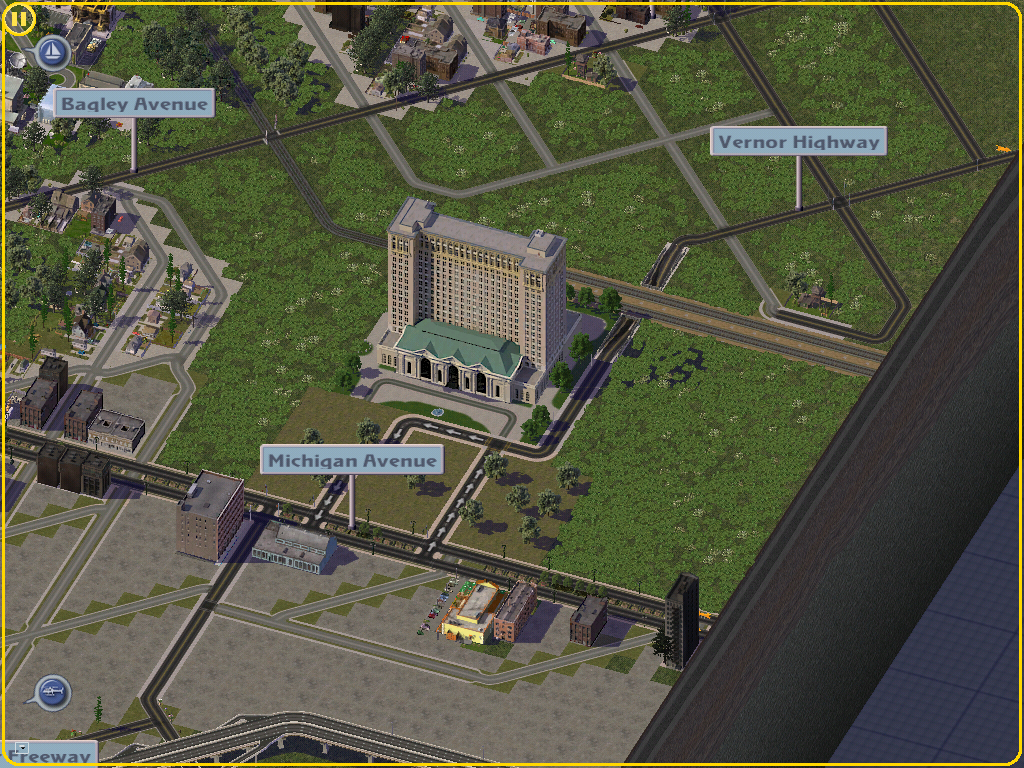 Wayne State University: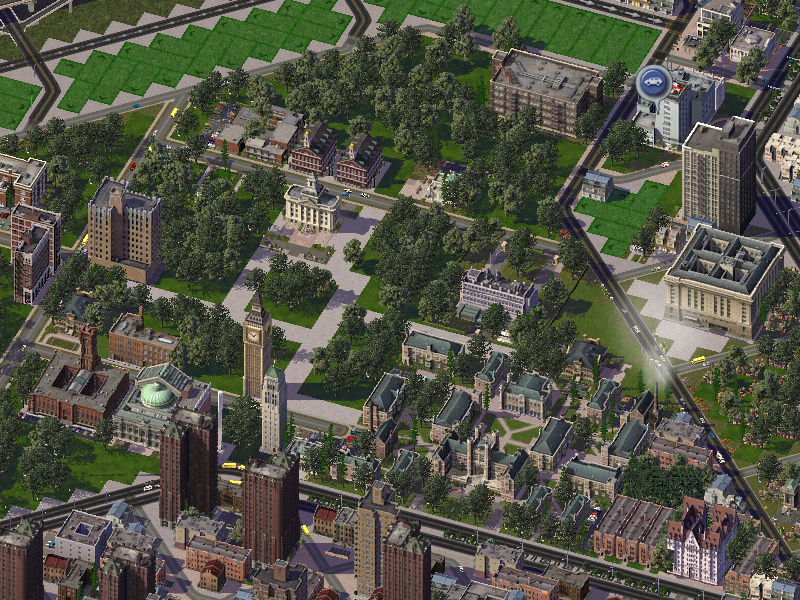 south part of midtown: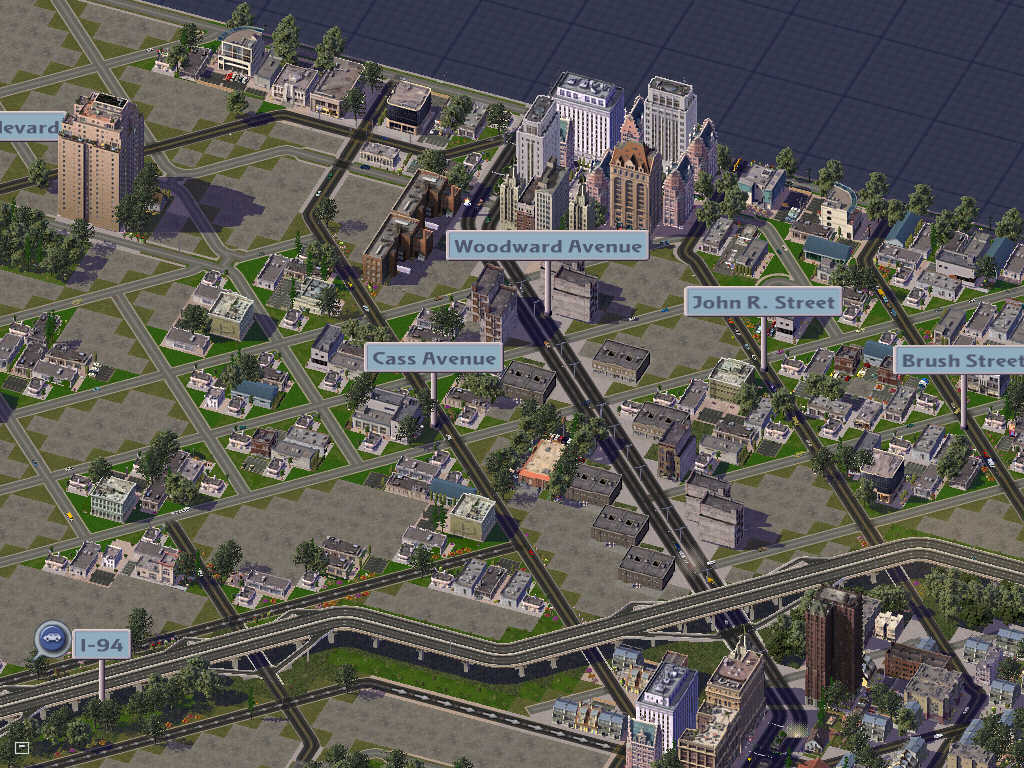 A section of M-53 / Van Dyke Avenue / Earl Memorial Highway, whatever you want to call it. This section of the city I just find very interesting. Much of it is abandoned, and it is due west of the Coleman A Young Airport, or Detroit City Airport:
A train yard I put in east of hamtramck for eye candy, (also note the density of Hamtramck on the left, and the emptiness of Detroit on the right, it is like that in real life: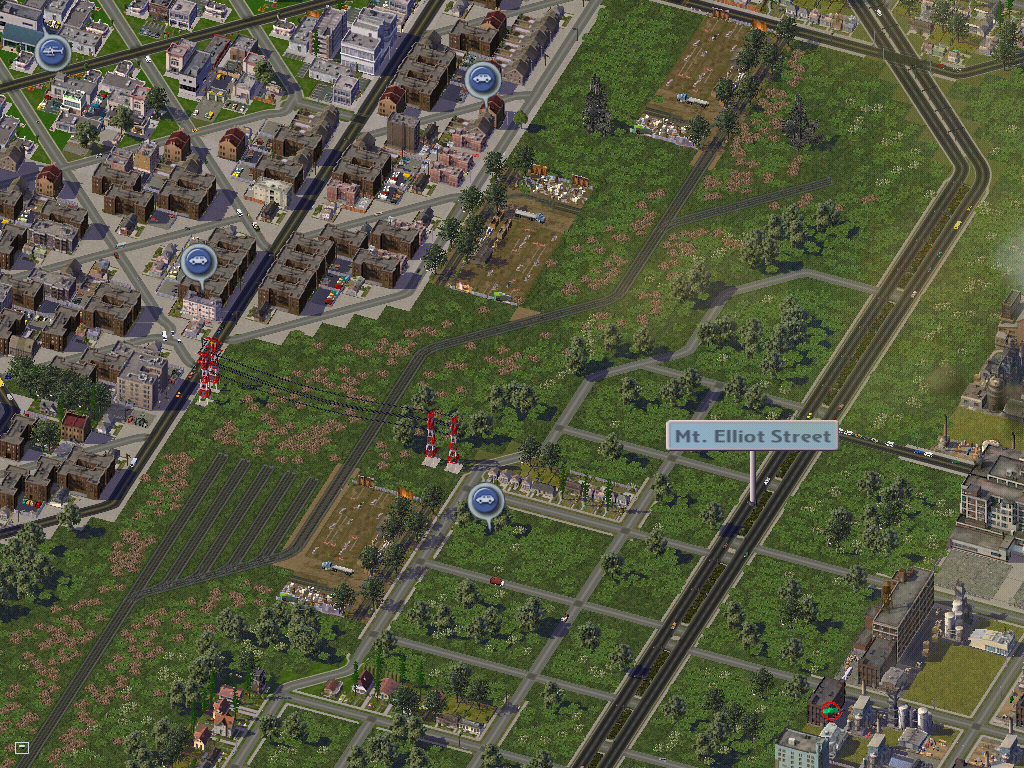 My next tile that I'll fill out will probably be the one to the right of this, or "East Detroit." looking at it on google earth, it looks difficult, but definitely do-able. Going from north to south though, and west, I've reached territory where the streets are mainly STRAIGHT.