Zug Island! And other parts of South-west Detroit.
Entry posted by Harden ·
2,557 Views
This is going to be a very long update, so it's alright if you only look at the pictures. Although if you're an urban history nut or just a tourist freak like me, you'll be interested in the text as well.The display picture is the entrance to Zug Island. I found props on the STEX, the blue cranes you see on the sides of the bridge, that made me think of Zug Island. This is the entrance to Zug Island as seen from Google Earth:
Btw, google earth has been a VERY useful tool in my re-creation. Without it, I wouldn't be able to attempt this re-creation and make it look anything close to the real thing. Zug Island is famous for heavy industry and pollution. In the google Earth picture, you can see signs saying United States Steel. In SC4, I have way more smoke stacks then in real life, but the pollution it produces is very similar. The rouge river ends at the Detroit river, and splits in two directions. In the middle, as you guessed, is Zug Island. It's not a natural Island as a shipping canal was dug on the south west side: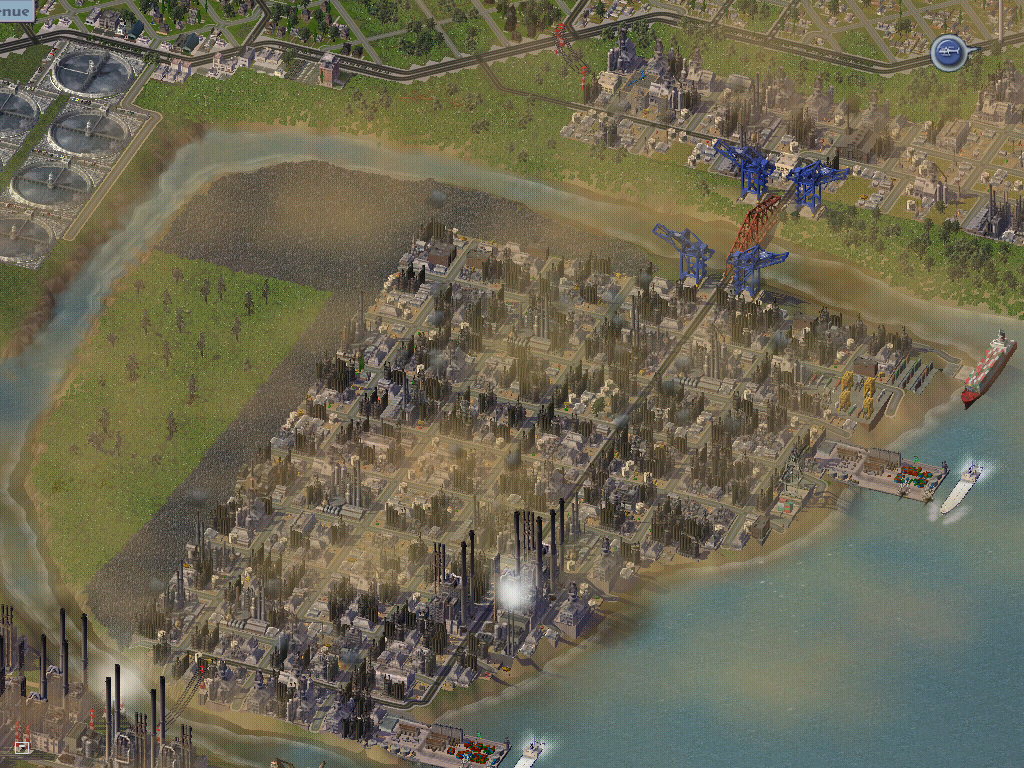 The development of the island started when Samuel Zug came to Detroit from Pennsylvania in the 1850's. He had a successful business in Detroit called The Stevenson and Zug furniture company. He became one of the wealthiest businessmen in Detroit. After time, he ditched the business, and invested in some real estate along the Detroit river right by the town of Delray in 1876. At the time it was all swamp. The dampness of the land was too much for Zug and his wife, so they bailed after 10 years. In 1888, Zug allowed the River Rouge Improvement company to dig a new canal through the south portion of his land. Three years later, Zug sold the land for $300,000 to industries that wanted it as a dumping ground. That transaction was the biggest real-estate transaction of the decade. After that, Zug became a politician for Wayne County, and then passed away in 1896. Later on, the canal was widened and better known in the 1920's when Henry Ford put it to use with his Auto Assembly plants.
The Rouge RIver has never caught on fire like Clevelands Cuyahoga River, (hahahahaha) but it might as well have come close back in the day when people could care less about harming the environment The small patch of grass and trees you see on the Island was undeveloped to preserve wildlife. Yes, wildlife lives on the Island. Mostly gulls, rats, and types of fish.
The island is not owned by the city of Detroit, it's actually owned by the city of River Rouge, served by Jefferson Avenue. River Rouge is an Industrial suburb of Detroit with a population of around 8,000. This is the beginning of the chain of suburbs that Detroiters like to call, "Down River."
Along Jefferson Avenue is the town of Delray, annexed by Detroit years ago. Much of it is abandoned due to poor air quality from industries on Zug Island. The residential neighborhood is solitaire from all other residential areas, as it's surrounded by industry and commercial lots on all sides. I wouldn't necessarily want to live here either.
You might be surprised, but Detroit is recognized with some of the cleanest drinking water in the nation. Detroit water and sewage company off of Jefferson Avenue right by zug island:
I would talk about Fort Wayne, but I don't know much about it, and I don't care for the "war battles" of history, although I will say that Detroit has some of the richest history of that kind in the United States. French, United Kingdom, and the United States all have rich military history in Detroit, and Detroit was a major center for the U.S. army during the civil war and WWII as many factories in the area produced their weapons. Here is historic Fort Wayne, the third fort in the Detroit area, located along Jefferson Avenue at the foot of Livernois Avenue in real life, not in SC4 because of the odd road angles. As a major road geek, I am disappointed in myself for not being able to get some of the roads exactly on point. (sorry if it disappoints you.):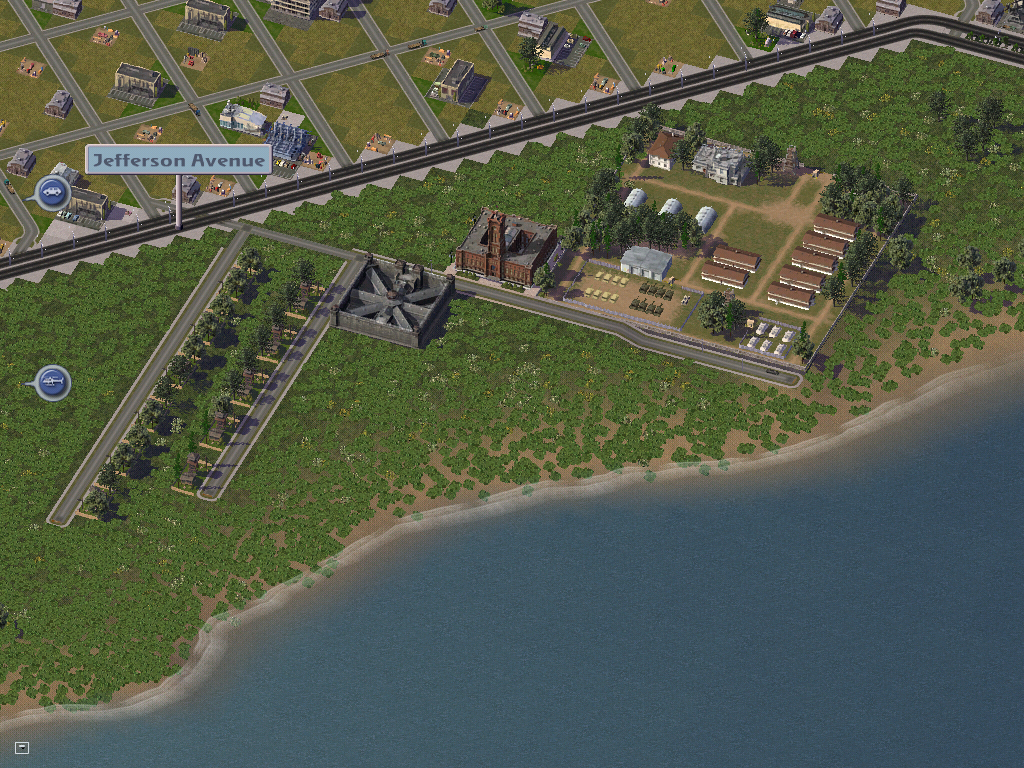 The chemical industry is also big: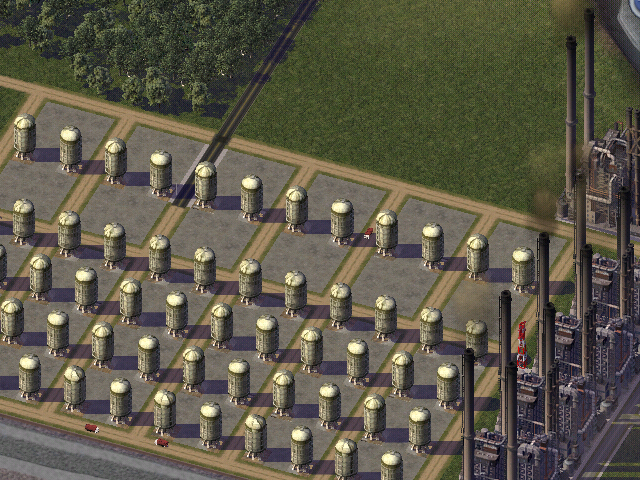 Mexicantown: One of Detroit's thriving neighborhoods in recent history. Between the 1990 and 2000 census, this part of Detroit had a 6.9% population rise to 96,000. Half of the residents are hispanic, 25% are African American, and %20 are non-hispanic white. You don't see much abandoned homes or vacant lots in this part of the city. There are many mexican restaurants in this area, mostly off of Vernor highway, (the main thoroughfare in the neighborhood.) This area is one of Detroit's revitalized projects that have actually worked:
This is the Brighton Beach neighborhood in Windsor. Yes, Windsor has it's share of urban blight as well. I haven't researched it much, but I saw this area on google earth and thought it was very interesting. Heavy industries produce pollution on the Canadian side directly across the Detroit river from Zug Island: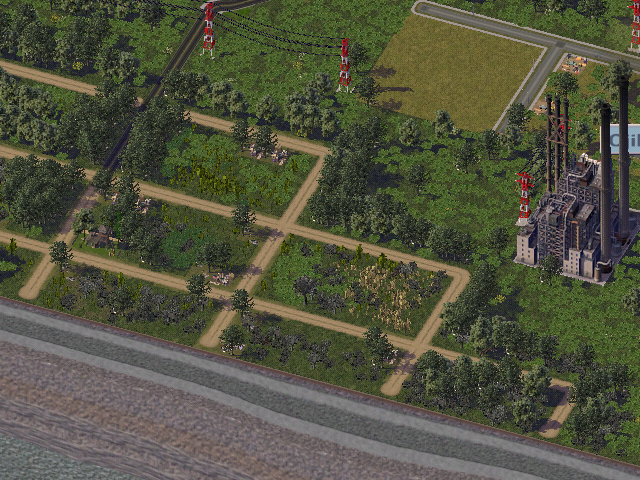 I will say that it has been a huge challenge to get a high enough of a demand for dirty industry without zoning the whole area medium residential. I have a skyrocketing demand for high tech industry right now in the game, and I'm trying my best to not let it develop and let the wealthy sims work in Downtown Detroit or Windsor, or offices along Woodward Avenue, because that's how it is in real life. I've had to zone high density residential in some area's that Detroit has had some housing projects up at one time, that has helped. Detroit is just mostly a huge mecca of single family homes and corner stores though.
I haven't had too many problems developing other then that! My next update WILL be the Hamtramck GM plant, (it's looking great other then the very low demand for manufacturing industry.) If you want to see anything in particular let me know in a comment, and I'll try to develop those area's as quickly as possible! For the record, I have 8 and a half tiles filled out with atleast streets. 246 and a half to go! .... Or something like that.