01: Erat - Update 7
Entry posted by Alafel ·
131 Views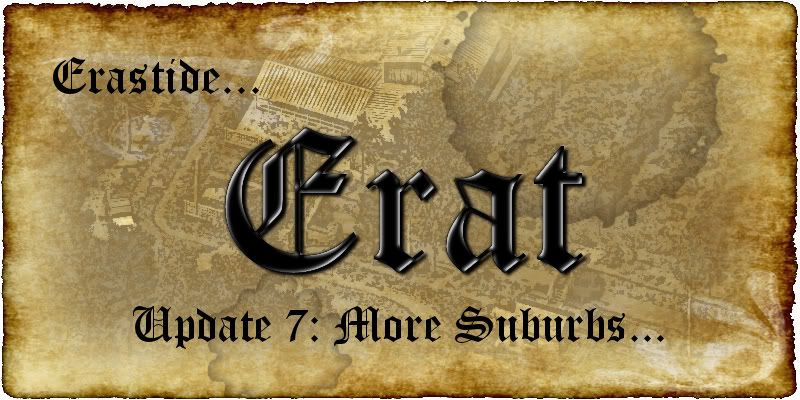 Welcome back, dear readers! Today will be a very big update, I'm warning you now! See, we're so far behind in the updates from where I'm actually playing that I want to push through some of these earlier updates (also, there's a noticeable increase in the quality of my city-building skills since I started this, and I want to get to that stuff!) so for the next several updates, expect a faster pace, maybe a little less detail, and way more ground being covered. Let me know what you think of this approach.
Anyway, to get us started, let's take a look at what that little commercial area looks like nowadays:
Ugh, was this really before I got the zebra crossing mod!?
It's getting there! Sooner or later I'm hoping to see some wall-to-wall development here. But, at this time, I don't think I had any in my plugins folder!
And here's where we'll be working today. Looks as though the terraforming crew has already started work for the day!
NEEDS MOAR FLAT SPACES!
So, I had this brilliant plan that I would make some one-way roads connecting to the avenue in a nice, smooth transition. Only one problem:
...It doesn't connect!
Meh. Easily solved.
'Scuse me. Just moving a road here. Nothing to see.
THERE we go!
A small suburb just north of the commercial area will fit the bill nicely:
Take special note of how horribly the blazing white sidewalks clash with... everything.
And a little plaza to fill that otherwise awkward triangle created by the avenue. Notice how awesome it would look if the avenue's sidewalks were actually picking up on the whole "medium and high-density zoning" part.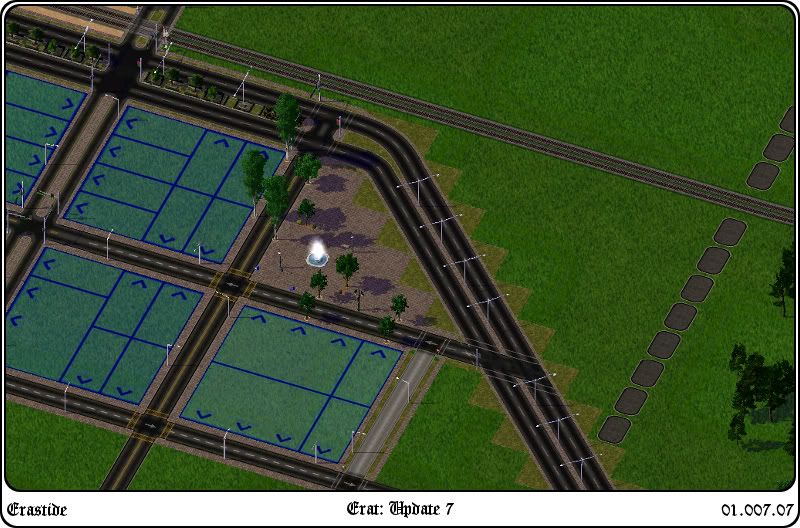 Yep. Those diagonal jaggies sure are beautiful.
Heading back down toward the water, we need an access road for this side of the harbor.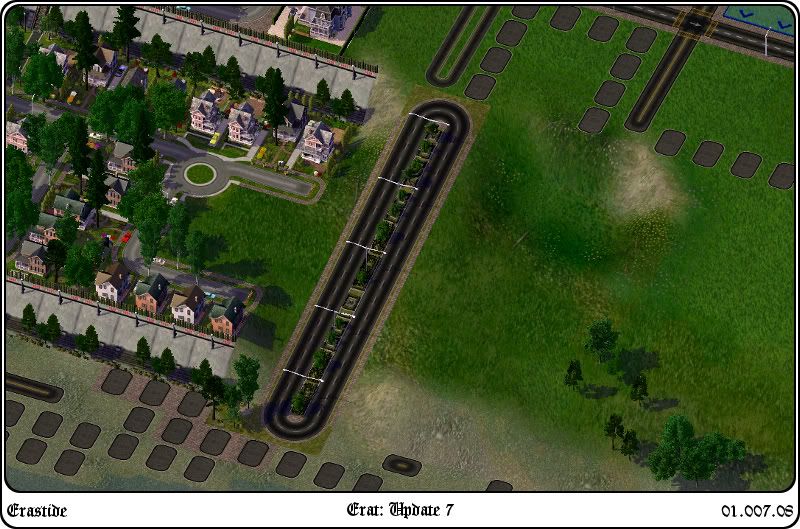 Terraforming for an AVE-2 down to the coastline.
Connecting it up...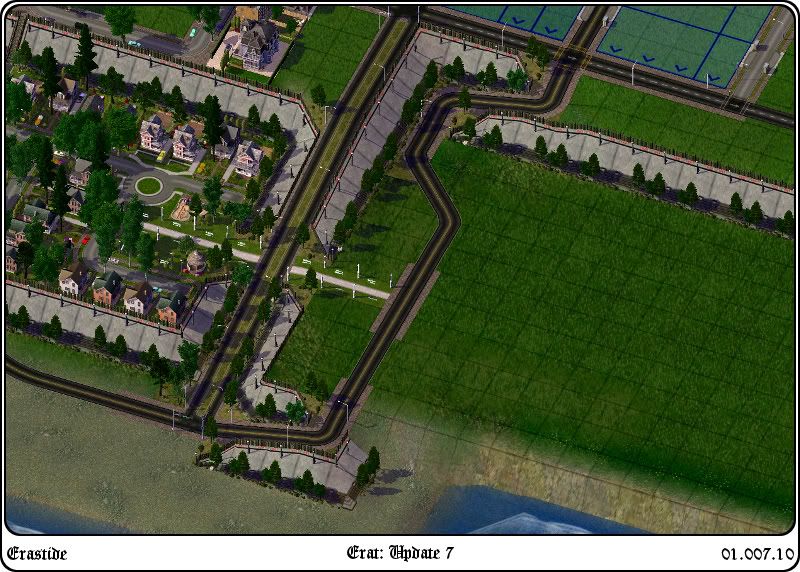 Completely useless parallel route? You betcha!
A little extension of the seaside village from the other side.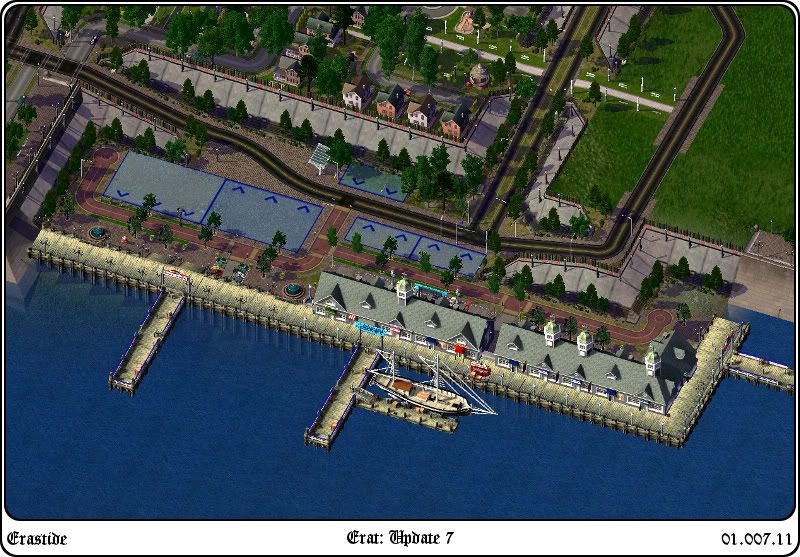 Those little houses have a gorgeous view...
See that little bit way over on the right? The blank square with nothing in it? It was giving me... problems. Nowadays, I know how to fix it, but at the time I had no idea how. That'll be another tidbit for finalizing the city tile.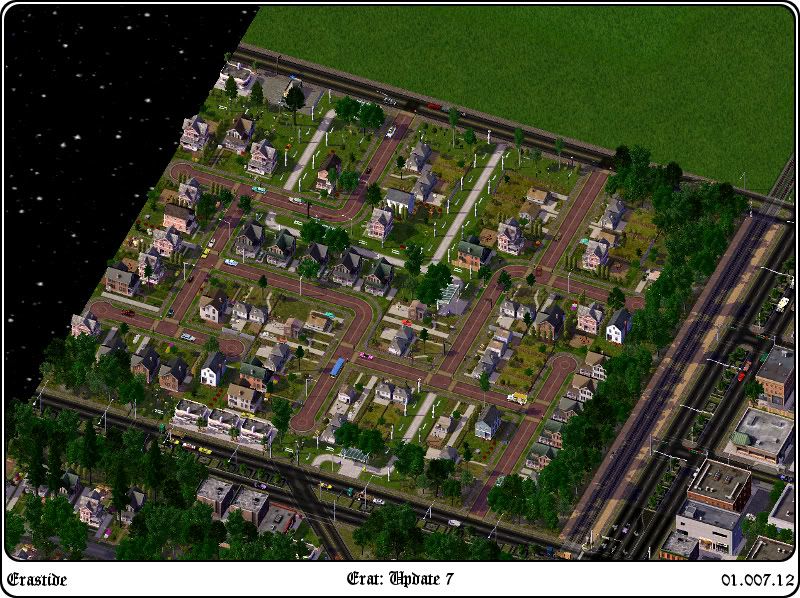 While we were building, a suburb popped up!
Here's a little overview of the area. Seems I missed a little and clipped off that brand-new suburb we just built... oops... you can see it peeking out at the top right.
Hum, still a few bare spots to fill in...
Let's start with a hospital! We need one of those.
A little plaza...
...and a little church!
Slowly but surely, this little area is starting to look almost good...
And to wind out this update, a little teaser...
Catch you later, folks!