First off in creating a region: Wellingham itself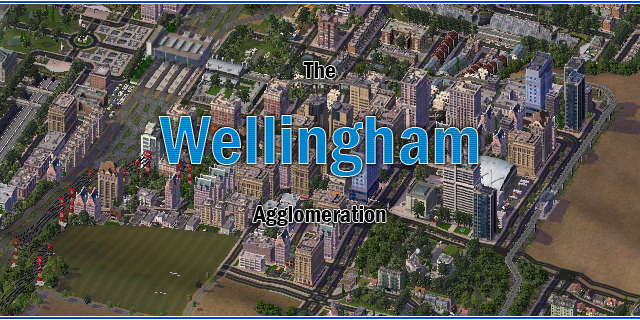 I've been playing Simcity 4 for donkey's years now, and I've created several regions in that time, none of which has survived, mainly because I've deinstalled and reinstalled SC4 more times than one can imagine, but also partly because none of them were really worth keeping. I've also never done a City Journal before, so I can only hope this first one will appeal to at least some people. The name certainly won't, but I'm not very good at inventing names, and as I'm basing this region off one of the standard Maxis ones, I never really thought up a name for the region, and instead just decided to name the city journal after the largest city thus far in existence within the unnamed region.
I've only just started playing with this region and as such it has only five populated cities at the time of writing, which go by the names of Chufflington, High Chufflington, Norrington Post, George Island and indeed Wellingham proper. Screenshots of the smaller cities will follow later, whenever I can be bothered to take them, but I thought it best to start off with a number of screenies from Wellingham itself.
Before we start, don't expect an elaborate narrative about this city, I'm not a fantastic story-writer and don't feel like it would really add something either. This City Journal will just be a load of pictures with an occasional description. Nice and down-to-earth I'd say, though another might describe it as bare and generally rubbish.
I thought I'd start off with a large shot which covers pretty much all of the city. Wellingham sits on a mid-sized city slot, so it's not geographically enormous in itself. There's a fairly sizable hill ridge running from the Southwest to the Northeast of the city, and that sort of dictates the entire way the city is built. You might notice that I use EL Rail a lot, which is not for budgetary reasons (I cheat my way through the game anyway) but mainly because I think it looks nice.
As you can see from the many empty spaces and placeholder bits of agriculture, Wellingham is far from finished, and there's still plenty of room for expansion, which I am intending to act on, later.
Working and living in Wellingham is an uphill struggle. Literally anyway... There is the odd road snaking its way up the steeper bits of the hill, but most residents that are not lucky enough to live a stonesthrow away from their office have to either go the long way round or use public transport. Using this piece of EL Rail is guaranteed to result in nausea and other unpleasant effects, but sometimes you have to accept a little bumpiness in order to get to work as quickly as possible.
There is no real reason other than the ever-present aesthetic one as to why both the motorway and the railway are sunken in this part of Wellingham, but at least it guarantees employment for local bridge engineers... Speaking of engineers, the Artificial Tree that sits in the top-left corner of the screen is one of the more peculiar bits of custom content I have installed in the past, but I can't help placing them in every single city I create...
Oh, and this is quite ironic: The road just north of the railway is now perfectly level, but it wasn't when I zoned the areas behind it, which has resulted in some rather fitting 'sunken' houses in a picture about sunken transport...
I like playing with rail in SC4, and I like covering areas with rail that are infinitely less modest than this one, but as this was in the middle of a city, I decided to be a bit careful with it. There's a turning opportunity which is mostly useful for UDI, and three other tracks that actually go somewhere. Even as it is though, I'm not quite sure if the local residents would be mad about rail, as this station and the tracks that sprout from it are a royal pain in the arse of anybody trying to get from the cemetary side of the station to the sunken plaza side, and vice versa.
Not much to say about this picture, but I found it looked rather appealing. There's rail, there's HSR, and there's some highway-to-bus services too. Oh, and that road crossing the motorway is the only way to get from one end to the other of it without having to drive to the other edge of the city and cross the motorway as it tunnels through the hills. With hindsight, this may not have been the best solution.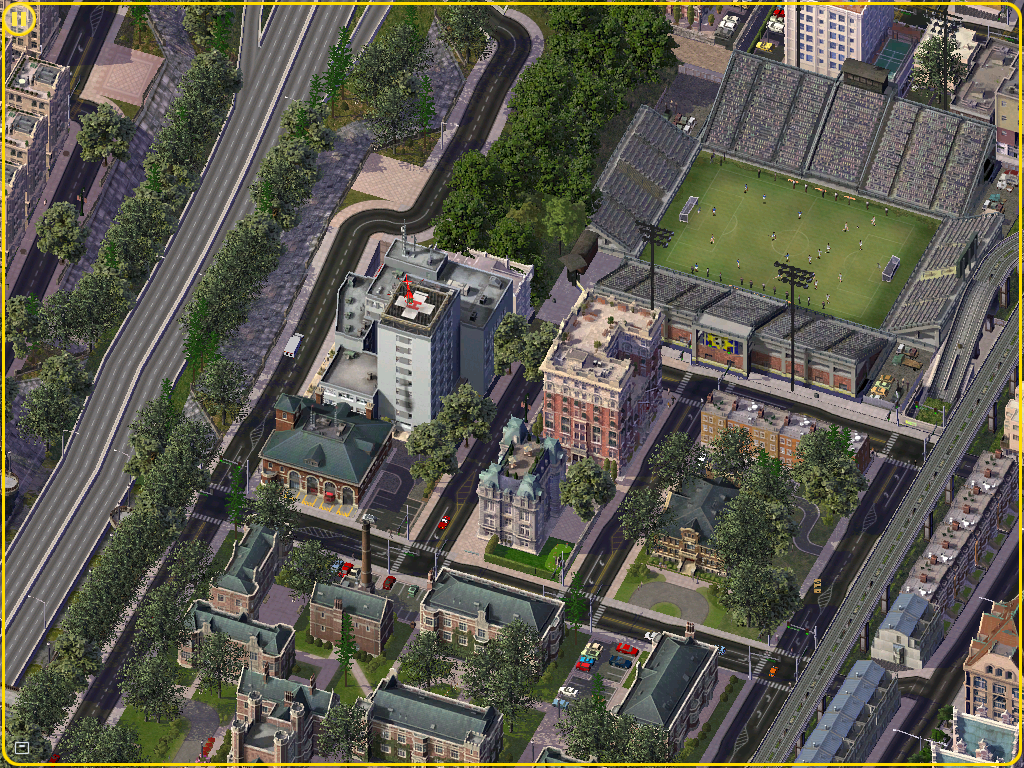 FC Wellingham above, Wellingham University below, need I say more? The more eagle-eyed of readers may notice a monumental blunder of mine here, as I managed to install a right-hand-drive version of NAM onto my left-hand-drive SC4 installation. In case you've ever wondered, this is what epic failing looks like.
More aesthetically pleasing but not particularly functional things going on here, with this slightly oversized roundabout. Aesthetic pleasingness includes the fact that the traffic on the one-way streets always drives in the opposite direction of the traffic on the adjacent part of the avenues, which looks rather good when cars fill the streets. Not that they did when I took this screenshot, of course...
Essentially the idea behind this part of the city was to take a square and divide it into four quarter pieces by running avenues through it, then fill those four quarters with conically expanding streets and one-way streets, which in the end all lead back into the avenues, so that all traffic accessing or leaving the area would have to go through the high-capacity avenues and wouldn't use back entrances straight into the streets. I didn't really check the actual traffic statistics for each of those street tiles, but I haven't had angry advisors complaining about overcrowded streets in this part of the city yet, so I can only suppose the system works as expected.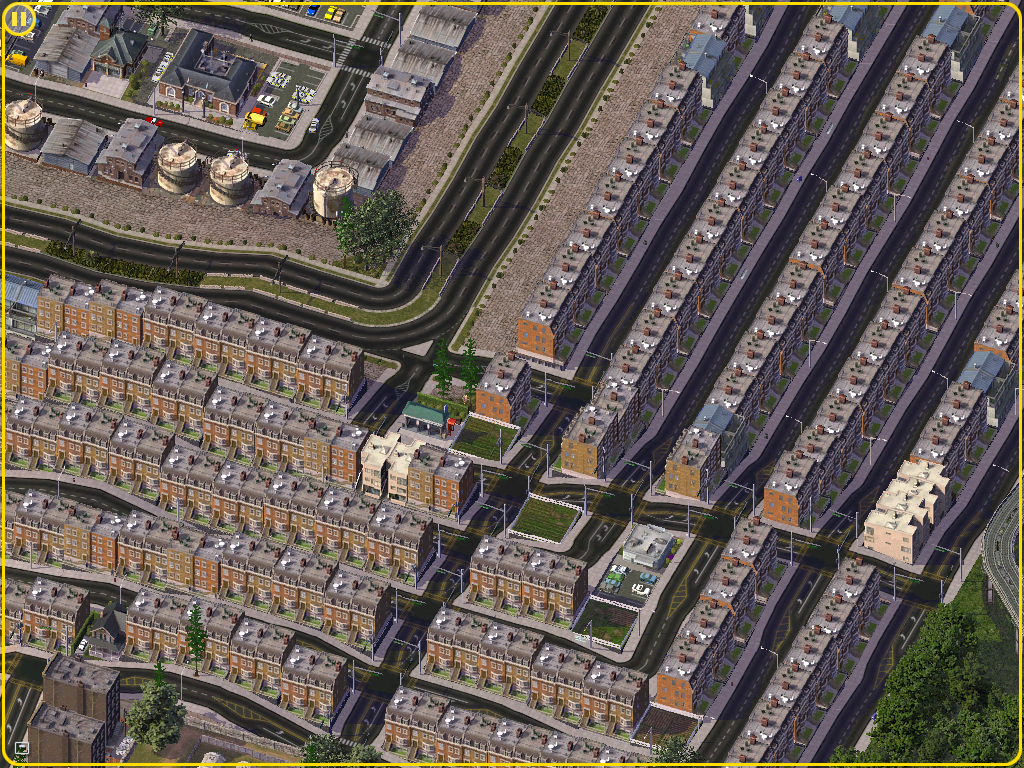 Have You Seen My Rowhouses Anywhere?
Well, have you? I like these endless roads with rowhouses on all sides a lot, they have something of the magic of those cheap labourer residences built in Britain during the early 20th century. The main industrial estate of Wellingham is right across the road by the way, so most of the people living here actually are factory labourers.
It's not all perfect, as there are some buildings of lower density on the same roads, and some Houston and Euro rowhouses as well, but that's the result of prefering to let things grow naturally and not bothering to delete every building that is out of shape and waiting for the correct one to grow.
I played around a bit with concrete walls here, as I could see this had the potential of becoming a very pretty industrial part of the city. Multiple railway lines were going to run through it anyway, and they carved some holes into the hillside which I thought I could fill up with industrial buildings. The road running through the middle of the picture is also the only one to cross both the railway network and the motorway, so it's one of the few ways of getting from the East to the West of the map. Fortunately I have commercial and residential areas spread all around the place, otherwise this road would have been by far the busiest in the city.
Just in case those people at the radio station in the above picture do decide to let the factory workers hear some revolutionary songs and manage to form yet another anti-capitalism protest, rest assured this business disctrict is well prepared. Essentially, I was just trying some alternative uses for buddybud's excellent sunken highway walls, and only later realised that they have turned this business park into a bastion that wouldn't fail to impress a medieval strategist... Boiling oil and flaming arrows not included.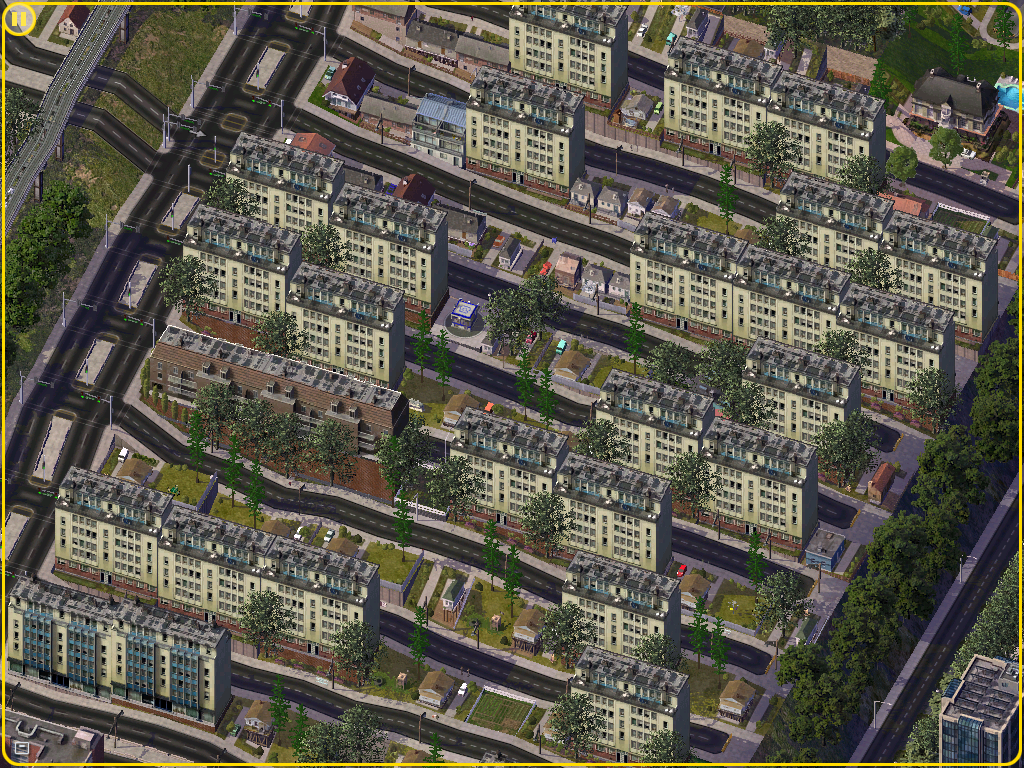 The Poor Live In Houses...
Well, apartments anyway. I downloaded these the other day, and didn't quite realise they'd be built this frequently, but I don't really mind it, as they give a nice impression of a more run-down neighbourhoud. Not that it should be poor, as it's across the road from a College, has all the amenities one might wish for, and comes with well-paid jobs just down the road. If not for that Science Research Centre. Nobody wants to live near one...
...The Middle Classes Make Do With a Staircase
Yes, I actually do call this the Staircase. I had to do something with those hillsides, and thought about experimenting with covering the height using Hole Digger lots. It worked quite well, even if it was slightly labourious...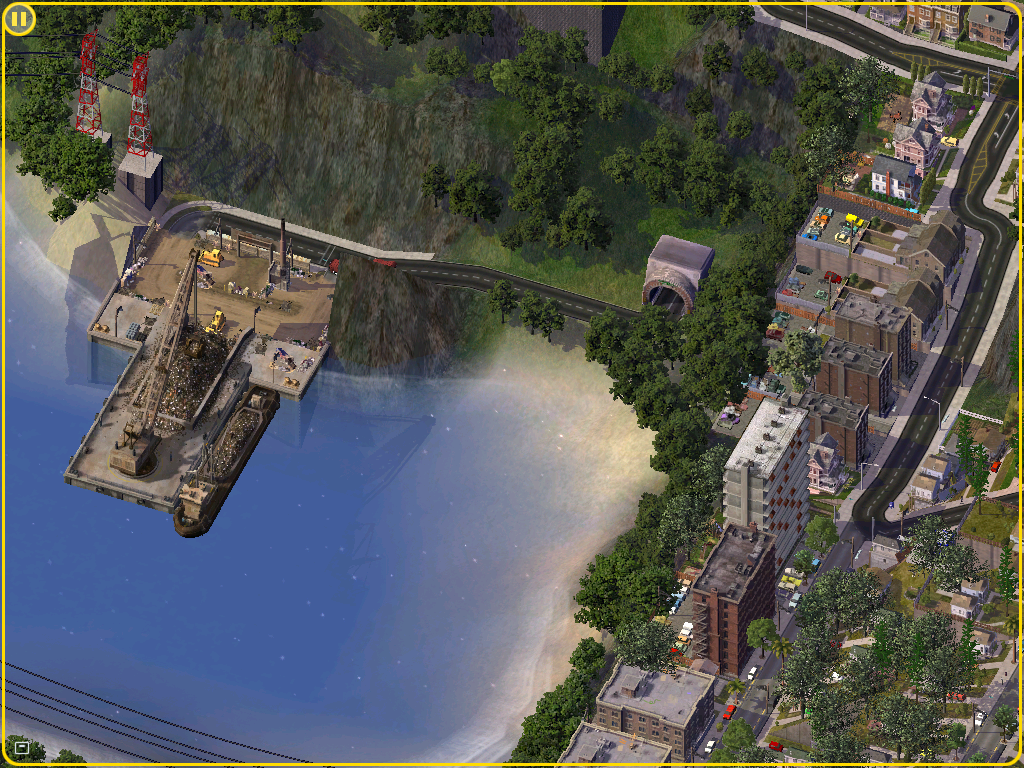 Dump Your Poor To the Right, And Your Garbage To the Left
Nothing much to say here, really. It just occured on me when I was looking at this part of the city that I'm very conveniently stuffing both my paupers and my garbage behind a well placed Army Base, and thought a screenshot would be fitting. As always, I only really noticed the bugged ground around the garbage docks when I had already taken the screenshot, so I'll have to fix that in the future.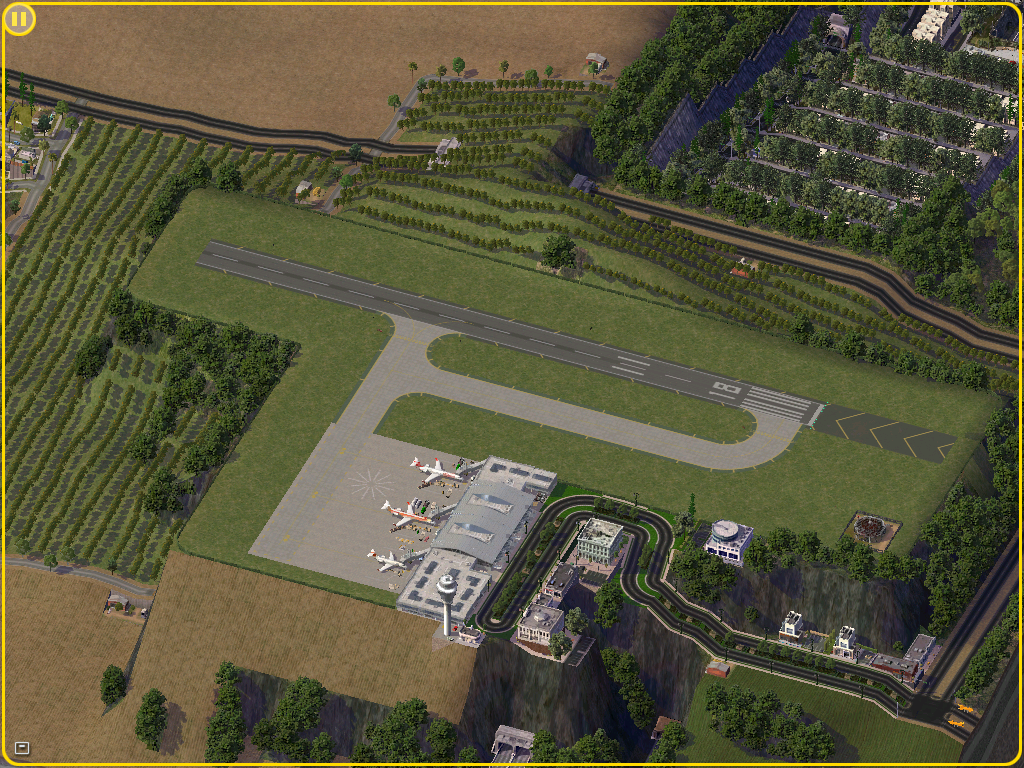 A Llama Is More Use At International Air Travel, Frankly...
Queue the shortest runway in the known world... Then add a terminal with only three gates. As would seem obvious, this is more one for the fellow lucky enough to be able to afford a private jet than for those seeking a cheap holiday abroad. Always pleasant: if a plane were to run off the runway here, it ends up right in the middle of the aforementioned business district. I'd definitely want to work there...
I plan to build a larger airport in one of the other cities of the region, mainly because I just love building airports.