Inside Wesfole: An Industry-Dependent City (Update 61)
Entry posted by simlink ·
241 Views

Update Synopsis:
Today we are taking a look at a town dependent on industry as its main source of jobs. Manufacturing is a major employer, but the largest single employer in Wesfole is Orchiden Energy Production, Inc.'s massive coal power plant. At the front of cleaning up emmissions from coal power production, this power plant has grown as the Region of Taschereau and its surrounding regions continue to grow. The down is surprisingly not covered in soot from the plant, but is surprisingly poor. One of the poorest cities in W&T, this city leaves a lot to be desired for some. For others, it is the perfect home. This update sticks out as being a very different one from the usual crop. Also note the slightly changed picture editing starting in this update... So let's go!
61.1 | This is one section of the mammoth power plant. Here we can clearly see 3 of the generators. Also visible is employee parking and the plant command centre and employee rest building.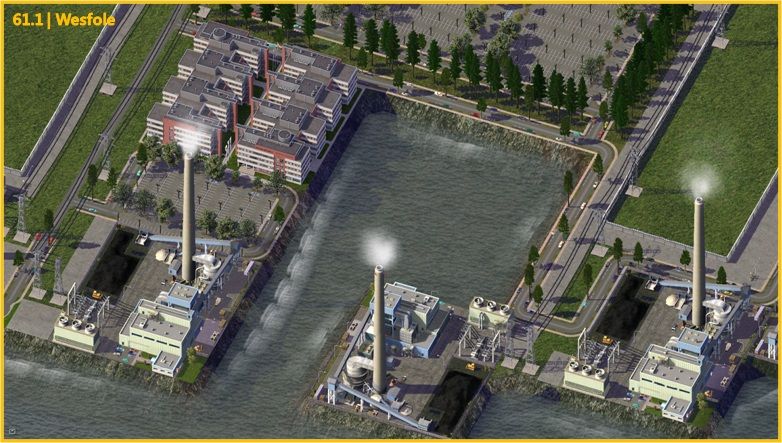 61.2 | This is the HQ of the power plant's owner, the Crown-Corporation Orchidsen Energy Production, Inc. This is one of its oldest, and largest, power generating facilities. The company reports back to the Orchidsen government.
61.3 | Coal from outside the plant arrives here, where it is usually further processed and then trucked off a short distance to one of the generators.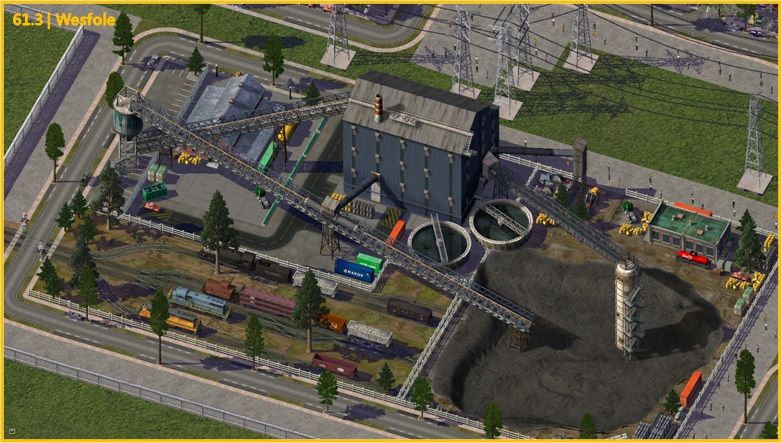 61.4 | This view provides a view of another employee parking lot, as well as a tangle of power lines as they exit the facility. This zoom provides a look at the Eastern portion of the facility.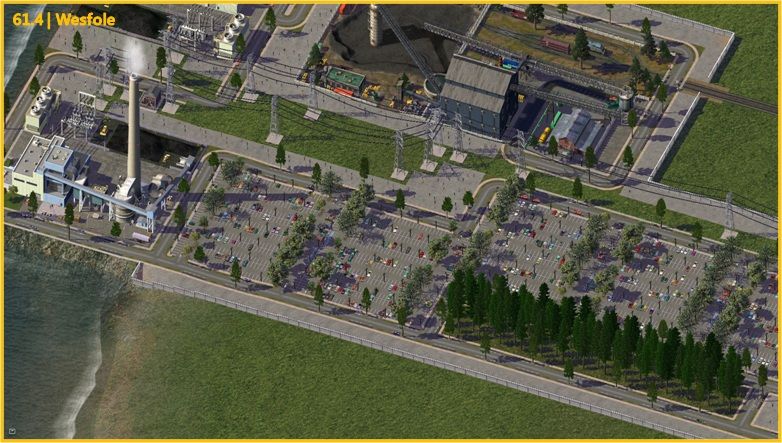 61.5 | Further north of the power plant we come across the Wesfole Industrial Park. It is home to several manufacturing and processing companies. The Region in association with the city and Provincial Government installed air purifiers surrounding the complex to improve air quality.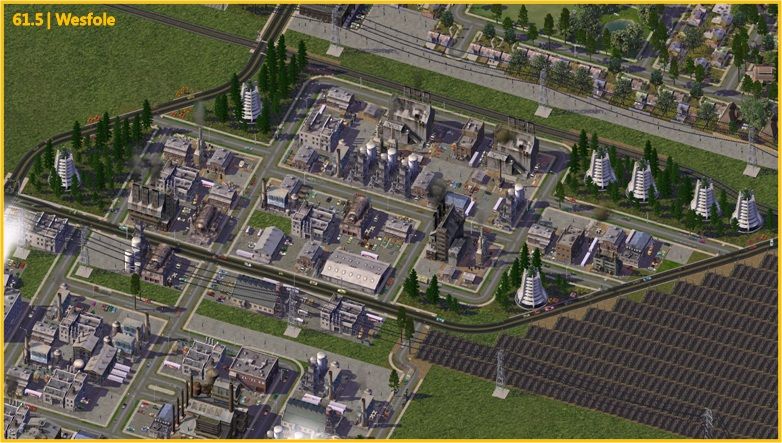 61.6 | Into the residential area we come across Wesfole Williams Elementary School. It is the heart of this residential area, with school facilities often being used for community meetings.
61.7 | This is "Downtown" Wesfole. It has suffered greatly in recent years as people leave in droves the crammed, unmaintained and often times 'scary' apartment complexes. Several have been torn down in recent years, with more abandoned and rotting. Hopes to eventually redevelop the area are slow, and have not gone any where quickly.
61.8 | Another view of "Downtown."
61.9 | It is not just the "Downtown" area of Wesfole that is suffering. This scener is also common: A Healthy, vibrant residential area (right) next to a dilapidated, rotting, unwelcoming residential area (left.) Incentives to improve the neighbourhood on the left have mostly failed.
61.10 | Wesfole really is the tale of two different cities. One that is healthy and vibrant and one that is unwelcoming and rotting. With plans to unify the city failing, the future of this once prosperous city is murky. Jobs are available, it is easy to get to other portions of the region, but it continues to flounder. One only knows if this city will truly become "one" again...
As always, I hope you enjoyed today's update and are looking forward to more - Don't forget to comment!
simLink's SimCity Hub: Home to Info on W&T on my random SC4 Musings
Come visit me at Simopsis Forums: Home to "SIM" discussion. Join now by clicking the Simopsis Forums Logo! Always happy to welcome a new community member.