Update 60 - 4/16/12 - East I-80: 48th Street to West Town
Update 60 - East I-80: 48th Street to West Town
We continue east (the bottom of the pictures) along Interdistrict 80. We will follow I-80 to its combination with I-55 at the "Heights/Parquart" Interchange. Then we will travel through West Town along I-80 and I-55 to Washington Avenue.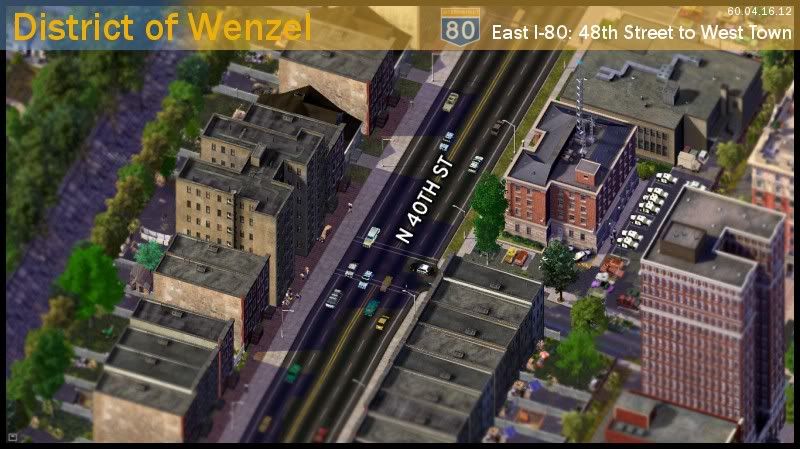 40th Street before and after preparations for the freeway to come through.
We can see Exit 283A to North Avenue from I-80 westbound.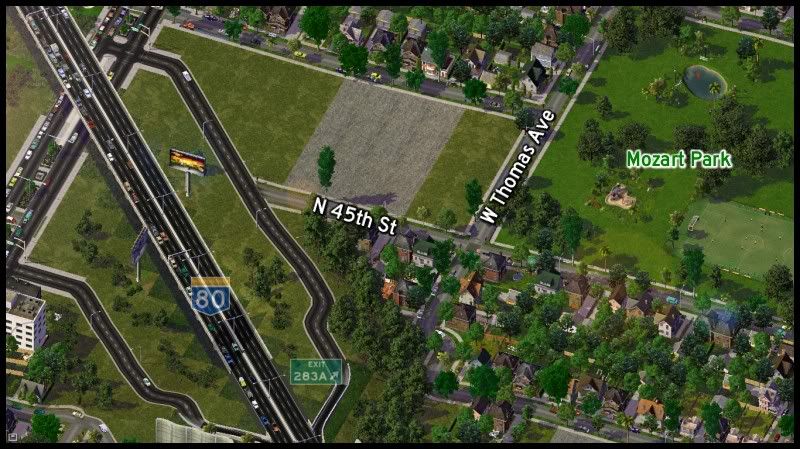 I-80 winds through residential neighborhoods with sound walls.
Exit 283B 40th Street.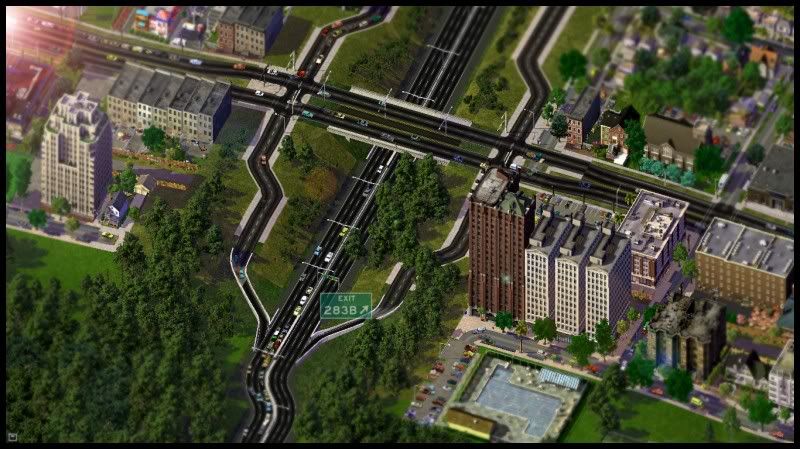 Advance guide sign for the "Heights/Parquart" Interchange.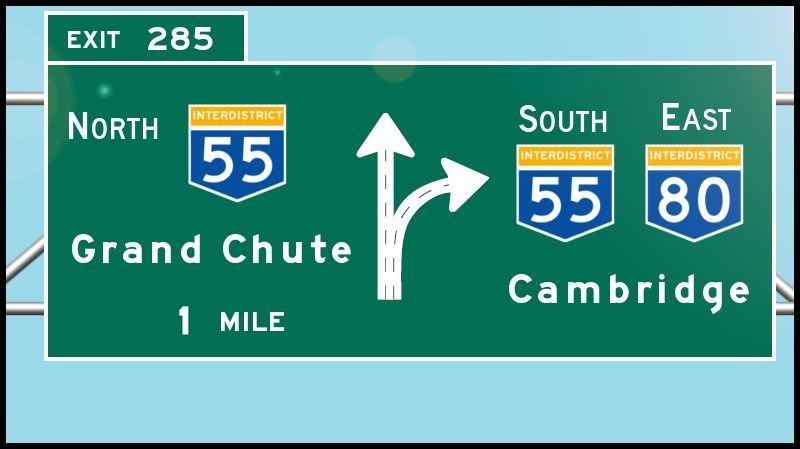 I-80 cuts through the hill that was originally all Garfield Park. Now the north side of the freeway is Kenilworth Park.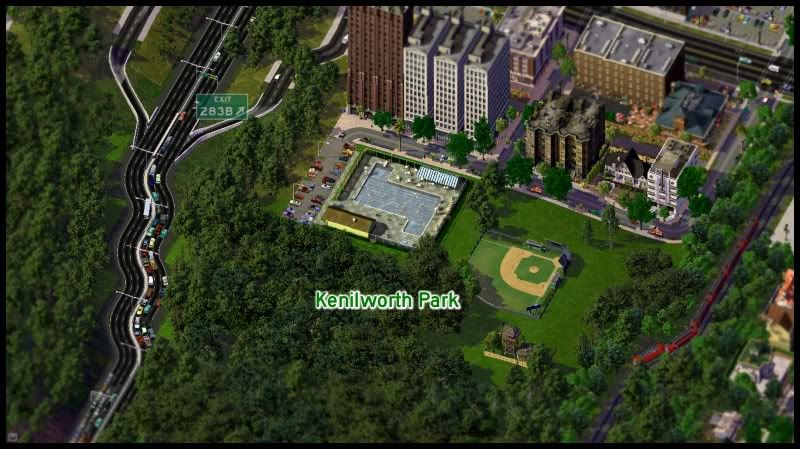 Let's go back and take some more looks at Exit 283B.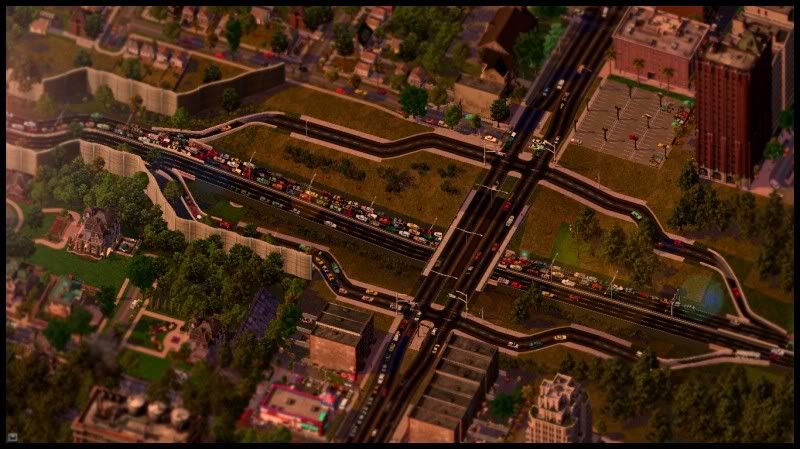 Exit 283C only from eastbound I-80 to 32nd Street and Parquart Neighborhood.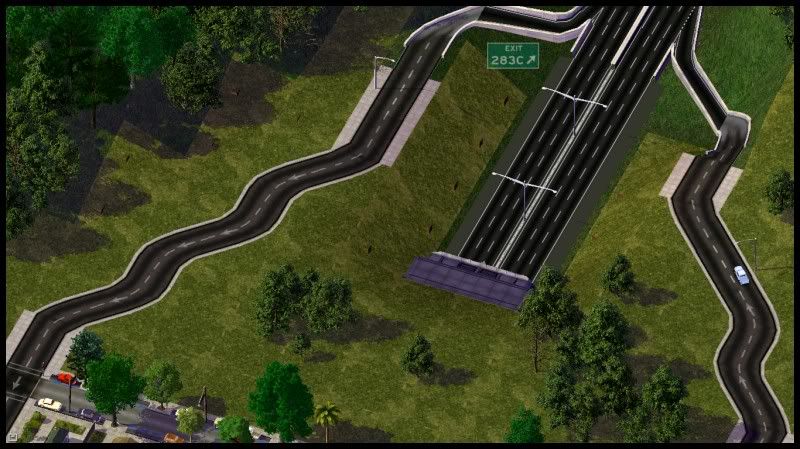 Entering Parquart Tunnel. Exit 284 to Trinity Boulevard is right on the other side of the tunnel under Parquart Neighborhood and the passenger rail lines coming out of Martin Central Railway Station.
The neighborhood above Parquart Tunnel.
Exit 284 to Trinity Boulevard.
Guide sign for the "Heights/Parquart" Interchange on the I-80/I-55 bridge.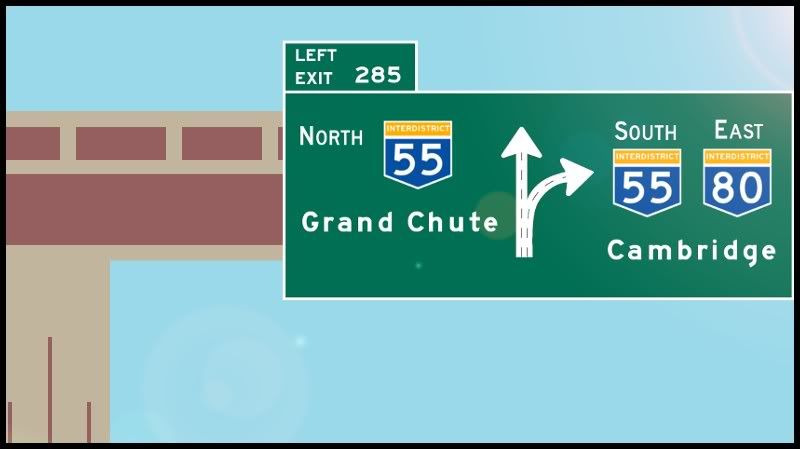 The ramp for continuing east on I-80 actually loops under the ramp to North I-55 and the loops over I-80 itself (the bridge we just passed).
Not the greatest planning and not the best interchange I have made
Overhead next exit mileage signs.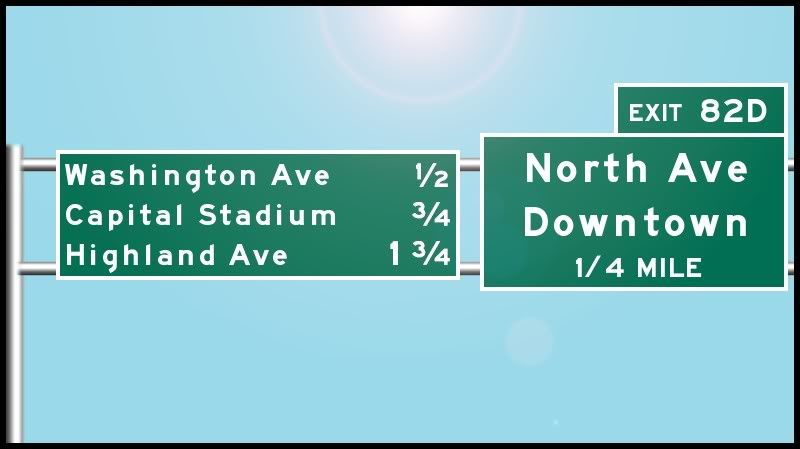 Exit 82D (I-55 exit numbers). I-80 piggybacks on I-55 down to the St. Paul area before I-80 is again able to travel east-west.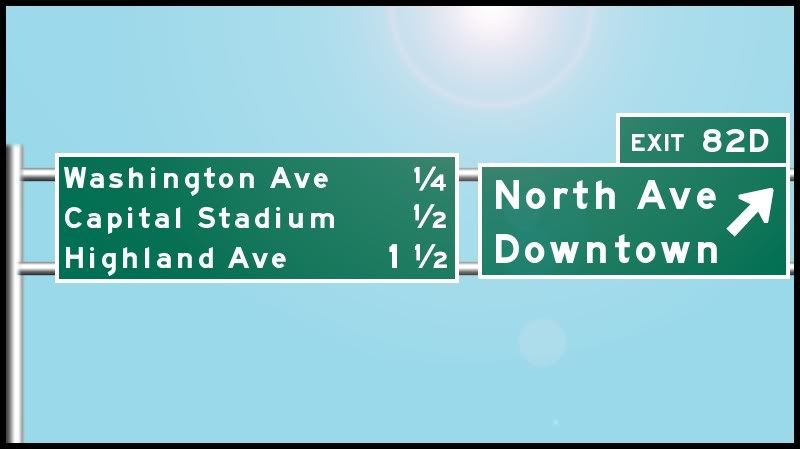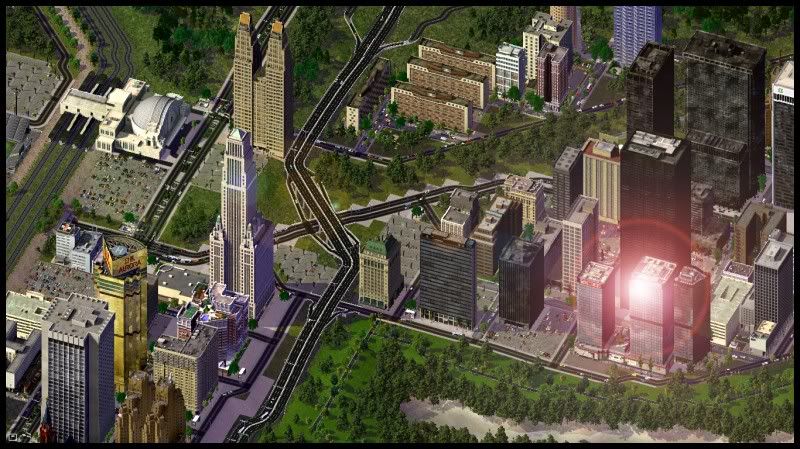 Exit 82B Washington Avenue. New Capital Stadium is the next exit.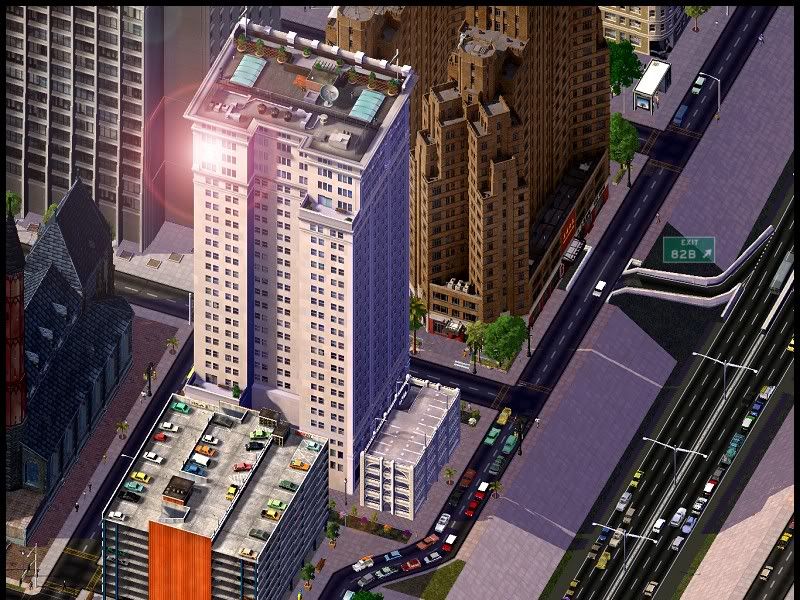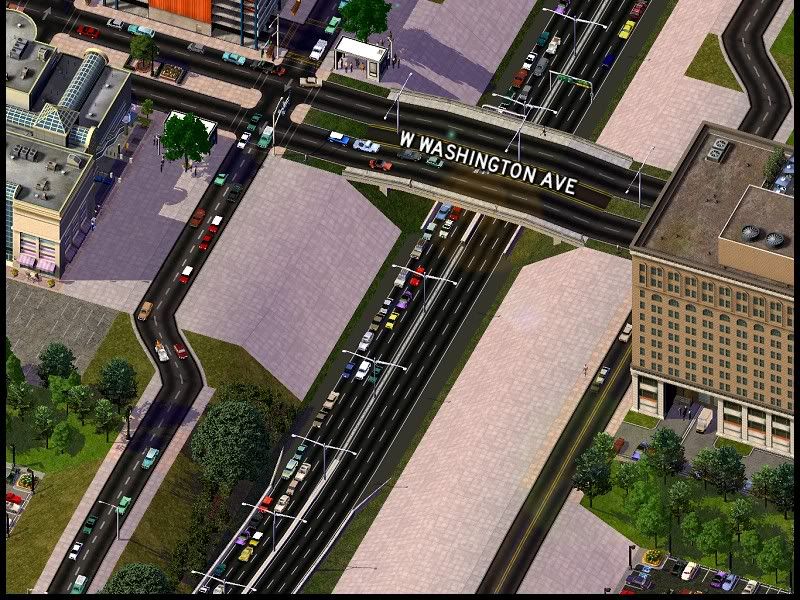 Washington Avenue overpass. Guide sign for the Exit 82A for Capital Stadium. It is on the Brittany River Highway (D50 and N18).
Sneak peak at Capital Stadium.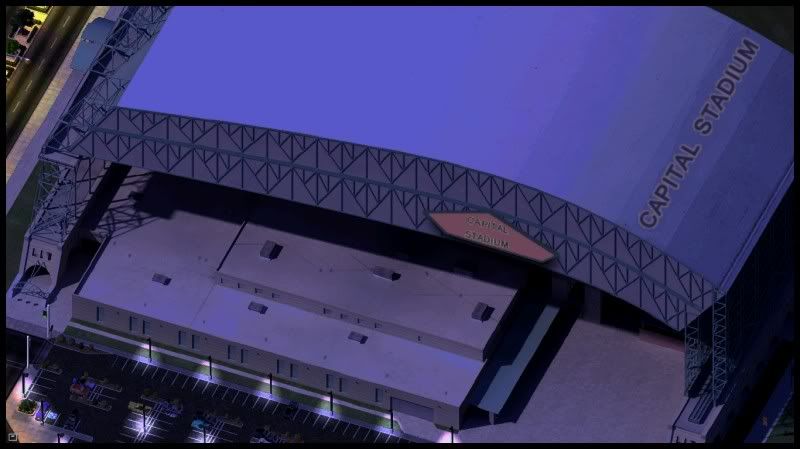 Satellite view of Martin County, District of Wenzel.
Thanks for coming along. Wow, I am really happy with the way that satellite view of my county turned out...and the photoshopping for Capital Stadium...though I am nervous whether or not I can replicate it in my next update! (I should have created a template...I meant to, and then it didn't happen, sigh. It was a real hassle to get the images from West Town...the game takes so long to load that tile and whenever I save it freezes after I finish saving or crashes to desktop without saving. Disappointing how eventually SimCity figures out how to eat your RAM...I used to have 4 GB then upped to 8 GB and that tile ran like a dream, but now that tile is a crash to desktop or freeze waiting to happen, sigh.
Check out the District of Wenzel Street Map to get an idea where we are.