Southlands Building Boom, Pt. 1 (Update 59)
Entry posted by simlink ·
189 Views

Update Synopsis:
Today's update sees us continuing our voyage through the construction jungle that is Southlands. With the recent influx in investment, including the arena development shown in the last update, skyscrapers holding new residents and businesses are rising up faster than residents can keep track. Some are worried Southlands just won't be the same, others say this is progress and is shaping the future of Southlands. Which ever position you take, things are changing rapidly in this once sleepy city...
59.1 |This is one of the several new condominium buildings being constructed in Southlands. The city is expanding quickly, with its population more than doubling in the past 3 years, from 32 000 to pushing 85 000. Traffic has not become a huge issue, yet, as the city is laid out in an efficient manner, and the area where the building boom is occuring was planned with the eventual hope of having skyscrapers.
59.2 | This construction site, which has 2 large buildings under construction, will soon be home to a large office complex overlooking downtown, the residences and university which surround it. The complex is expected to become one of the landmark features of the Southlands skyline.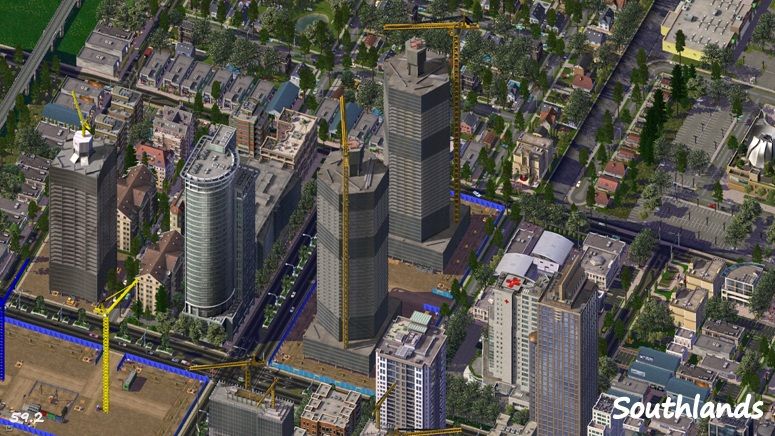 58.3 | Here we have 2 new condominium buildings under construction. Currently only the buildings are being constructed, several buildings around the construction will be demolished for the grounds of the new buildings, and when construction of their lobbies begin.
59.4 | Phase 2 of the shopping strip of Southlands Arena Place has been completed, with construction on phase 3 continuing on further down from this picture. This strip is a huge draw for people, and has some merchants on the other side of downtown worried. However, several new condominums will likely be constructed there in the future, adding appeal to the area.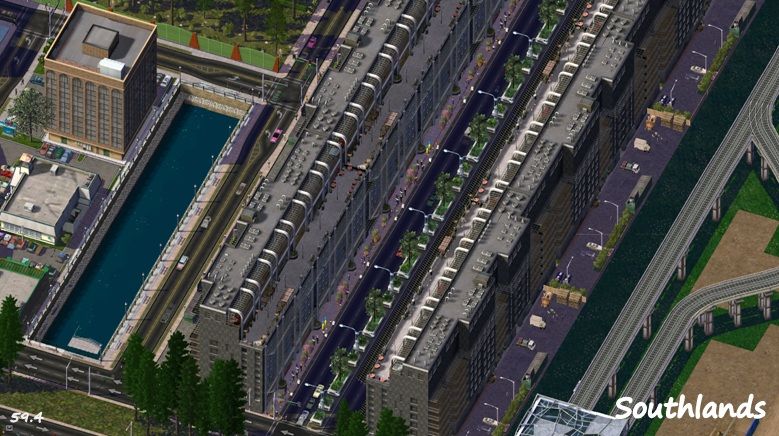 59.5 | Yet another construction site here, this time for buildings unknown. A medium-sized building has been approved, but it has not been indicated whether it will be residential or commercial. The site prep has begun, with RiteAid and the plaza next to it liquidating, soon to be torn down as part of the project.
59.6 | The condominium buildings under construction near the elevated rail tracks have now been completed, rising very far above the tracks. These buildings, all glass, are extremely bright at night, with light emitting from them in "globs."
59.7 | Soon, the owner of this parking lot could become a very wealthy person. With this building boom, this parking lot in the middle of the existing downtown core has seen its valuation skyrocket throughout the building boom, and is becoming increasingly likely to soon be the home to a mega office building, or even complex...
59.8 | To finish off, I have an update night time mosaic of Downtown Southlands with the recent addition of an arena and the building boom. The skyline is changing, and is only going to change more...
Also, don't forget to check out my website! It is home to my random SC4 musings, information on W&T, and (eventually) SimCity/CXL photos that don't relate to W&T. You can visit it by clicking on the banner below. Happy surfing!

As always, I hope you enjoyed today's update and are looking forward to more - Don't forget to comment!