Arrival of Colonists at Flinders Harbour
The Year is 1813
The settlement at Port Jackson (Sydney) in the colony of New South Wales has been successfully established and after early problems, convicts and free settlers are beginning to arrive from England to establish outposts in other parts of the great southern land.
In 1799, Flinders explored the southern coast of New South Wales and discovered the strait between Van Diemens Land and New South Wales, which he subsequently named Bass Strait in honour of his friend and fellow explorer George Bass. As part of this journey, the southern coast of New South Wales was explored and potential sites for settlement recorded. The southern coast contained many bays and harbours and of a notable mention was of a harbour "with many an island, that could host a thousand ships in safety and
provide all the essentials for a settlement, such as fresh water and good soil for agriculture".
Location of that harbour on the southern coast of New South Wales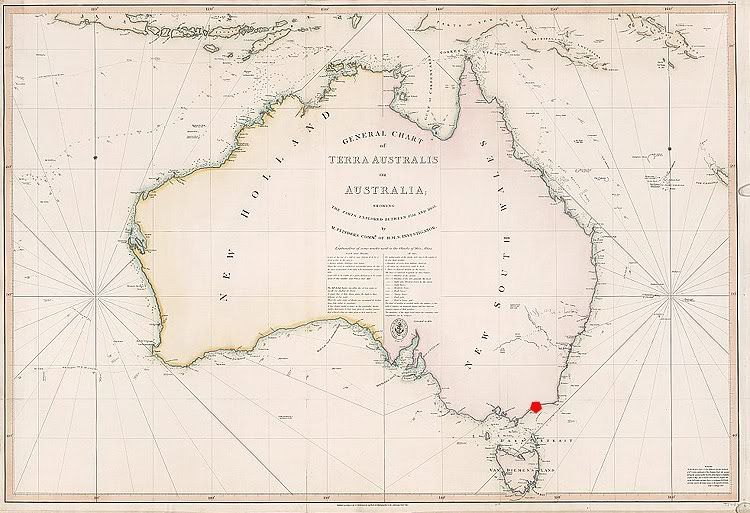 Upon return to England in 1810, Flinders spread word of the fertile plains and potential for settlement of the southern coast. In 1812, a party of free settlers set sail from Portsmouth, with plentiful supplies and the aim of setting up an agricultural outpost at the harbour they named Flinders Harbour. In March 1813, after a tortuous journey of 5 months, the fleet of 6 ships arrived at Flinders Harbour.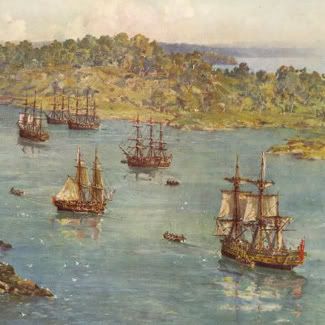 The passage of Southern Ocean and Bass Strait was marred by gales and high seas, but the colonists finally made it to the shelter of Flinders Harbour and anchored just off the shore inside the harbour in a small bay surrounded by tall stands of exotic trees and untouched wilderness. Suitably impressed by the small harbour, the Lieutenant Grenville ( a cousin of the former Prime Minister of the United Kingdom) proclaimed the site "A good place for a village" and landed with a fleet of soldiers on the southern banks of the harbour near a small cairn set up by Flinders on his previous journeys.
A working party was sent to explore the local terrain to map out important features. A small boat was sent further into the harbour to check out the local water ways and reported back that as the landing site was surrounded by water on three sides, it was a defensible position against possible attack from native persons while providing ample fresh water and fertile soil. After a meeting with the colonists, the site was agreed as the place of settlement and the settlers disembarked ship and set up camp at what was proclaimed Flinders Landing.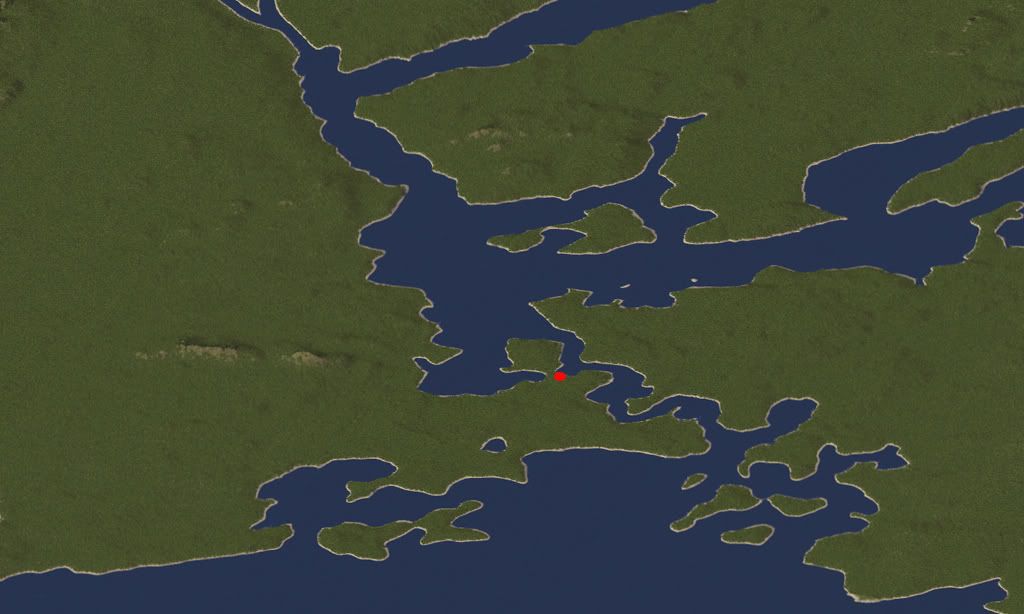 --------------------------------------------------------------
About this CJ
My aim with the CJ is to emulate the growth of a colony in 18th century Australia. It is loosely based on the region of Gippsland in Eastern Victoria (although the map is not from that region) and I'll try to incorporate the politics and factors for growth of Australian colonies if and when I can.. although I plan to take plenty of liberties with history (as you'll see in the post above).
Although I will mostly be using Maxis content, I will add custom content if I find it is necessary for adding a level of realism that would otherwise be lacking. I don't have the time to create my own custom content or spend hours working out the dependencies for extensive use of others custom content, so you will unfortunately see some really wierd stuff like shops with giant twirling pizzas and car parking circa early 1800s.... I guess that is the limitation I (and hopefully you) can learn to live with.... hahaha
Credits
Base Map : St Johns by Bmag_20 (Can be found here on Simtropolis) - Although I've gone and terraformed it slightly
.
Other pics (Historical) : Wikipedia commons (non-copyrighted)
Custom content : A huge thanks to all the people who've created custom content, you make Simcity what it is, you are the reason we are getting Simcity 5 and you are the reason i'm still SimCity4-ing 10 years since release! Mega thanks to all!