Update 54 - 3/8/12 - BAYVIEW: First Look
Update 54: BAYVIEW: First Look
Lately, I have been scattered all over the region building up towns, cities, neighborhoods, etc. Today, I got the itch to start planning the corridors of some other north-south National Highways 41 and 43, and also some initial planning for some freeways, focusing on a north-south stretch along the lakefront within the N-41 corridor. Martin County is really only in the N-45 corridor with N-43 and N-41 corridors typically located further east. Of course the Martin Metro area attracts those highway links and the large (as yet unnamed [input for a name would be great] lake forces the highways to divert to the west. Additionally, I am debating whether to create an exclusive designation for freeways (like the Interstate in America) or just have the National Highways serve this function (with some being freeways and others just surface roads).
Wow, enough about highways and future plans. I was in the Bayview tile today, so I took a few snapshots of the small city of about 2,000. As you can see on the map, Bayview has plenty of real estate to develop. Much of its border with the Penelope River is industrialized, though its lakefront is still undisturbed except for a few roads including N-41 (I haven't decided in N-43 will also travel within this area or if it will swing far to the western part of Martin County).
Bayview is another community within Martin County to not use NSWE designations for their streets, though main thouroughfares from elsewhere in the county that do use a directional designation continue to carry it in Bayview (like West DeKalb Avenue and South Trinity Boulevard). Streets that travel northwest and southwest or north and south are typically named PLACE (Lincoln Place). Streets travelling northeast and southwest or east and west are named STREETS (Prospect Street). Main thouroughfares are typically named AVENUES (Ramsen Avenue).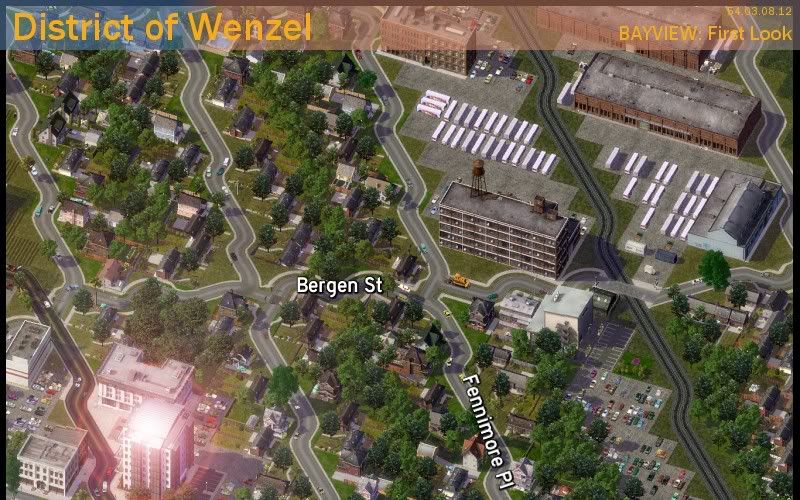 Bayview Elementary School just south of Prospect Park. Just west of Winthrop Place is the Martin & St. Paul Railroad which, south of West DeKalb Avenue, serves as an western boundary of Bayview.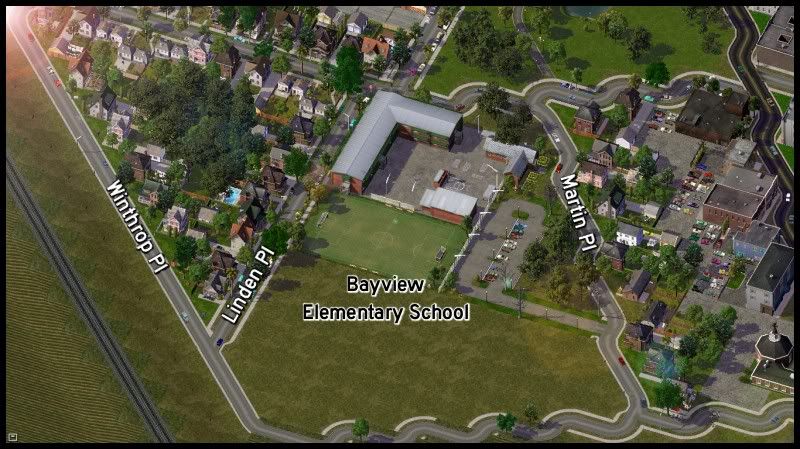 Downtown Bayview straddles D15.
Development moves eastward toward the lake along Ramsen Avenue and Prospect Street.
A rail line of the Martin & St. Paul Railroad cuts through the heart of Bayview.
Bayview at night.
The Penelope River Bridge carries N41 across the mouth of the Penelope River.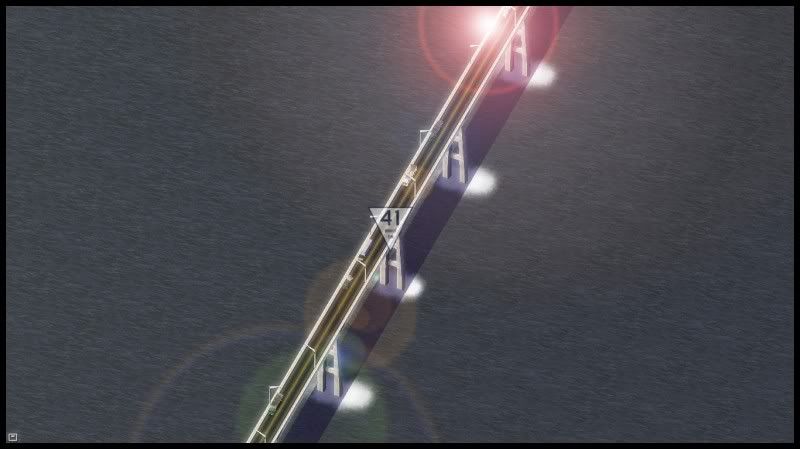 And that was Bayview. Just south on D15 is St. Andrew. Do you want to go there next? Next update at the usual time on Monday. Update Thursday may become a usual thing or a random occurence. There will ALWAYS be an update on Monday unless real life interferes.
I am heavy in construction of Hawthorne and Martin south of the Penelope River, though my next project will be to fill in some more of Martin around Axelrod down to the Penelope River. I think once a good chunk of the city is developed between South 72nd Street, West Farragut Avenue, the lake, and Brittany River, I will slowly introduce freeways. It will develop quite like freeways did in many establish cities after the WWII in America. Sections will be built piecemeal and communities will be affected. Those updates will be fun, since we will be able to explore sections of the city we've before or we've NEVER seen!
I would love to hear your thoughts on highways, Bayview, future updates, etc! Keep the requests and comments flowing in! See you at the latest in a week. Check out the District of Wenzel Street Map to get an idea where we are. Tell me what you think of the new map style (scroll down to the farthest south area of google map style). I am currently overhauling and adding many new maps, keep checking it out!