Baufeld Rebuilt: The Rebuilding Process is Complete. (Update 54)
Entry posted by simlink ·
165 Views
Update Synopsis:
After a long, difficult clean-up process Baufeld has been rebuilt. While there some construction remains, it is primarily expansions to the town, including the expanding commercial/industrial park. The look of the town has changed dramatically - many new services are now present. New community gathering spaces have been added and the style of houses has also changed. In this update we will look at the current state of Baufeld, now that the rebuild is mostly complete.
54.1 | Fall has arrived in Baufeld - with brilliant yellows and reds gracing the landscape. The light is warmer, and the days are getting shorter. Houses here line the newly built park - which the town has planted more trees in since we last saw it.
54.2 | In this portion of Baufeld, we see the new "Main Street" running parallel to the highway the leads into Macoe and Eastburg. The new town facilities building marks the landscape, along with its newly completed terrace. The school has had slight repairs to it, and a new playing field sits in back.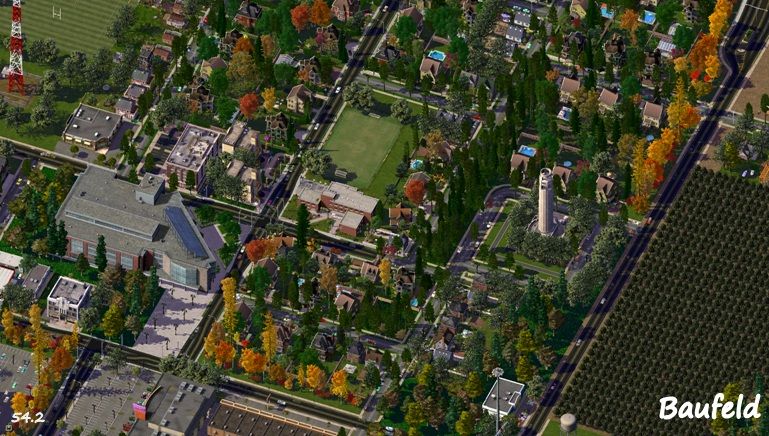 54.3 | Close to the highway more houses have been built. This area is largely an expansion of the original town - one that has been in planning and under construction for a while. The towns first medium-rise building site in the area, close to the overpass to an area soon to be filled with them.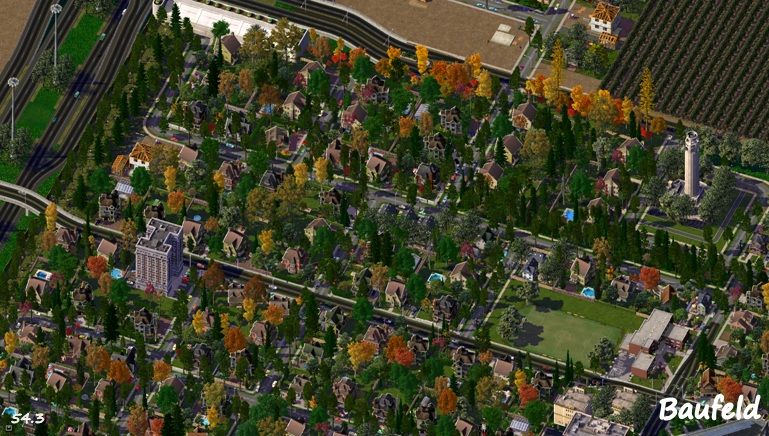 54.4 | This neighbourhood sprouted up recently, as part of the agreement in rebuilding Baufeld. The developer offered smaller lot sizes here, and residents snatched them up. This location is directly next to the hospital - many nurses, doctors and administrative staff live in these houses.
54.5 | A new strip-mall and cinema are now located at the site of a former Tim Hortons and small office buildings. Tim Hortons is still seeking a new site to build a location on. Rumours have it going in "New Baufeld" across the rail tracks. Others have it near the train station. Only time will tell...
54.6 | This area will soon be home to mid-rise housing, which is expected to bring an influx of people into the sleepy town. 2 are just starting construction, while others are in planning or going the approval process.
54.7 | This mosaic shows off a large portion of the rebuilt Baufeld.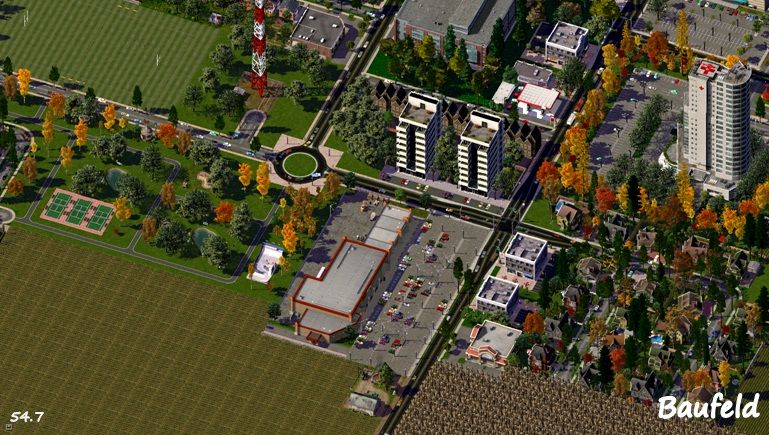 54.8 | This aerial view provides a look at Baufeld in its current day. Baufeld has risen from tragedy to rebuild, and it is now better than ever before.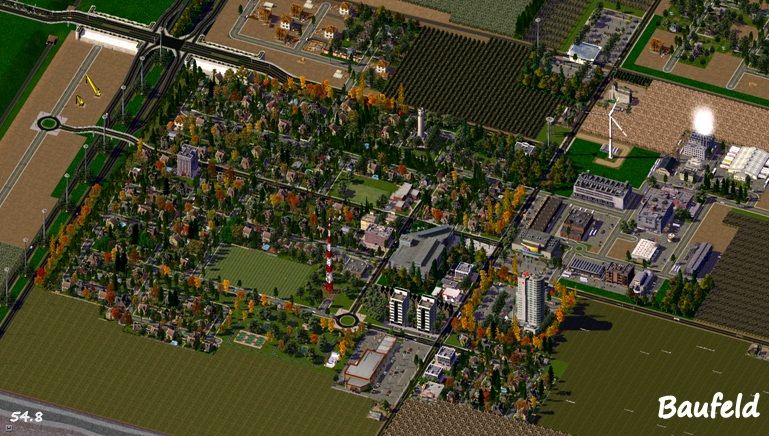 As always, I hope you've enjoyed this update and are looking forward to more! Comments and replies are always welcome.