Baseball in Deschutes
Replies from "Biking in the Deschutes Republic"
sucram17: I will try and use those; great idea!
JGellock: Glad you like it! And you have a number of redevelopment projects coming soon! I had to build it up first, of course!
To the post...
It's October 1, 2014. Joakim Soria, a relief pitcher for the Deschutes Coyotes throws a 3-0 fastball to Prince Fielder of the Milwaukee Brewers. The pitch is hit down the right field line for a walk off double.
Returning the to clubhouse, the defeated Coyotes watch the Los Angels Dodgers lose to the Phillies.
In this way, the Deschutes Coyotes won their first National League West Division title.
The story of major league baseball in Deschutes goes back to 1996, when a state-of-the-art stadium was built in Downtown. In the short term, the park would be used by college teams and major concerts. But the real goal was always to lure a professional baseball club.
Baseball is the sport in the Republic of Deschutes. A part of the region's high-density model is to include ample park space to off set the towering apartment buildings that populate the cities. This provides plenty of room not just for youth leagues, but for serious adult teams as well.
There is always room for baseball in Deschutes.
In the summer of 2009, Major League Baseball approved expansion to 32 teams. Added to the American League West were the Deschutes Coyotes and the Las Vegas Barrons. Deschutes' condition to joining was the right to bypass the draft and directly sign two 20-year-old local talents: left-handed pitcher Jason Baker and second basement Oliver Siegal. Baker, a strikeout artist, was projected to anchor the pitching staff for years while Seigal combined power, contact, patience and speed at the plate (not to mention great defense) would anchor the offense.
Opening day was April 4 2012.
A brand-new stadium was built in Bend to serve as the AAA affiliate. Only the Seattle Mariners have a AAA team so close to be big league club.
The stadium featured great access to public transit. The commuter rail actually has a direct line to Downtown Deschutes... easy access for minor league call-ups!
After 3 losing seasons, the Coyotes broke even in 2013. Seigal, developing faster and with more power than anyone had projected, won the league's MVP. Over the off season, the team was moved to the National League West. Adding stars like Troy Tulowitzki and an aging Roy Halladay, the Coyotes were strong all season.
Troy Tulowitzki at the press conference announcing his trade and in a Coyote Uniform.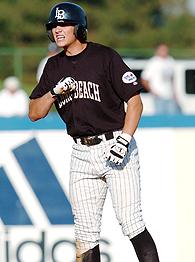 The playoffs first round is against who they eneded the season against: The Brewers. Starting on the road, they have split the first two games.
Now, for the first time, playoff baseball comes to Deschutes. How will they fare in the playoffs?