Insertion
The Wirdleplex: Insertion
In a bold move, Admiral Hestorb returns to Schulmania to begin her second life. And her choice is to return directly to the eastern front. What she sees dismays her: the main naval base on the eastern front has been destroyed and the secondary one has only escaped destruction due to its small scale and marginal strategic value. The eastern fleets have been decimated and naval forces are hemmed in by a punishing Queensferry blockade. Inland, the massive enemy attacks last month crumbled our defensive lines and doubled enemy conquests, providing an opening for them to drive forward to the inner coast and split the eastern defenses.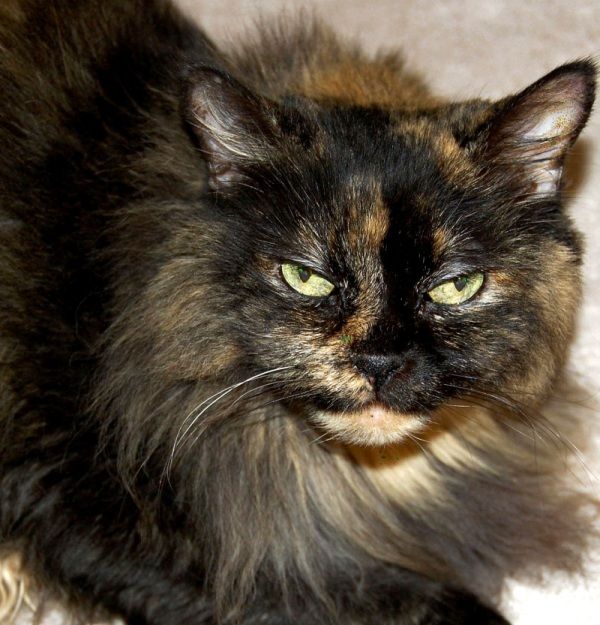 Admiral Hestorb, reporting for duty!
She reads her posting, handed to her by BFA Governor-General H. J. "Hoppy" Franciflora:
ROYAL SCHULMANIA NAVY
BUREAU OF FELINE AFFAIRS WIRDLEPLEX
WIRDLEPLEX NAVAL BASE – SECTOR 2
POSITION: COMMANDER, SECOND FLEET
Wirdleplex Naval Base? This was news to her. The Bureau of Feline Affairs has certainly been busy in their special military district. It seems as if they have a very special gift awaiting her – a new base. But, there's only one way to find out. So, she bid adieu to her husband and started up the catpath through the woods euphemistically known as the "Trans-Schulmania Highway" to get to The Wirdleplex.
As her entourage moved northward through Harar and over the Schulmappalachian Mountains, word of the Admiral's return spread and heartened the troops on the eastern front. Well wishers thronged her as she passed through the border town of Ava City, in Schulmania's deep south. As the team made good time over the Wirdleonia Plains, soon they encountered the fortified border of the Bureau of Feline Affairs Wirdleplex.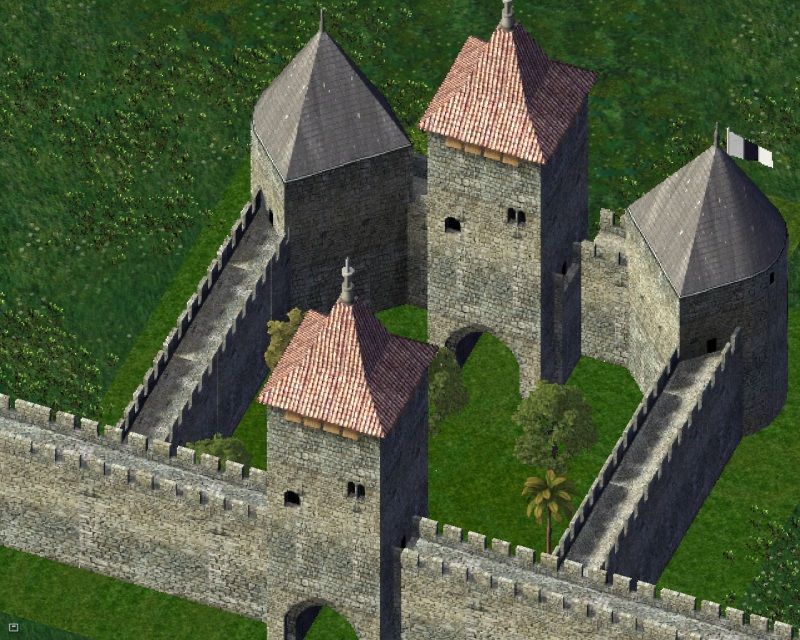 "All Hail Admiral Hestorb!" the cry rang out. And with a crisp military salute, Admiral Hestorb passed through the portal and back into active military service.
As the Admiral passed deeper into The Wirdleplex, she was amazed at the massive scale of the BFA's military district. If she would have heard of the Manhattan Project, she would have found it an apt parallel. She has head of the Manhattan Transfer, though.
http://www.youtube.c...h?v=bn7vWeTxUhw
But, that's a story for a different day…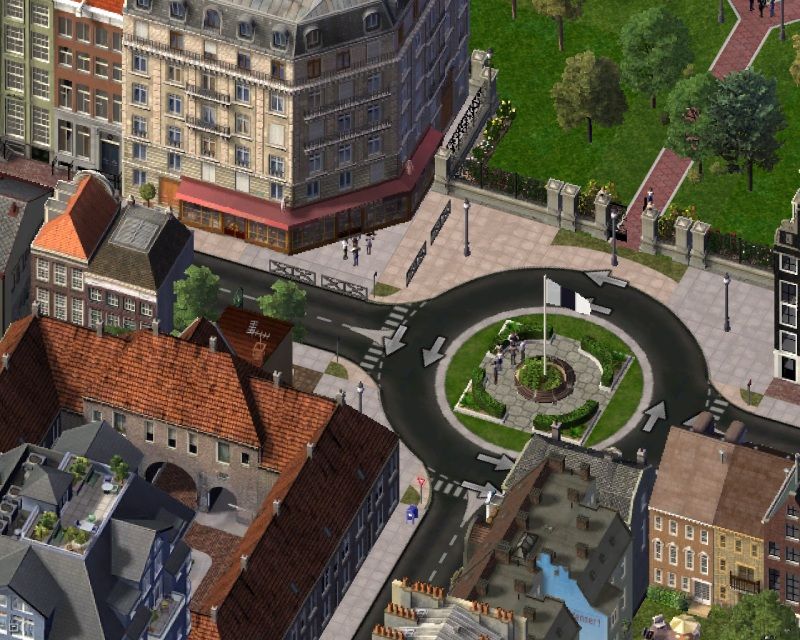 She was impressed with the seamless integration of military assets and facilities into an efficient and pleasant city setting with all of the proper amenities of a Schulminion town, and perhaps a few new ones too.
She was on her way to the naval base and did not have time to explore much. Briefings were scheduled with Fleet Admiral Excalibur and BFA Field Marshal Blossom in rapid succession. Her Chief of Staff, Lieutenant Alphred Omegga, said the commander's quarters on base would be much to her liking. She hoped so, since the voyage was long and strenuous.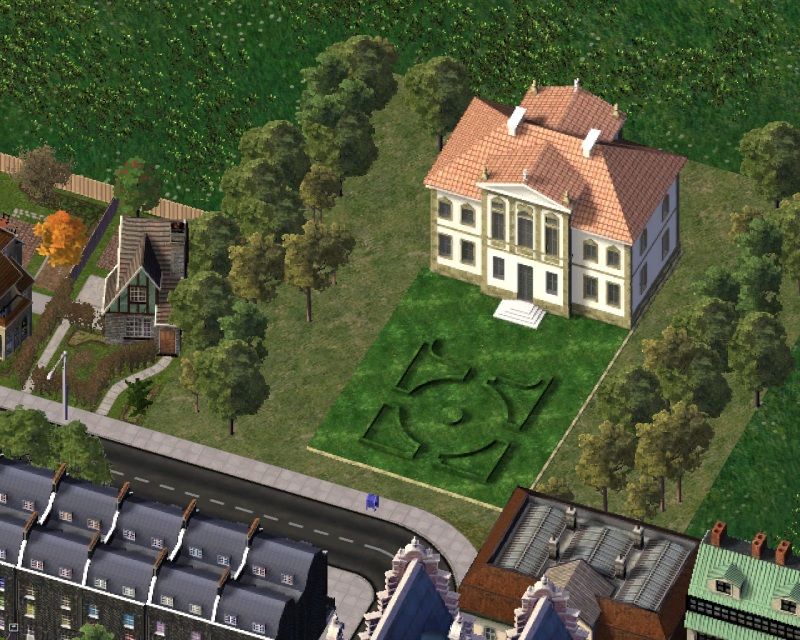 Just inside the secure perimeter of Wirdleplex Naval Base, Admiral House is the Commanders Quarters for the reconstituted Second Fleet. It and the reconstituted Third Fleet are both based out of different ports along the military district's coast.
Admiral Hestorb settled into her cozy new HQ, which indeed is a very comfortable building for her while she oversees the new eastern fleet. She dove into tactical reports and deployment records and a host of maps and military intelligence reports. She was convinced even before arriving that bold action needed to be taken. And, after having reviewed a mountain of documentation, her notion became even firmer. And she knew just who to contact to help formulate a significant new plan.
First to help her formulate the strategy is newly-promoted Commodore Leo, whose heroics off the Devonshire coast allowed many stricken ships to be safely evacuated before a Queensferry assault sank them.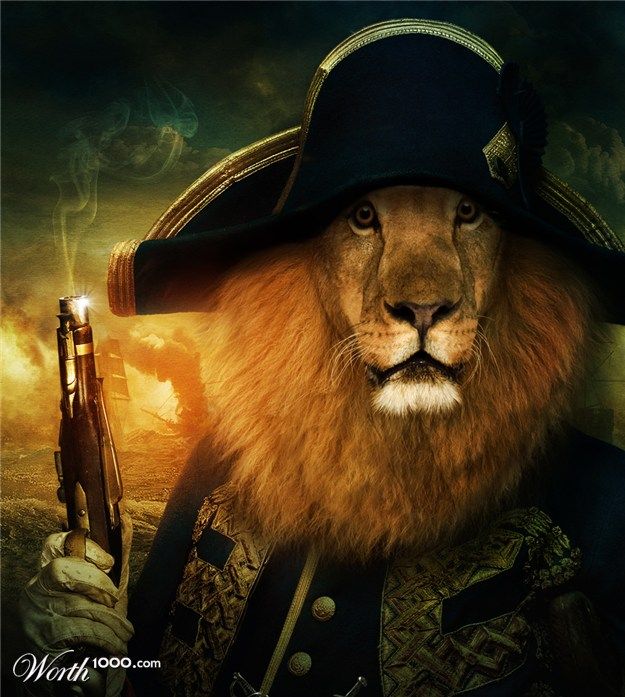 Leo has seen the savagery of Queensferry first hand… and he knows that revenge is a dish best served cold
She also promoted Captain Tigris to Fleet Captain. Tigris has been in battle four times against the Queensferry navy, trying to break through their punishing blockade. If anyone on our side knows a way to break through, it's Tigris. Tigris has seen many a ship sent to the briny depths and has survived thanks to a unique combination of fearlessness and recklessness.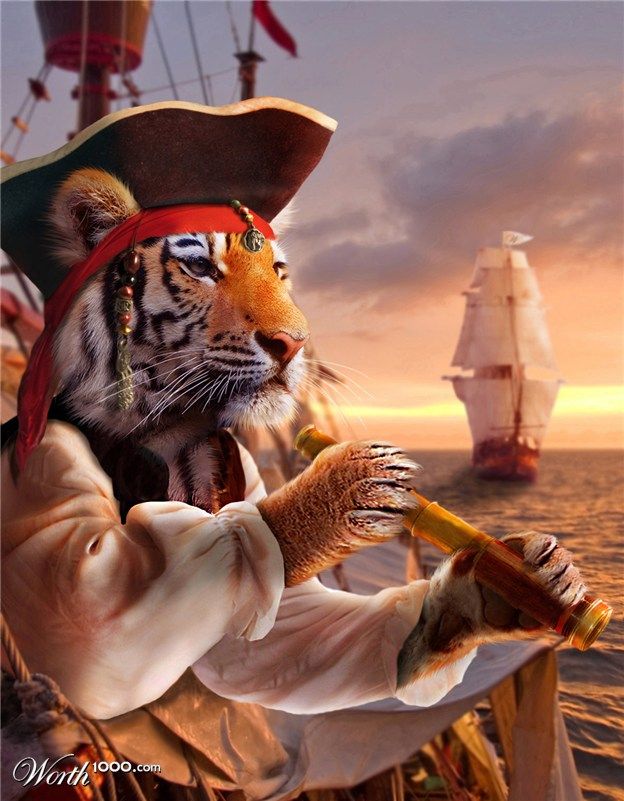 FCAPT Tigris has been sailing for the BFA blockade runners, a relatively small group of vessels dedicated to penetrating the enemy blockade for supplies and harassing enemy vessels
The BFA has given the blockade runners, affectionately known as "purring privateers", wide latitude and little oversight in how they use their letters of marque to help Schulmania. Unfortunately, the success rate is abysmally low. Tigris is one of the few to make it out to the Admiral Islands. These two will help the Admiral develop a a plan which will help raise civilian and military morale as well as provide a strategic victory for Schulmania. Their collective goal: think big. In a meeting with BFA Field Marshal Blossom, the three naval leaders brainstormed ideas to strike at Queensferry. Eventually, they settled on a plan.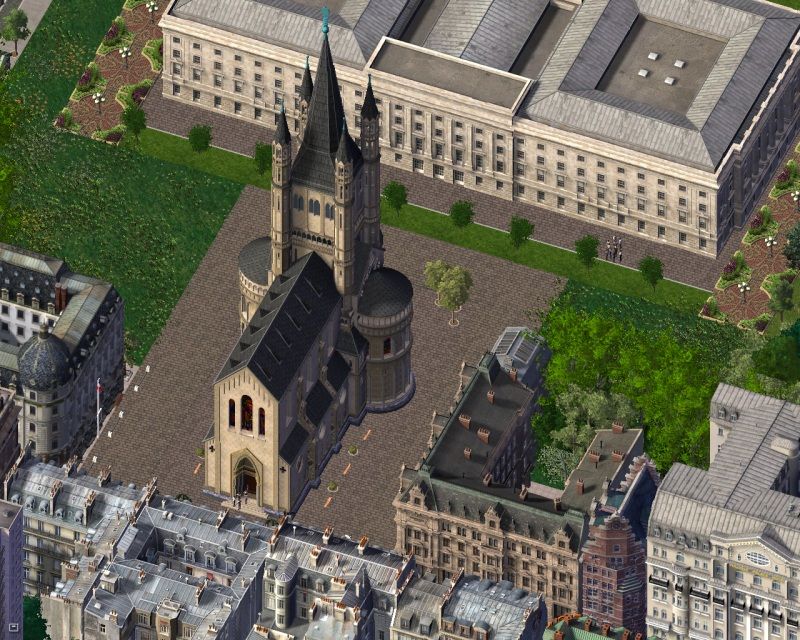 At Schulman Day services, Hestorb brought up the idea with BFA Governor-General H. J. Franciflora, who sat next to her.
He agreed. Planning was already underway and getting the green light meant notifying the daring sea captain chosen to lead the breakout. FCAPT Tigris knew the prefect leader and send word to him. But, he was nowhere to be found. This intrepid seaman is a privateer, so it is entirely possible that he is out to sea. But, many of his crew were found to be at port.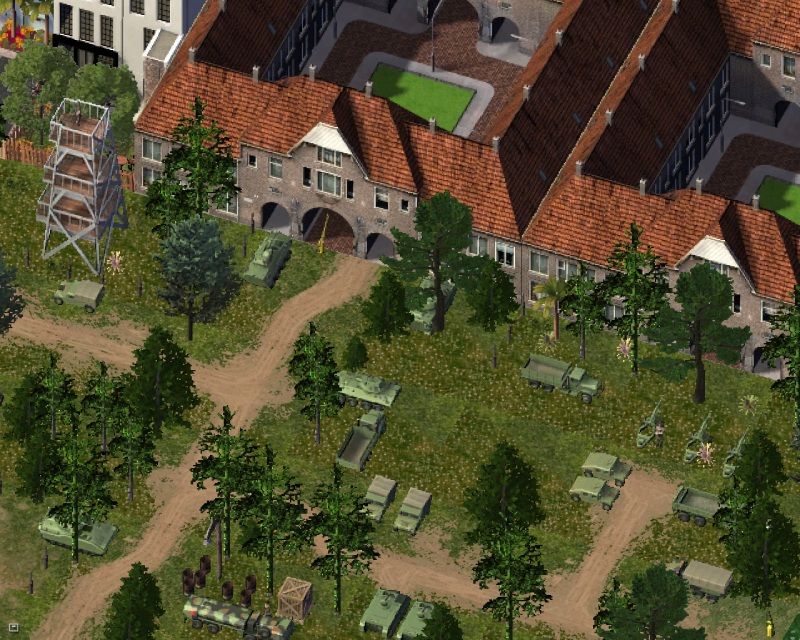 Security teams fanned out to look for the AWOL sailor, but quickly found him at the Eastern Challenge Encampment, in the midst of a rousing game of Words With Friends in the barracks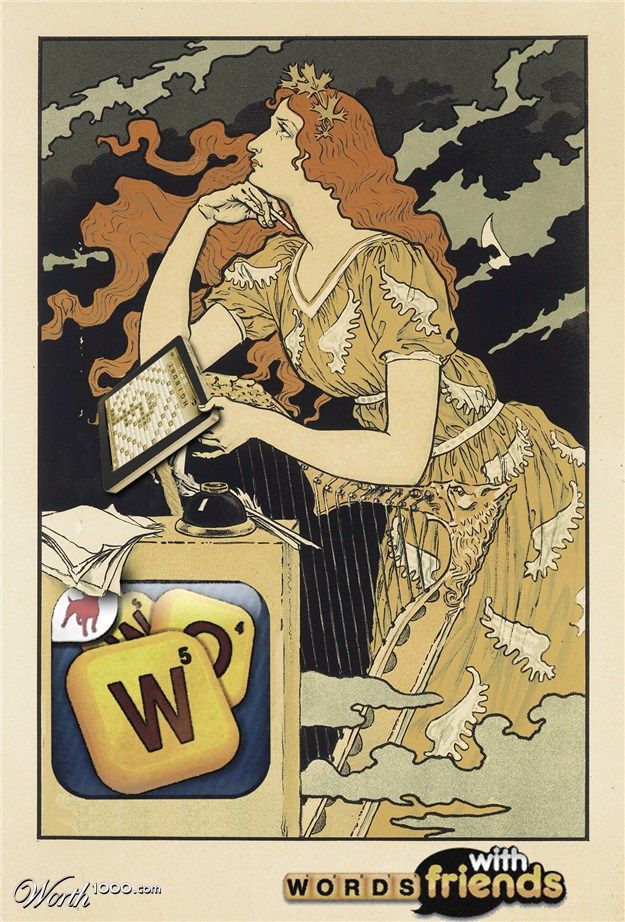 The popular crossword game has supplanted cutthroat poker in the Schulminion barracks as the diversion of choice
Security Chief Lieutenant Qapla Worf found the sailor and brusquely informed him "You have been selected to lead a mission through the enemy blockade. Report to the base at once."
The privateer nodded, put down his game board, tipped his hat to the assembled group, and departed with the lieutenant. Privateer Captain George, A.K.A. "No Beard", the daringest cat on the Devonshire coast, was heading into the biggest adventure of his career.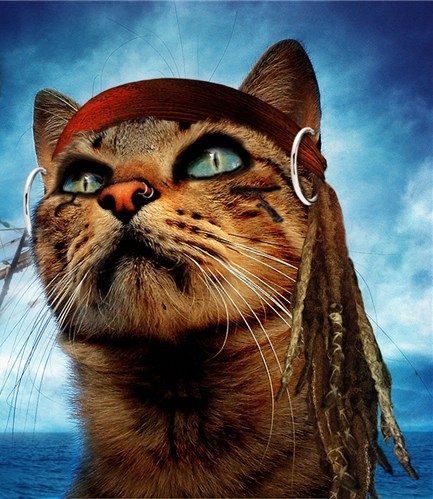 That's "Captain" George to you, landlubbers!
Only Cap'n George has the courage to brave the heavily armed enemy ships and punch through to the open ocean. George was selected by the military planners to spearhead a breakout and insert an elite military team at a strategic point behind enemy lines. Operation Gumshoe Challenge is a calculated gamble – the royal navy will sacrifice ships in order to position troops beyond the enemy positions. Admiral Hestorb planned a masterful strategy to do just this.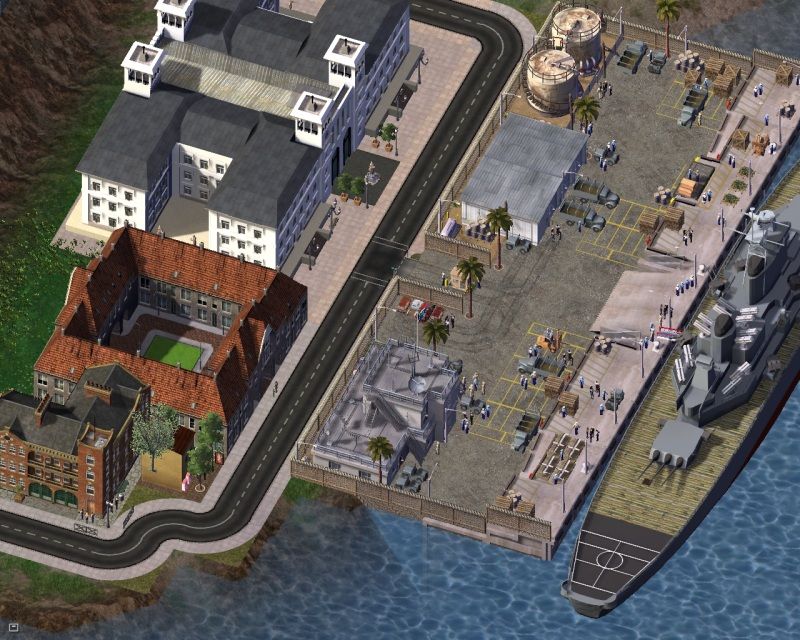 At Wirdleplex Naval Base – South, Hestorb, Leo, Tigris and George look for volunteers for the sacrificial ships (Task Force 1) and plenty of extra hands for the main force (Task Force 2). The flagship of Task Force 2 is the Battleship K-25, shown above.
Task Force 1 is a diversionary force comprised exclusively of traditional Schulminion wooden military vessels. The group is composed of 16 vessels, each manned by a skeletal crew, to minimize potential casualties. Led by FCAPT Tigris, Task Force 1 will sail north, close to the coast, towards Woods of Wayne. From there, the group splits into three parts: one sailing northeast, one east, and one southeast. These ships are to attract the most attention possible from the blockading vessels, moving them out of position along the East Atkinos coast. Having done so, Captain George will sail with Task Force 2, due east from The Wirdleplex, toward the Admiral Islands. Hopefully, unimpeded.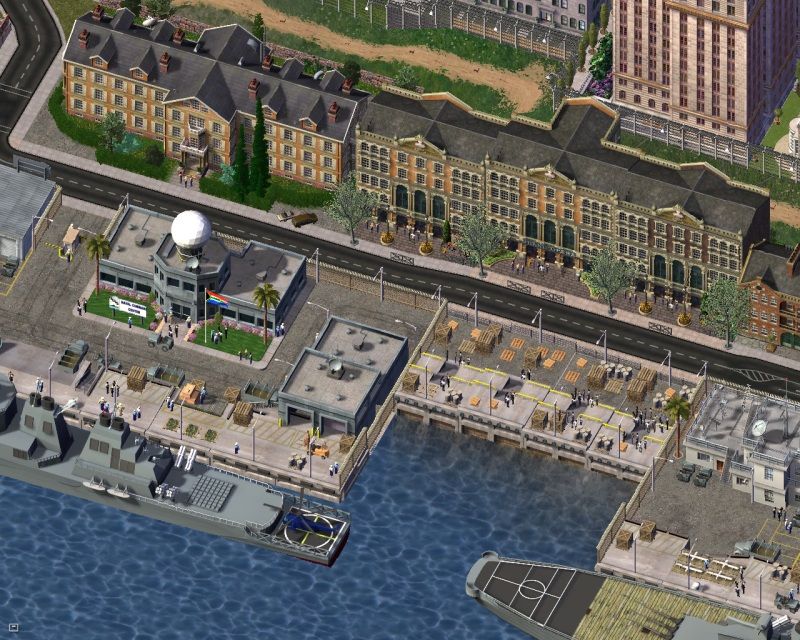 At Wirdleplex Naval Base – North, additional ships for Task Force 2 are being readied. Noteworthy is the X-10, an experimental ship featuring a launch area for a meownicopter. This is the first naval projection of Schulminion air power.
Task Force 2 includes not only Schulmania's finest sailors but also hundreds of soldiers and support personnel from the Schulmania National Army, Tactical Response Teams, BFA Military (including the secretive XIV Corps), and multiple support agencies. The nine metal ships in Task Force 2 house in total over 6,000 of Schulmania's top military personnel and a significant supply of new weapons. Grouping this many valuable assets into one vulnerable position is a huge risk, one that can turn the tide against Queensferry… or, if lost, can hasten our demise. Great risks often go hand-in-hand with great rewards. Should this mission succeed, Schulmania will be able to develop a secret base to harass Queensferry and reduce pressure on the mainland.
It is essential that Task Force 2 make it through the blockade intact or largely intact. With massive losses from the Advent Offensive, Schulmania cannot absorb the loss of this mission.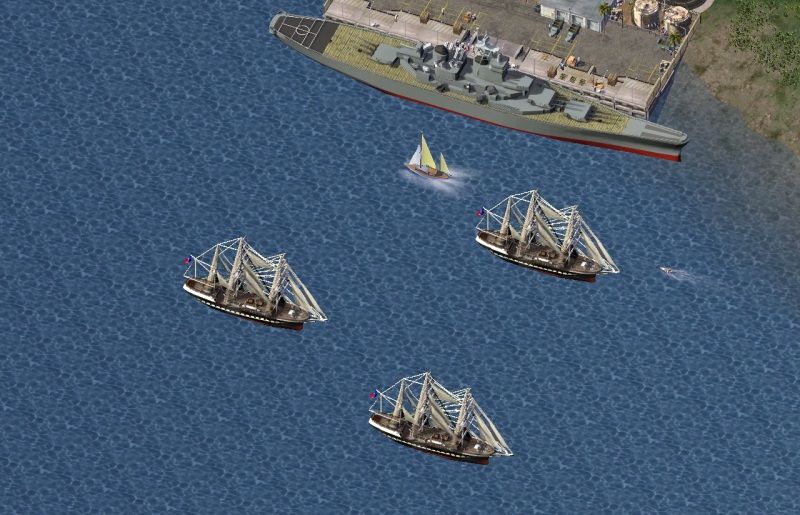 Admiral Hestorb sailed out in her personal yacht to see off Task Force 1. Schulmania's greatest military operation to date is now underway.
Curious as to the success of this mission? Stay tuned next time as new technology allows us to have unprecedented access to information from the front lines. Until then, Godspeed, Schulminion fleets!