And so, development appears. (and apparently tree's also...lots thereof)
Entry posted by bigro ·
81 Views
oh, just thought I might like to add that this is set in a world where we have all the modern conveniences we have today....barring flight. Haven't quite got that one yet.
______________________________________________
Welcome back mate, and well. It seems as if we were completely unaware of something that would have been of great use to us earlier. It appears as if in this particular area of Daggerson the native eucalyptus have evolved themselves to be 'drought proof' of sorts. It appears as if they lie 'dormant' as a small root or a small seed even under the ground until a sufficient amount of water reaches them...and well...boom. We were seriously not expecting to have to clear a forest in what we thought was a desolate and dry creek bed. You learn something new everyday. Apparently this area had been in drought for longer than we've known of it. (twenty years)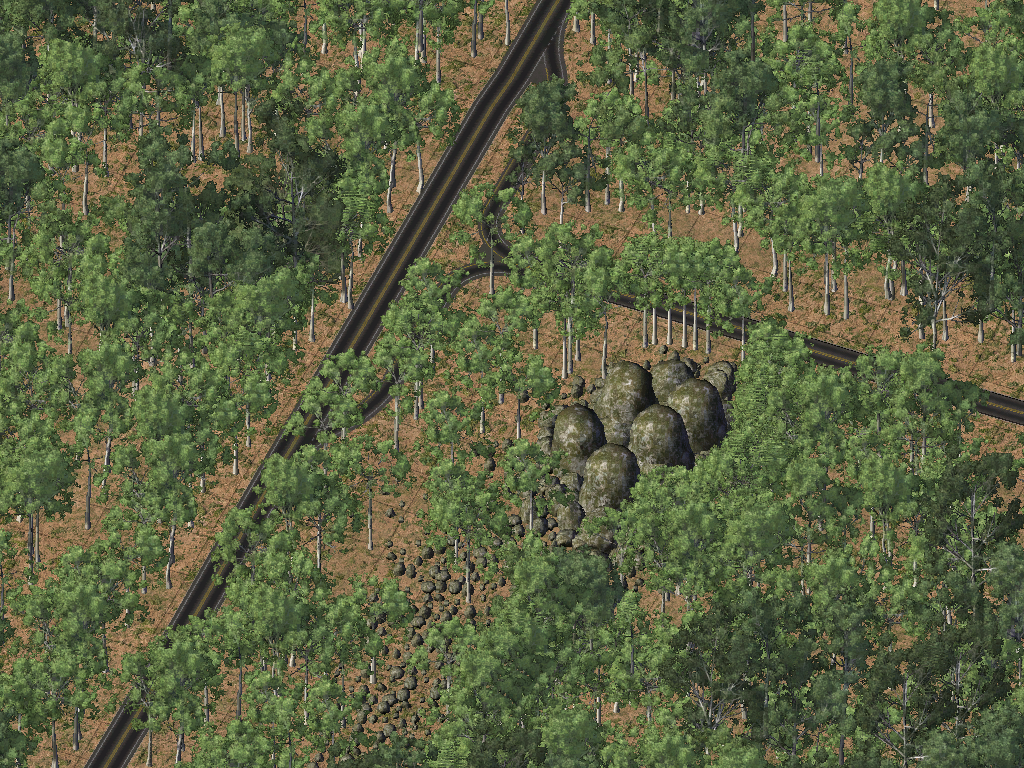 picture shows extent of forestation in higher area's, expected to grow denser with more rain due
Oh, since we're looking at pictures of the brand new highway. Let's Give you all a little info on the bugger of a thing (took eight years to build it did) Going from the northern capital city, Gorgeia (ghor-ghay-ee-ah...locals say ghor-gee) to another major city, Hakkus (said exactly how it's spelled) in the south west. The highway took so damn long because of a range of mountains both north and south of Ulatown. The mountains to the north...are not fun. A whole lot of the buggers are dormant volcanoes which when building a highway, we thought it would be best to avoid. In the south the mountains are horrible. Just horrible. Tallest in all of Daggerson and most uneven as well. Bloody hard to navigate, mostly the reason we hadn't found this area for the hundreds of years we have been here. (1285 to be exact...yeah, that bad) Before this highway a person would have to trek through the kinda mountainous west coast which took approximately a day to traverse safely. Half a day if you drive like an idiot. Then it was smooth sailing through various forests and swamps.
That picture earlier shows the highway AND the turnoff to alistair. A small town recently founded in the Ulatown area.
there, that is pretty much the whole of Alistair. Not bad for a three month old town eh? Anyhow, the vineyards you see in this picture are protected by a makeshift 'fence' we made out of these surprisingly light boulders to keep out all the unwanted animals...which also came out with the trees. If it weren't for that fence right there this town would have almost zero income. With a population of 102 Alistair looks set to be the center of all Ulatown in the future. Also worth noting, Alistair has the only servo in hundreds and hundreds of miles. That has to count for something right?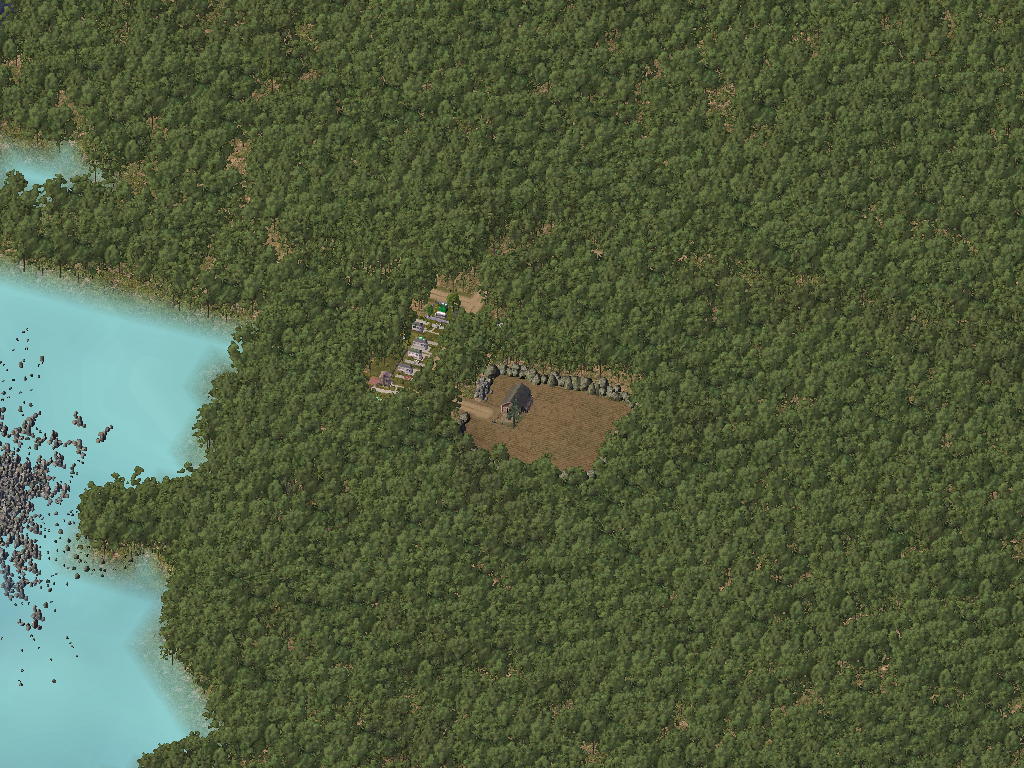 Just south of Alistair, is currently, the only other town in the Ulatown area. Duncan. Named after the dead guy they found here, sir Duncan Doyle, a famous explorer that set out to find out what was over the mountains over a hundred years ago, but never came back. He had died of not thirst, but of the cracked skull he received from one of the many nasty critters that live in the woods. Also, it appears the area was not in drought when he was here. But was shortly after preserving his bones and his bag. Interesting....
Anywho, Duncan is a nice little town just off the highway with the same fencing solution as Alistair. Except they're growing Barley. Also worth noting is Duncans proximity to the lake, Duncan does have a road leading to the lake where locals (all 58 of em') go to swim and canoe occasionally.
Now, we did say the highway took eight years yes? well guess what. In this eight years an overpass was built over a dry riverbed not far from Duncan. Mainly because the original road had trees growing through it (that looked funny...and it only happened here) But also because the slope here was...optimum. A little bit of future planning it was.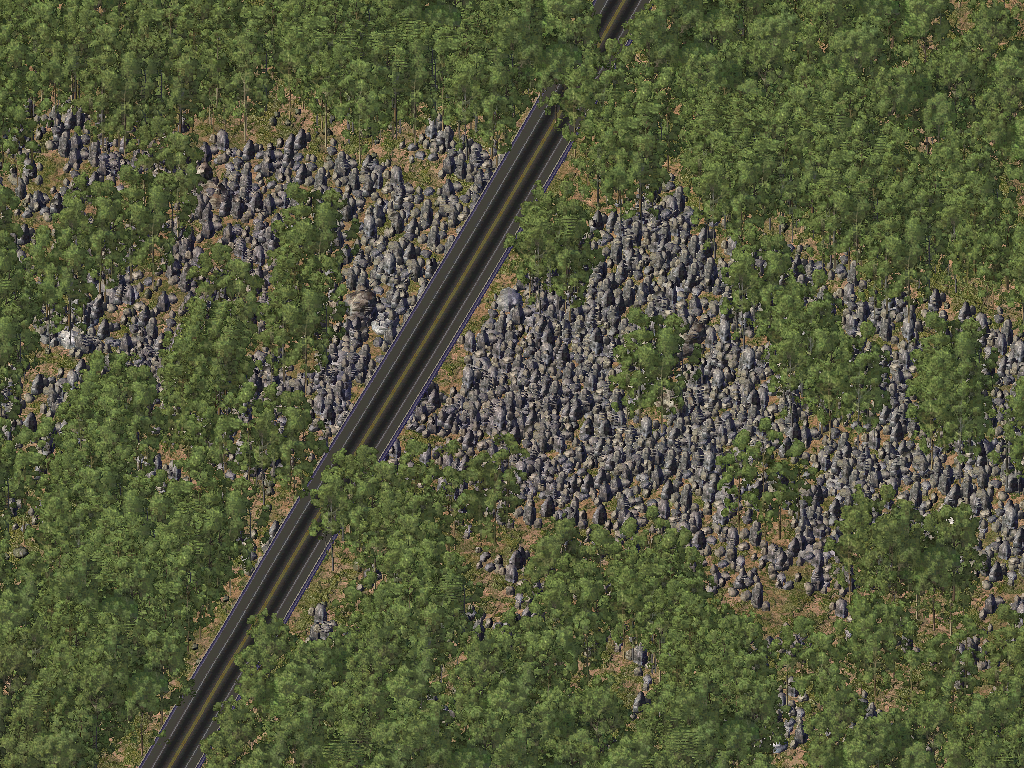 In this picture you can clearly see the overpass over a patch of rocks and the forest. In the bottom right corner you can also see what we were using while we built the overpass.
Anyhow, come back next time and I'm sure we'll have some more towns and some more trees to show you...or just come back for the towns...I don't care either way! Just come back! Ulatown needs the tourism.