CAPTAIN'S LOG 00176
Replies
----------------------------------------------------------------------------------------------------------------------------------------------------------------------------------------------------
avrelivs, Weicher - correct, Pluto was dismissed as a planet. it is now known as a "dwarf planet," and yes my Pluto entry said such from the very beginning...i don't spend all this time looking up distances, surface temps, etc. just to miss what type of celestial object it is!!
terring, Evillions - guess what?! i've already completed an alien civilization..i'm creating these worlds a little out of order based on their presentation order because there is a background storyline that is going to be followed...but i can say that in the next few entries everyone will begin to see their first glimpses of alien civilizations..and i hope they will be worth the wait!
ccecill, Benedict, Reikhardt, escilnavia, sepen, Alejandro - THANKS!!
----------------------------------------------------------------------------------------------------------------------------------------------------------------------------------------------------
LOCATION: MILKY WAY - SUN - PLUTONIAN SYSTEM, 5414 MI. OUTSIDE CHARON ORBIT
Today, I write to inform whatever future generation of people, on Earth or elsewhere, will come to remember as the greatest discovery in human history. Not much has been made or said of Pluto since it was demoted from a planet to a dwarf planet seventy years ago. NASA's New Horizons mission, launched in 2006, was scheduled to reach Pluto in 2015 but collided with an unknown debris field outside the orbit of Uranus on March 19, 2011 and was never heard from again since. We reached the Plutonian system five days ago, amidst excitement from everyone aboard the ship. We went HEX the next day. No one will ever forget the words of pilot Cdr. Jase Kizka broadcast in the command center two hours into his flight - "Sir, you're never going to believe this."
I expected I would believe it. When you travel in space for over 1500 days and go farther than any man has before, you tend to think that you have reached the climax of mystery, and discovery. We expected Cdr. Kizka to transmit back images of surface channels that would appear to have been carved by water. Instead, a high-resolution image of a giant pyramid slowly decoded on the screen. It looked just like the Great Pyramid of Giza on Earth, only a murky black, grey and yellow one.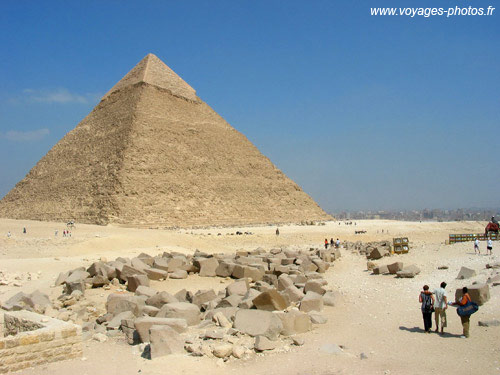 Then came the results of the HEX's on board PSDS (Planetary Surface Dimensioning System). Our archaeological science team confirmed what by this time we already suspected - that the dimensions of the Plutonian pyramid and the Great Pyramid of Giza were the same. Even the pyramid's capstone was missing as it is on Earth. Then one of the arch. science team members suddenly shouted in a tone of amazement and fear, "The Orion Correlation Theory...my God..."
I had heard before of something called the Orion Correlation Theory. It is, or was, a suppressed theory that the Pyramids of Giza (Khufu [Great Pyramid], Khafre, and Menkaure) geographically mirror the astronomical alignment of three stars in the Orion constellation known as Orion's Belt (Alnitak, Alnilam, and Mintaka). According to this theory, the Great Pyramid of Giza is then representative of Alnitak.
Pyramids of Giza and Orion's Belt
After some time it was calculated by our arch. science team that the Plutonian pyramid is at the same coordinates on the surface as Alnitak is in the Plutonian sky. We have now received a transmission back from Houston, and our orders are to avert from Alpha Centauri in favor of Orion's Belt. Regardless of our new destination, we will be traveling for the first time through a wormhole oustide of NASA simulations. Alnitak is 800 light years away, and the wormhole (we hope) will cut the distance down to what we currently estimate to be roughly half a light year. If this is in fact true, it will take us approximately 179 earth days to reach the Alnitak system as we will be able to travel at the speed of light inside the wormhole. We will return to our original plan of visiting the Alpha Centauri system someday. But who knows when? Who knows where this new course will take us. What will we find? What will we learn? Where will it lead? Once we enter the wormhole we will be permanently cut off from communications with Earth. We will remain cut off once we exit the wormhole as Orion's Belt is too distant. My crew and I would be dead centuries before a transmission we sent ever reached home, if our brothers and sisters even remember we existed. Mankind's mark on space is soon to be left solely in our hands and in my better judgment. May God guide me.
We will use the next 179 days to further develop a communication plan with any possible alien intelligence, and to prepare a defense plan should we encounter any hostile threats. Alnitak is 10,000 times brighter than our Sun, so we will use the time to also determine the effects this could have on our eyesight and our skin, and also any susceptible technologies on board the ship. But, for all we know, Alnitak may no longer exist. When I turn away from my desk and look out the window behind me, I see it. But I am looking 800 years into the past.
Orion's Belt (from left to right: Alnitak, Alnilam, Mintaka)
We now have every reason to believe that the Orion Correlation Theory is true, and that perhaps the designers of the pyramids on Earth, and Pluto, came from Orion's Belt. If we encounter any intelligent species, we will show them a picture of the Great Pyramid of Giza, in hopes that it will be recognized and will communicate a peaceful intent. While some would be nervous about what we are soon to witness, knowing that there is a risk that you, your ship and her crew might not make it out alive; I am calm. To be so far away from Earth and cut off from everything you have ever known, I remain confident. And if I should die at the hands of some alien intelligence, then I'll die knowing I truly lived.
- Capt. Drake S. Eastman, U.S.S. Hubble