The small coastal town of Moubasa
A little to the north of the southern shores of the island lies the small village of Moubasa. The village began as a small market town where sailors stopping at ports further north could stop by to pick up or sell goods. However, many of the markets have since disappeared, due to increased violence from drug traffic. Shipping traffic past the lower part of the island has also slowed down due to the increased recent threats of piracy in the area.
Many of the original residential buildings remain, such as old hotels and commerce offices. The main road through town was paved in 1970 by US marines to allow for easier transportation of tanks and oil trucks to the lower tip of the island. A few barracks were constructed as well, but they have since been converted to low-income family tenements, as many of the village's citizens are poor.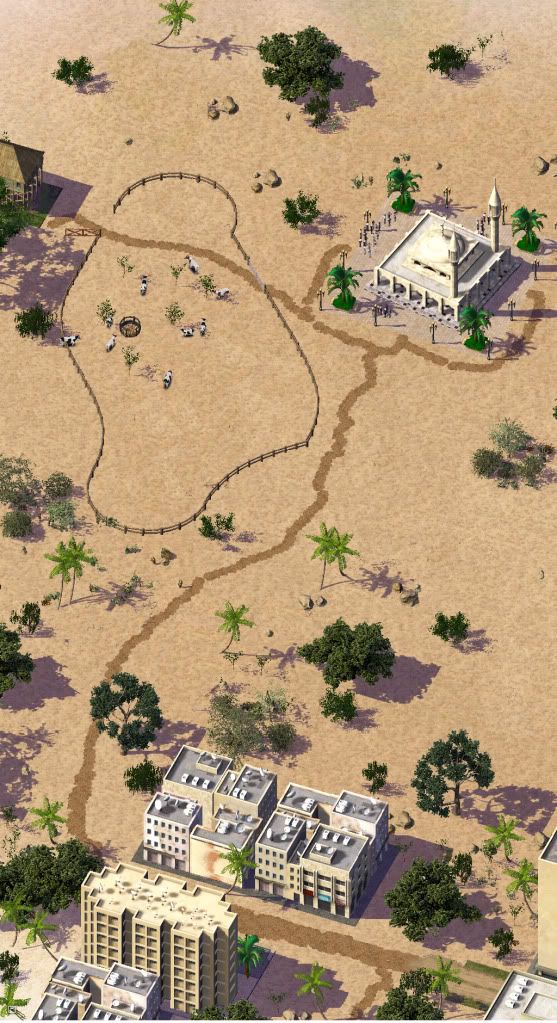 A small mosque also exists in the town. This mosque was constructed by Marines to appease the local population and encourage cooperation with the military forces that frequently passed through the town during their stop-over while the Vietnam War was occurring. Small cattle and goat farms dot the landscape and provide the locals with small amounts of income from trade.
As the sun goes down, the sleepy town settles in for the night. A few of the town's population makes their living here at night, as a lack of a police force lends the town to a semi-lucrative drug trail from the poppy fields of the north. Luckily the town is far removed from the majority of the island's population, so violence cannot spread so easily.