Schwanau - The Park City & Airport
Adrianor: Yes, when you use them right, Maxis building actually can look good. It's not the tools that makes the art, it's the artist
TekindusT: Ah, those pesky Coit Towers!
Reikhardt: Thank you!
Frdm920: Link is fixed now. Glad you liked the previous update.
ImVhOzzi: Thank you!
heitomat: Thanks to the USL, the streets are looking great at night!
I'd like to announce that this CJ is now featured in SC4Devotion's Of Special Interest This Month!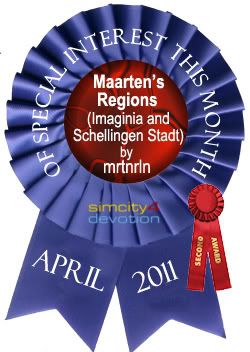 That means a month of extra updates and content! so stay tuned!
Welcome to Schwanau. This city is a large suburb of Schellingen-Stadt. However, Schwanau is a seperate municipality and so does have it's own local authorities. The city likes to promote itself by it's green character: "Parkstadt Schwanau" or "The Park City".
Schwanau also hosts a medium sized airport for international flight traffic. The airport is surrounded by a area of modern medrise office blocks. This looks like a good place to start:
As you see, it's a large W2W office district (thanks to ill_tonsko, who created this wonderfull modern W2W office set!). What's very noticeable is the grid-layout. This does make some sense, since it's a modern office district and the street layout is chosen to be optimal as possible.
So let's take a look at the airport terminal. All aboard!
As you can see, the airport has four runways. Runway 18L and 36R are for take-off only, runway 18R and 36L are for landing only. You also see a part of the Ring Schellingen (A10), a freeway-ring around Schellingen:
There's also a large parking lot near the airport. A DIY store nearby is very thankfull for all the abundant parking space 
The Rianerallee (B14) crosses the runways. For safety a tunnel has been constucted underneath the runways:
At the other side of the tunnel, there is a grade-seperated connection with the A10. To the north it goes to the next suburb, Rianstedt:
Now here's a question for you: after which two SimTropolis AND SC4Devotion members is Rianstedt named after?
Another picture of the A10. Here you see the freeway going in-between the suburbs Rianstedt (left) and Schwanau (right). The type of freeway lighting is quite uncommon in Schellingen. In fact, this is actually an experimental setup using white LED-lights (instead of low-pressure sodium fluorescent tubes). So far, it's quite successfull.
Next up is a freeway interchange, the Schwanauer Kreuz, where the A10 (left to right) crosses the A12 (top), which loses its freeway status after this interchange and goes further East as the B12 (bottom) (yes, we look at this interchange from the East). This interchange can be classified as a cloverturbine (add with my own classification Type 1, which means that there's only one turbine ramp. Other types are 2cis, 2trans and 3)
We move on to Rianstedt and have a look around there:
We also take a little peek at the south side of the city:
Here we have the railway station of Schwanau. There are shuttle buses that are riding from the station to the airport and vice versa. There is a tram line planned to this station to replace the shuttle buses, but so far it's not realised yet.
Schwanau is constructed at the shores of the river Schelling. One of the city districts is therefore called "Am Schelling" 
And now I'll show you why this city promotes itself as the Park City. A few pictures say more than thousands of words.
Now there are three bridges that connect Schwanau to Schellingen-Mitte, of which I'll show you two:
On the East side of the river starts Schellingen-Mitte, and here we conclude our mega-update:
(and yes, Bernhard, that's a at-grade railcrossing there in the last picture. I just had not much room there for an underpass. But it's one of the very, very few at-grade railway crossings in Schellingen-Stadt)
Join me next time as we take a visit in Martensburg!
Best,
Maarten