Meanwhile in Residential Evil...
We have issues. Our funds have hit rock bottom and I am not interested in taking out a loan to fix the situation. That's what the mayor of Industrial did. It took him years to pay it off. Increased taxes lead to the collapse of the industry.
I know it's the correct action but…
No. No! Yes, I'll consider shuffling building projects but I will not take out a loan to do so. It will get out and when it does people will start screaming words like "incompetence".
We…
Shut up for once! We have enough funds to build a bigger train station. If we get it done right we can lay off the workers at the smaller stations, have them work at the new one and demolish the small ones. We'll save a little bit of money that way. Besides, a bigger station means faster travel.
Yes, we will have a look at the bus network too. There are plenty of stops overflowing with people. They need to be upgraded.
As many as possible, of course!
What about the rail line towards Industrial?! It doesn't need maintenance.
Oh right. If we get rid of the East train station we'll lose the change to Farms. Damn it! I guess we have to reverse the line.
I meant have the switch, or whatever you call it, running from the new station to Farms instead of from Industrial to Farms. Why are you so thick sometimes?
You know, I'm looking at the overlay of the city and to me it seems we have way too many commercial buildings and not enough residential. …And why do we have high density residential at the city border? Who made these plans?
No, it wasn't I! If you recall, I took over from some moron who couldn't even simulate a city in a video game! This is a mess! They didn't even bother to flatten the land before laying the main avenue! Yet another thing to add to the never ending list of things to do.
Please help me figure out where to best place the college and the large high school.
Yes, the hospital too. ..And the library. They all need to go if we're going to build this new station. We need to be very careful here. Rebuilding will cost us, and the sheep… the people will most likely complain about everything. They always do. "We want parks". "We want jobs". "We want better housing". "My commute time exceeds 6 minutes, you suck!". Whiners. I'll give you a park to admire.
How's your Uncle Vinny anyway?
Storage cleaning? I'm pretty sure I can arrange a pick-up by a garbage truck. Just name the location and I'll have someone collect the material.
Good. Good. Nice talking to you.

Zone overview. Preparation to flatten roads.

The brand new station in the heart of Residential Evil.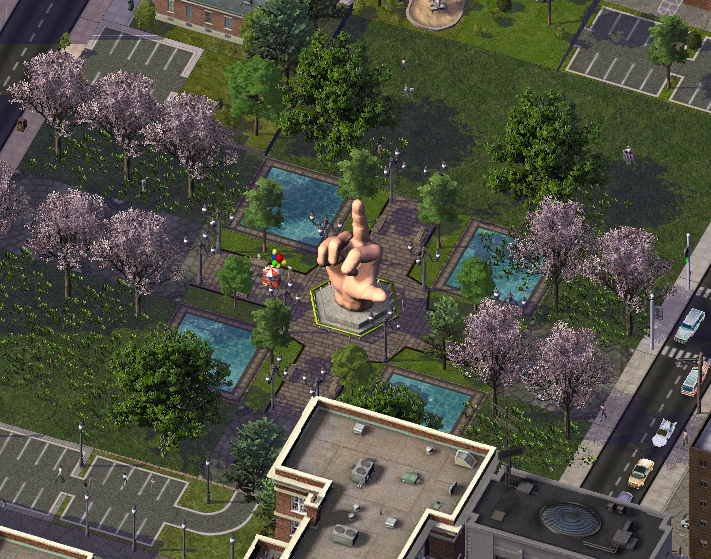 Mayor Wournos II erected this park in appreciation of his people.

In the pipeline
Ignore it until the problems go away - They didn't
Build a proper central station and remove other stations - Done
Work on correcting city income/loss - No longer a loss. §400 income a month.
Fix road network (flatten/smoothen) - Industrial zoning left.
Cut down palms from sidewalks - Done.
Integrate I-HT into city
Extend rail line towards Industrial East (to make room for I-HT)
Consider recreational locations