Submitter
File Information
Submitted: Feb 17, 2009 - 06:06 AM
Last Updated: Apr 09, 2012 - 03:03 AM
File Size: 206.08KB
Views: 182077
Downloads: 69,168
File Descriptor: Addons
The SimCity 4 Extra Cheats Plugin
Overview:
The SimCity 4 Extra Cheats Plugin was originally an internal SimCity 4 file, used by Maxis during the development phase to test the game before its release to the public. However, in the years following the release of the game, Buggi, a prominent modder resident here at Simtropolis, contacted Maxis and was given permission to release this file to the public.
The extra cheats plugin adds many additional features to the game, such as the ability to plop any building or lot at will, the ability to easily set how much money is in your city's treasury and even the ability to add snow to your terrains, as well as many other additional functions.
However, it should be kept in mind that this file was originally never intended to be released to the public. It was built for testing purposes only. As a result, it should be treated with caution. Using this file incorrectly can lead to game instability and even crashes. No guarantees or comprehensive user guides can be provided with this file, if you choose to use it, you must do so at your own risk.
How to use this file in the game:
After you install (see below), enter a city and press the key combination [CTRL] + [x] to open the cheat box. Right click anywhere within the cheat box, you will see a drop down list appear. You can now select a cheat from the list by clicking on it. After you have selected a cheat, press enter to confirm your selection.
Below is a list of all known cheat codes enabled by this file (as well as the standard game cheats) and a description of their effects. As the effects of some cheats are unknown, not all cheats have available descriptions.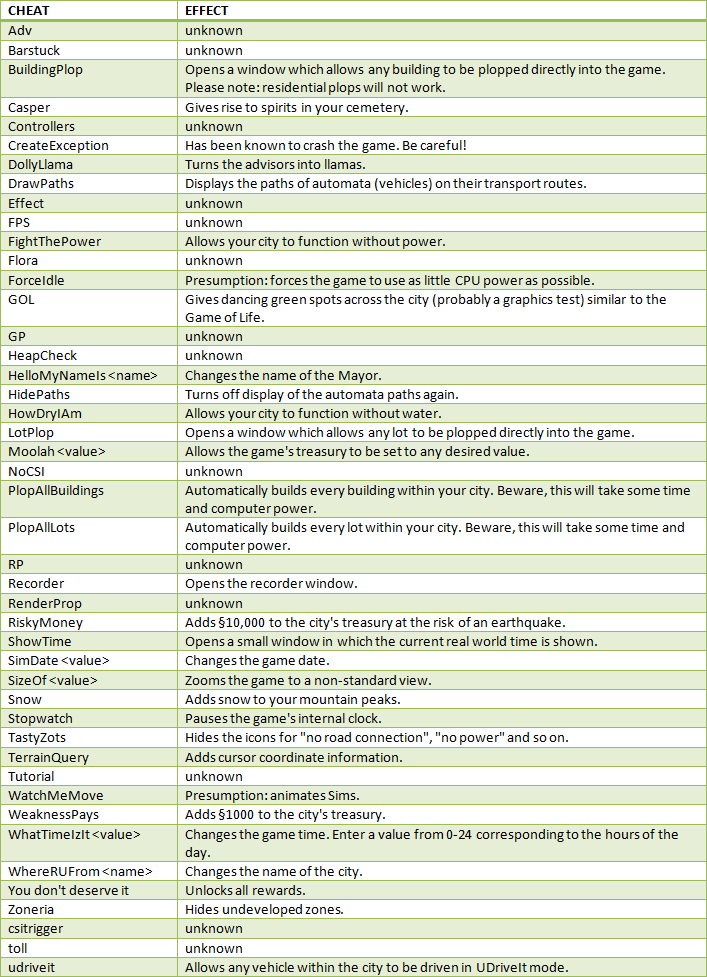 Installation Instructions:
Extract the file
SimCity 4 Extra Cheats Plugin.dll
to the root directory of your plugins folder. This means put the file in
C:\...\My Documents\SimCity 4\Plugins
. DO NOT put the file into a sub-folder, it will only work if placed into the main directory. Then enter your game and follow the instructions above.
Other files you may be interested in ..
18,351

Total Files

23

Total Categories

2,559

Total Authors

92,903,050

Total Downloads
Insane Ferry Latest File

Brenflakes

Latest Submitter
188 user(s) are online ...
68 members, 114 guests, 0 anonymous users
[email protected], Johnny1337, 1131989, untoprecious, garrulus, esanchez, [email protected], stargazer2010, Monster Blue, cabin1204, RhysJones95, PABLO2013, Google (6), Yukky1986, simarts, TheUnknownMrM, Gigabyte, ADRio619, Suvor, Tino06, Peter-Li, aksparky, off, Peelera, rrrulio, souledg3, srps, elfrofro, RabidMonkey, Halewafa, amecurty, Nebuchanezzar, Tomatentobi11, neunAK47, p0kinsmot, zjfinch, Speakerets, Paul1, Lauridsen, Peritus, scafer, Nirwanda, lionne18, Sebaz, pfhore, Ricardo_jvc18, opeyland, deffrolla, pokari, tereyui45, allnipponcal, Wellmax, qweas, Pandapan, SimGuy1972, thurm77, dvisnjic, bazoka, foxmanco, Yone-Ki, bartguy24, pard5015, Athorium, Qcp68, TechSword, Matutake55, adriels, HyugaHinata, MightyOdin